| | |
| --- | --- |
| DomainBoardroom's 2nd annual DBR Funfest wrapped up a four-day run in Dana Point, California Monday (May 6) that had guests raving about another great get together with fellow members from the popular private forum. | |
Today I got a Funfest picture I have been waiting a long time to see. Shortly after last year's inaugural "un-conference" ended, DBR Founder Donna Mahony (one of the most thoughtful people you will meet in this or any other business) told me she wanted to do something special at the 2013 Funfest to honor one of the forum's most helpful and beloved members - Bob Olea (Bob, a commercial airline pilot, was the subject of our July 2012 Cover Story).
Donna came up with the idea of secretly having Bobbleheads.com founder Warren Royal (who was also featured in a DN Journal Cover Story in December 2008) create a custom Bob Olea bobblehead doll. Warren came through with flying colors and Donna was able to present the surprised and delighted domain investor with Warren's creation over the weekend at Dana Point.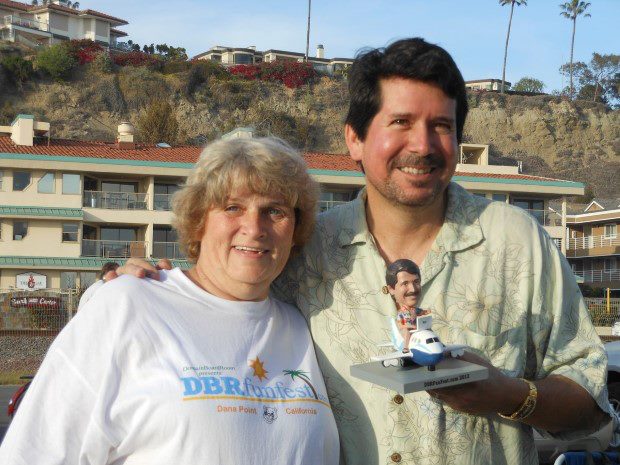 DomainBoardroom Founder Donna Mahony with DBR member Bob Olea and his
new bobblehead doll at the DBR Funfest this past weekend in Dana Point, California.
As you can see in the close up photo on the right, Warren Royal, the Michelangelo of the bobblehead world, didn't miss a trick in designing the Bob Olea bobblehad. It's all there (including the airplane!) with every hair in place, not only on Bob's head but on his trademark mustache as well! The piece required a special runway-sized base to accommodate the mini 747 and that's there too, along with the ever present broad smile Bob is most known for (you can see some fascinating photos from the entire design process here).

I've always said that the domain industry has some of the most creative people I've ever met in any business. Another example was provided on behalf of a DBR member who wasn't able to make it to Funfest but whose always welcome presence was made known none the less.

Bob Olea and Kevin Allen honored Canada's Shaun Pilfold by producing and presenting Funfest guests with a stash of custom labeled Pilfold's P.O.S. Pilsner beer - a brew that immediately became the official beverage of the 2013 DBR Funfest.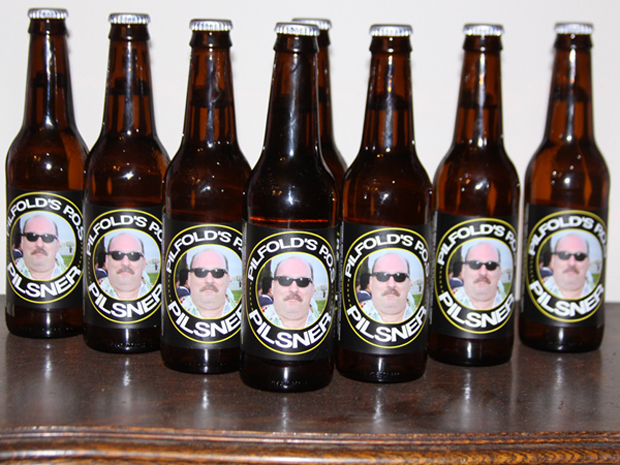 (all photos in this post courtesy of Donna Mahony)
I mentioned to Donna that a lot of people from our industry could have made it BIG on Madison Avenue, but I'm glad they wound up in this business instead. She summed up the overall vibe from this year's Funfest by noting, "it's just a rare group of competitors who end the gathering with hugs instead of handshakes." When someone asks you what is so special about this business - that's as good an answer as you could ever give.