T.R.A.F.F.I.C. would return to Las Vegas for the next three years in a row, continuing to use the beautiful Venetian Hotel as its base. The primary benefit of going to T.R.A.F.F.I.C. is the opportunity to network face to face with the top people in the domain industry. Schwartz and Neu understood that and speed networking was a centerpiece of their May 2006 conference in Las Vegas.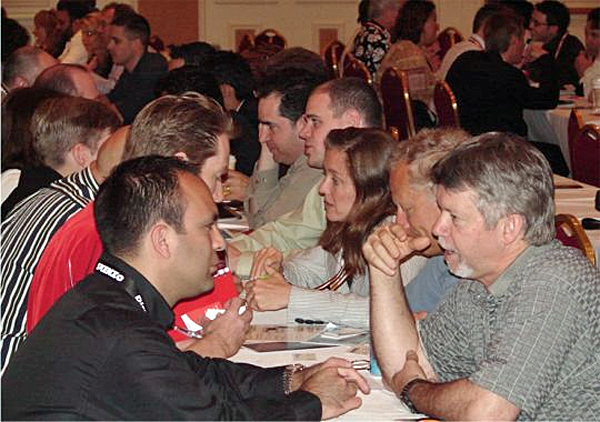 Attendees at the T.R.A.F.F.I.C. Las Vegas conference in 2006 took advantage of every networking opportunity. This speed networking event was a big hit and remains a conference fixture today.
T.R.A.F.F.I.C.'s live domain auction continued to grow at the May 2006 Las Vegas show with $2.1 million in sales (a record at the time - but a mark that would be surpassed many times in later years as the industry entered a boom period - largely stoked by T.R.A.F.F.I.C. itself). That year's auction also produced was was the highest .net sale ever reported up to that time - Sex.net at $450,000.
When T.R.A.F.F.I.C. returned to Las Vegas in March 2007 for its next show there, I was stunned when I walked into the Venetian ballroom on opening day and saw the biggest crowd ever at a domain conference up to that time - over 600 attendees. That's when I knew this industry had "arrived". That was also reflected in a new auction sales record of $4.3 million, doubling what had been rung up the previous year.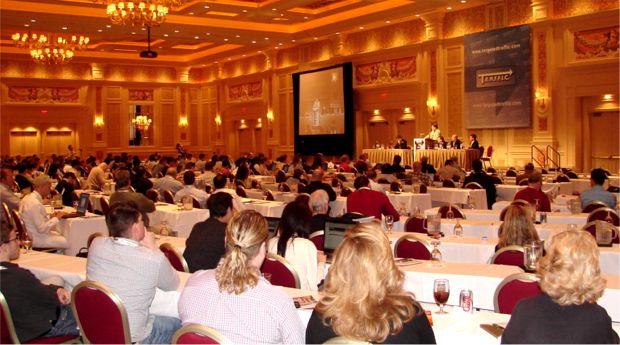 Part of the then record-breaking crowd at the 2007 T.R.A.F.F.I.C. Las Vegas conference.
T.R.A.F.F.I.C's four-year run in Las Vegas (all at the Venetian Hotel) concluded with the February 2008 show - the last one produced there by co-founders Rick Schwartz and Howard Neu. It was another successful show, but Schwartz and Neu decided it was time to send the show to new locations around the world (that fall the first international T.R.A.F.F.I.C. conference was held in Australia).
T.R.A.F.F.I.C. Co-Founders Rick Schwartz (seated) and Howard Neu at the
2008 T.R.A.F.F.I.C. Las Vegas conference - the last one they personally produced.
As all T.R.A.F.F.I.C. shows do, the 2008 Las Vegas conference attracted all of the industry's leading figures. In the photo below, my wife Diana visits with legendary domainer and long time friend Frank Schilling of InternetTraffic.com.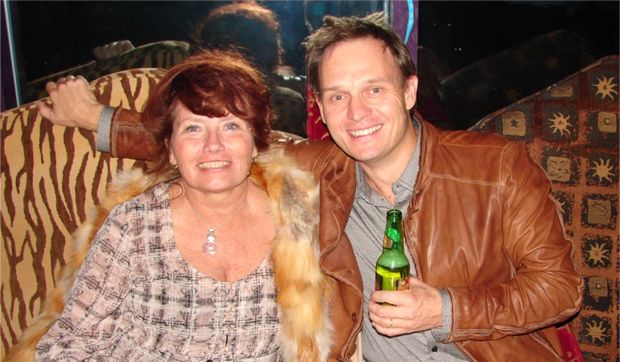 While the 2008 show was the last one Rick and Howard ran in Las Vegas, they still attended the January 2010 show that Rick Latona staged at the Hard Rock Hotel there (under a licensing agreement). If gave Schwartz and Neu a rare opportunity to enjoy a T.R.A.F.F.I.C. show with their families as spectators - a welcome respite after years of hard work.
That week I spent a night out in Las Vegas with Howard Neu, his wife Barbara and son Ray. One of our stops happened to be at the Paris Hotel Cafe directly across the street from the Bellagio Hotel. While having dinner on the outdoor patio there I snapped the photo below of Howard and Barbara with the Bellagio in the background. At the time none of us new that over three years later, when they decided to run a show in Las Vegas again, it would be at the Bellagio where we had gone to see the world famous dancing fountains (the best free show in Vegas).
For more on why Schwartz and Neu decided to take T.R.A.F.F.I.C. back to Las Vegas after a long absence, see our show preview interview with the conference co-founders in our May Newsletter. I will, of course, be at next week's conference to cover it for you and I hope to see many of you there in person. It's not too late to register if you want to make it to the big event.