I'm back home after another pleasant and highly productive T.R.A.F.F.I.C. conference, the 25th show in pioneering series that ended Saturday morning (June 1) at the Bellagio Hotel in Las Vegas. My last post from Las Vegas had highlights from the final 24 hours of the big event with the exception of Saturday morning's Farewell Breakfast (we had to head for the airport right after that, so I didn't get a chance to include it until now).
Above: A scene from the Farewell Breakfast at the 2013 T.R.A.F.F.I.C. Las Vegas conference Saturday morning (June 1) at the Bellagio Hotel.
At left: Holland's Hennie Groot Lipman fuels up for his long trip home at T.R.A.F.F.I.C.'S farewell breakfast buffet.

I didn't want to leave the farewell breakfast out of our show coverage because it is much more than an afterthought - in fact it is one of my favorite things about T.R.A.F.F.I.C. The work is all done, there are no more sessions to prepare for or appointments you have to keep - just an opportunity to spend a final hour or two with great friends and colleagues in the show's most relaxing environment. In my opinion, spending that quiet time with them is the perfect way to end a busy week before everyone heads their separate ways.

A lot of people leave town the night before, or early before this breakfast, but I make it a point to leave time in my travel schedule for it. Over the years some of the most valuable time I've spent at T.R.A.F.F.I.C. has been at this breakfast.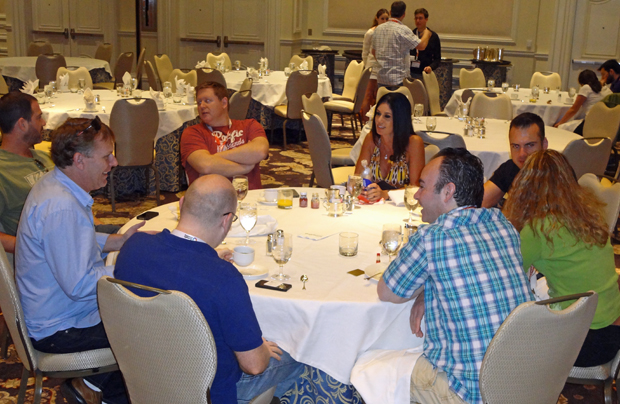 There usually aren't more than two or three dozen people in the room at any one time, so it gives you time to do some table hopping and often see people you didn't get a chance to see earlier in the week. It feels like the clock has basically been stopped and you can enjoy longer conversations than you were able to during the more hectic business days of the conference.
What would breakfast be without coffee? And what would our industry be without our own gregarious "Mr.Coffee" - Coffee.org owner Bill McClure (at left) with T.R.A.F.F.I.C. Co-Founder Howard Neu at Saturday morning's Farewell Breakfast. Bill was also the guy who got Bouquet.com for $30,000 in Thursday's live domain auction at T.R.A.F.F.I.C. Las Vegas.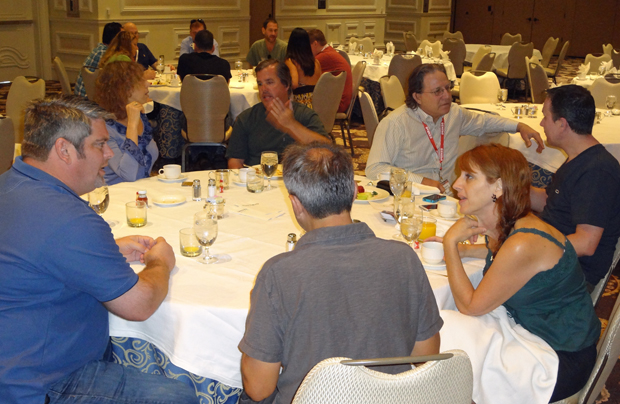 After breakfast those who stayed through the final minutes of T.R.A.F.F.I.C. Las Vegas 2013 started making their way home. Many of them were already planning to do it all again when T.R.A.F.F.I.C. returns October 20 for the start of their 9th anniversary show at the Ritz Carlton on Florida's Fort Lauderdale Beach. I'll be there, of course, and you can bet I'll be at that Farewell Breakfast again!