I just returned from vacation and this is the kind of news I like to come back to. Veteran domain brokers Tessa Holcomb and Marcus Kocak teamed up to negotiate the year's biggest domain sale to date, acquiring IG.com on behalf of the London, England based IG Group for $4.7 million. The multi-million dollar exchange of funds was handled by Escrow.com.
We will officially chart the sale in our next weekly domain sales report that will be out Wednesday evening (Sept. 11). At $4.7 million, the IG.com sale is more than double the price paid for the previous leader - 114.com, a domain that was sold for $2.1 million in July.
Mr. Kocak, a Danish businessman and former Director of Domain Acquisitions at NetNames, and Ms. Holcomb, CEO & Co-Founder of Igloo.com (domain name sales and acquisitions experts), told me they worked together complete the acquisition of IG.com last March but due to a non disclosure agreement the price could not be revealed until the IG Group published it in the company's annual report.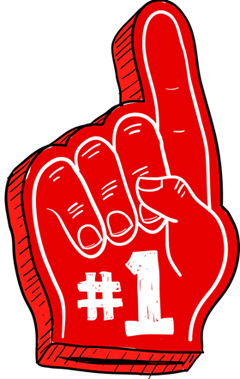 Foam finger image from Bigstock