We'll be driving south today, on our way across the state to Fort Lauderdale Beach for the 2013 T.R.A.F.F.I.C. East Conference that is getting underway at the Ritz Carlton Hotel. It all starts with the first of two pre-show networking days on T.R.A.F.F.I.C.'s Cabana Row and the Ritz pool deck (the main event gets underway with the opening night cocktail party Sunday at 5:30pm).
To set the scene for you, the cabanas and pool deck sit seven stories high providing a gorgeous view of the Atlantic Ocean. In the first of the photos below (that we shot at last year's conference) you can see the pool and cabana levels sitting atop the lower portion of the Ritz building (the higher floors are directly behind in a portion of the unique structure that was built to resemble a cruise ship).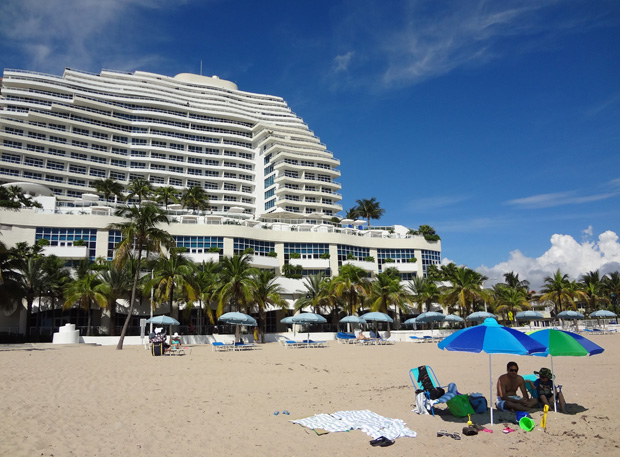 A view from the beach of the Fort Lauderdale Beach Ritz Carlton Hotel
where T.R.A.F.F.I.C. East 2013 will be running today through Wednesday (Oct. 23).
We'll be arriving at the Ritz late this afternoon and I'll be filing daily reports from the show in this column starting tomorrow morning (Saturday, Oct. 19). After the sun goes down this evening an All Hallow's Eve Full Moon party will be held on the Ritz pool deck from 7-10pm and you will find most of the T.R.A.F.F.I.C. early birds there.
The T.R.A.F.F.I.C. cabanas are just a few steps down from the pool deck, accessible by stairs at either end of the deck. They will also be open from 10am-5pm Saturday and Sunday.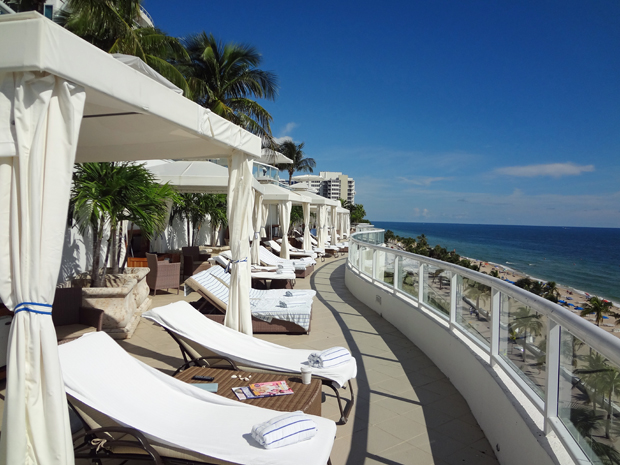 Above: The view from T.R.A.F.F.I.C.'s Cabana Row at the Ritz Carlton.
Below: The Ritz Carlton pool deck overlooking the Atlantic Ocean
that will be a hub of pre-show networking activity today through Sunday.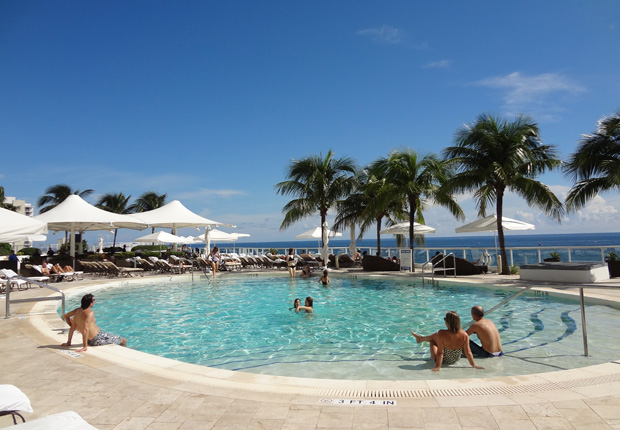 You can see the full agenda for the T.R.A.F.F.I.C. East conference here. We're looking forward to seeing many of you there and if you can't make it we'll try to make you feel like you are there with our daily photos and highlights in this column.