The flock of T.R.A.F.F.I.C. early birds continued to grow Saturday on a gorgeous day at the Ritz Carlton Hotel at Fort Lauderdale Beach, Florida. The conference doesn't officially gets underway until this afternoon (Sunday, Oct. 21) but dozens of attendees came to town early to enjoy a couple of days of preshow cabana and poolside networking.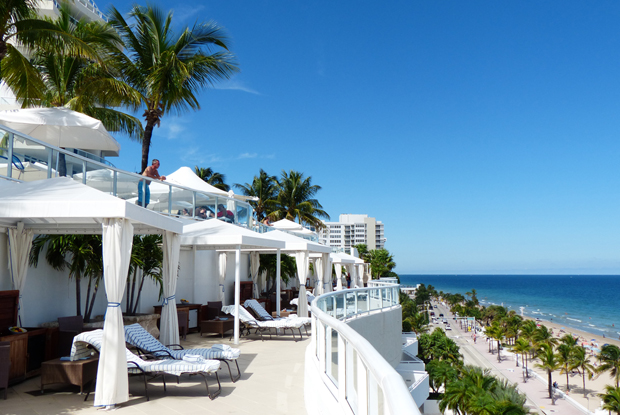 The spectaular view from the T.R.A.F.F.I.C. cabanas shortly before they opened for preshow networking Saturday morning (Oct. 19) at the Ritz Carlton Hotel on Florida's Fort Lauderdale Beach.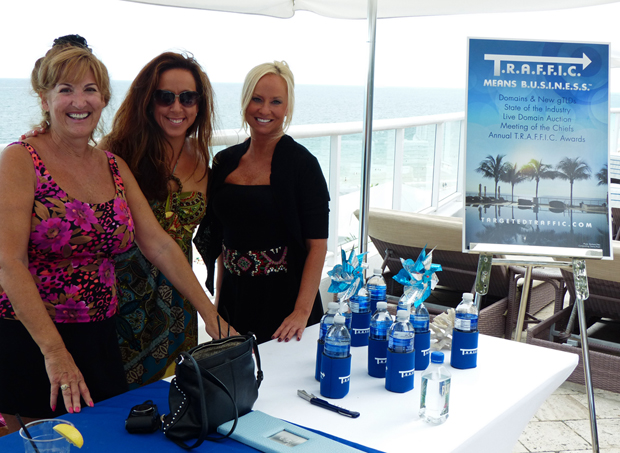 (L to R); Barbara Neu (T.R.A.F.F.I.C.), Tessa Holcomb (Igloo.com) and first time show attendee Rebecca (from the UK) at the welcome desk on the Ritz Carlton pool deck Saturday.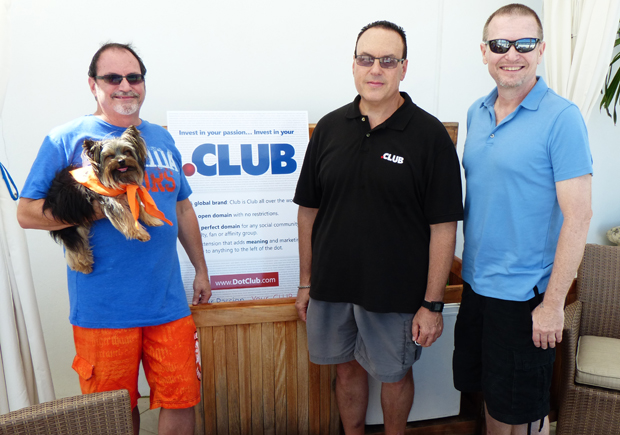 (L to R) at the .CLUB Cabana - Michael Berkens (TheDomains.com) and his handsome
Yorkie Romeo, Jeffrey Sass (.CLUB) and Victor Pitts (Above.com).
After spending a beautiful day by the pool and cabanas, Saturday evening was open for people to enjoy the pleasant surroundings, all within walking distance of the Ritz. Most formed groups of various sizes to sample the many restaurants nearby. DNForum.com owner Adam Dicker hosted several dozen guests for a big dinner at Shula's on the Beach (a very pleasant repeat of one of the most memorable events from last year's conference week).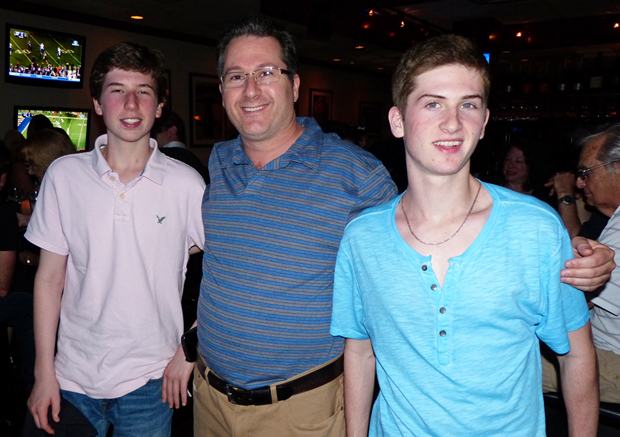 DNForum.com owner Adam Dicker, flanked by sons Corey and Jordan, at Shula's on the
Beach where Adam hosted several dozen guests for a preshow dinner party last night.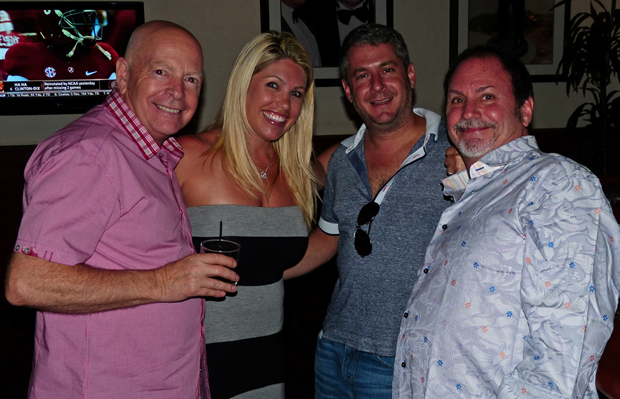 Above: (L to R) Gregg McNair (PPX), Jenna Ferber, John Ferber (DomainHoldings)
and Michael Berkens (TheDomains.com) at the Adam Dicker dinner party.
Below: Also among those on hand were Ammar Kubba (Thought Convergence)
and T.R.A.F.F.I.C. Co-Founder Howard Neu (right).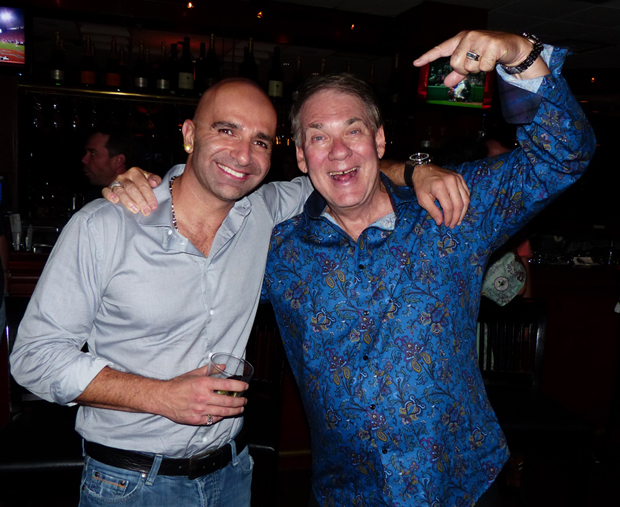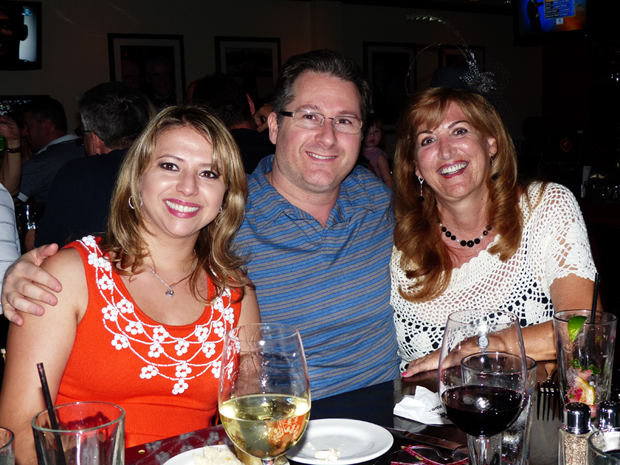 Host Adam Dicker with T.R.A.F.F.I.C.'s Alina Schwartz (left) and Barbara Neu.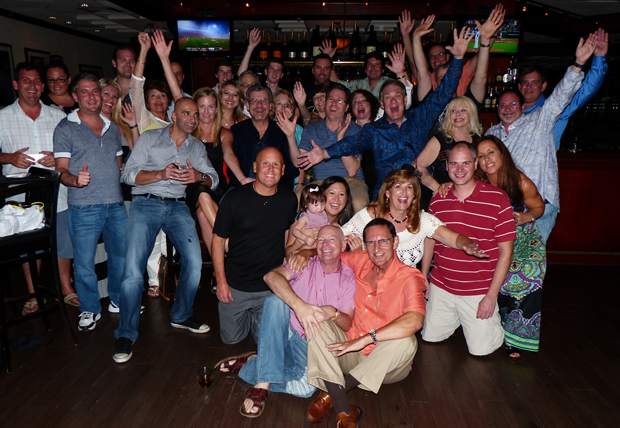 The dinner hosted by Adam Dicker ended with everyone
gathering for a group photo to commemorate a great night.
Though the Dicker dinner ran for three and a half hours many in this crowd had no interest in calling it a night when it was over. Thanks to PPX International Chairman Gregg McNair, there is always an entertaining place for everyone to regroup late and hang out together for as long as they like. Each night McNair traditionally throws open the door to his suite to anyone who wants to drop in for some quality late night conversation with like minded people.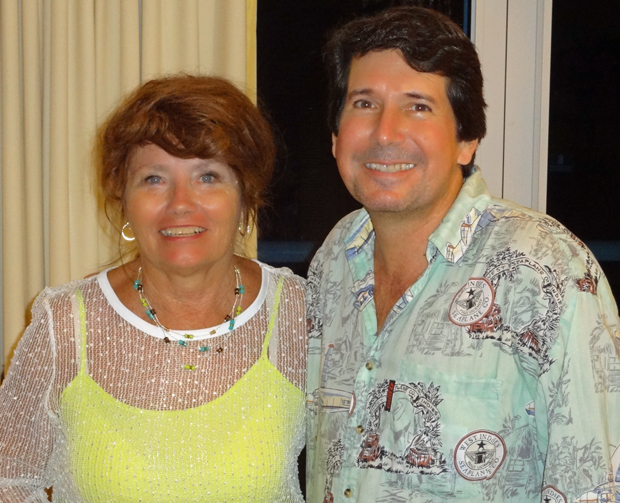 Above: Diana Jackson and Bob Olea were among those visiting Gregg McNair's suite last night - always the most popular after hours spot in whatever town Gregg happens to be in at the time!
Below: Youve heard the expression "too many cooks in the kitchen" - well, not in this kitchen! These "cooks" would be welcome behind the kitchen sink any time. A little before midnight last night Gregg McNair (front left) was surrounded by eight kitchen helpers - Judi Berkens (front center), Christian Calvin (front right) and in the back row (L to R) Frank Schilling, Ammar Kubba, Russ Goodwin, Andee Hill and Kimberly Howard.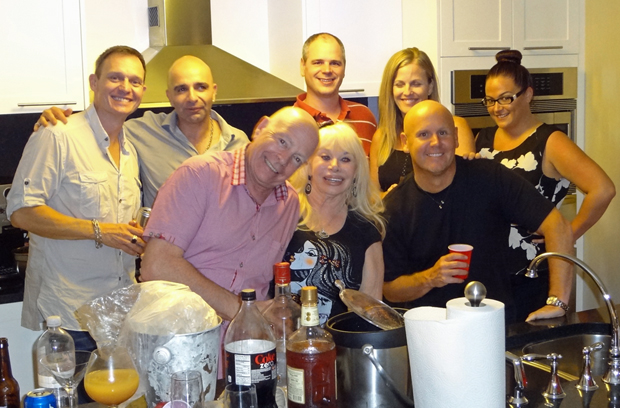 The T.R.A.F.F.I.C. East conference officially gets underway today (Sunday, Oct. 20) with Registration opeing at 12 Noon, a Cabana Party scheduled from 12:30-4:30pm and the Opening Night Cocktail Party getting underway at 5:30pm. I'll have photos and highlight from all of today's (and tonight's) activity for you in my next post from Fort Lauderdale Beach Monday.