The Domaining Spain conference will be returning to beautiful Valencia, Spain next spring when show founder Dietmar Stefitz will stage his 6th event in the popular series. The 2014 show will run May 8-10 with the centrally located Hotel Sorolla Palace, once again hosting the conference.

With a registration price of just €600 and room rates at the upscale Sorolla Palace discounted to an astonishingly low rate - just €70 a night, Domaining Spain has always been one of the world's best conference bargains. If you want to go, we can make it even cheaper for you to do so as Dietmar is allowing us to give DN Journal readers a registration code that will let you buy your ticket for 50% off - just €300.

Just go to the registration page and click on the length that says "Click Here to Enter a Promotion Code." In that field enter Valencia2014. You can use some of the €300 you save to enjoy some of the great food and wine Valencia is known for (paella was invented there).

I attended the 2012 conference in Valencia and found everything from the conference sessions, hotel and social events to the surrounding city to be a complete delight. Valencia, Spain's third largest city, is located on the coast of the Mediterranean Sea and features many world class attractions near the waterfront. including the biggest aquarium in Europe, Oceanogràfic.

Dietmar Stefitz
Domaining Spain Founder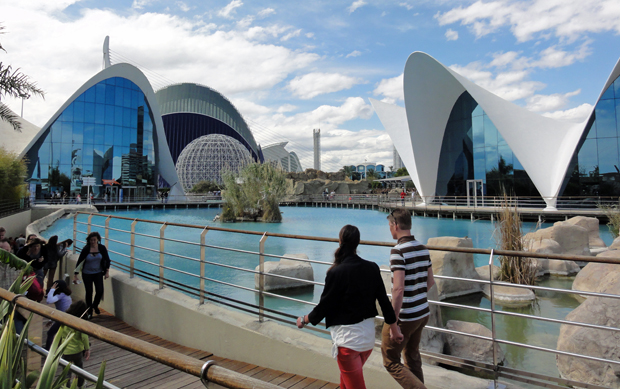 I shot this photo at the futuristic Oceanogràfic aquarium in Valencia while
we were there in the city for the 2012 Domaining Spain conference.
In addition to any exploring you want to do on you own (I highly recommend using the hop on hop off double decker bus that stops at the Hotel Sorolla Palace as a great way to get around town) - the show will have some special group activities. One will be the traditional Boat Tour at la Albufera, a natural resource near Valencia. Any suggestions for additional excursions can be sent to djs@bemarnet.es.
Stefitz, who is currently putting together the agenda for the 2014 show, told me ccTLDs and new gTLDs will be front and center at the show with those topics examined from a European point of view. More specifically, he outlined these areas that will be covered:
-- What happened/s to the Domaining Industry ( Top Panel )
-- Trusting New gTLDs
-- Cooperation between ccTLDs and new gTLDs
-- Marketing Ideas and Proposals ( how to use new GTLDs )
-- Community GTLDs ( awareness, can there be a Business in this segment )
-- Legal Panel
-- Trademarks / Clearinghouse / News and Numbers
-- Registrars and GTLDs
-- .EU Past-Present-Future
-- Parking and UDRPs
-- How to negotiate selling or buying Domains
-- Crowd funding in the Domaining Industry
Stefitz also issued an invitation to anyone who would like to submit an idea for other discussion topics and/or speak at the event to send a note to info@domainingeurope.eu. He is also booking ad space that will allow companies to display their logo, put an item in the show bag, leave items in guest rooms or have three Spanish models wearing your company T shirt.