There has been a lot of talk about the exceptionally ambitious multi track business schedule set for the first ever NamesCon conference coming up next week at the Tropicana Hotel in Las Vegas (the event opens Monday evening (Jan. 13), followed by two full days of business Tuesday and Wednesday).

Show organizers Richard Lau, Jothan Frakes and Jodi Chamberlain have certainly covered all of the business bases and, as a former sportscaster, I am happy to report that they have even included an intriguing sports event in the program. It will be the first ever NamesCon National Ping Pong Championship pitting two 8-man all-star industry teams against each other. Representing

the East will be Team ESQWire.com and carrying the flag for the West will be Team Agreed.com.
This two-day 16-player Single Elimination tournament starts on Tuesday night with the Finals slated for Wednesday during the Agreed.com – ESQwire.com Ping-Pong Networking Happy Hour that gets underway at 5:45pm local time in Las Vegas.
East Team Manager Jason Schaeffer informed me that Team ESQwire.com, captained by attorney/slash ping pong prodigy Ari "The Lion" Goldberger, has been hunkered down during the snow and ice storms that hammered the eastern U.S. this week, honing their serves and volleys to a razor's edge. Realizing the importance of staying fully hydrated while exercising, I'm sure they also rang up a significant bar tab during the strenuous workouts.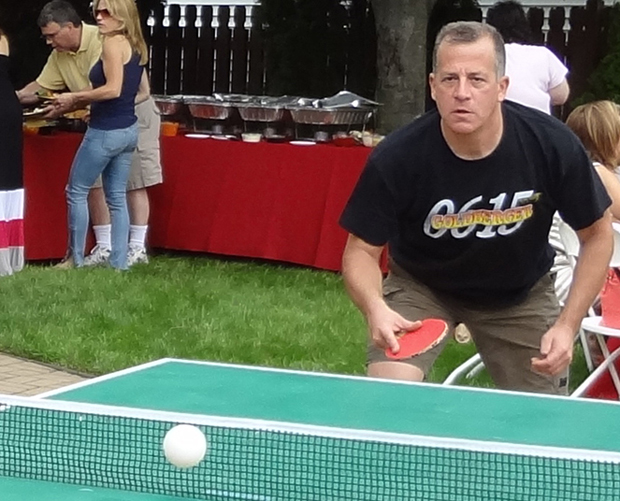 Team ESQWire.com Captain Ari Goldberger keeps his game sharp by
taking on all comers at the ping pong table he has set up in his backyard.

Of course, Team Agreed.com, led by Captain Ammar "The Terminator" Kubba, has not been slacking off either. In fact Schaefer said that Kubba, being the considerate sportsman that he is, called him this morning to turn in his line up card. Schaefer said he would have preferred that Kubba call a bit later than 2:51AM when the jangling phone woke him from a deep sleep. Kubba insisted the faux pas was caused by the time zone difference and was absolutely not a ploy aimed at keeping his opponents off balance and bleary eyed.

One still has to wonder though because while Team ESQwire.com revealed their final starting eight, Team Agreed.com handed in a 12-man roster but declined to name their final line up, a gambit that will obviously make it harder for Team ESQwire to game plan. We will see how the opposing strategies play out when the cross country rivals square off face to face. Here are the rosters for the respective squads:
Team ESQWire.com (East)

Ari "The Lion" Goldberger
Bill "Ninja" Sweetman
Steve McQueen Kaziyev
Andrew "The Hammer" Rosener
Guoliang "George" Hong
Steven "Paddles" Kennedy
Brad "MD.com" Shapiro
Stevan "Weebie" Lieberman

Team Agreed.com (West)*

Ammar "Terminator" Kubba
Braden "Top Spin" Pollock
The Donut Twins: Paul Stahura & Dan Schindler
Yoni "Top Spinna" Belousov
Omar Kubba
Tom Gilles
Constantine "I Love Music" Roussos
Scott Fuller
Matt Overman
Mason Cole
Anthony Faber

*(Team Agreed must select 8 players from this roster for their final line up).

While the boys do battle at the ping pong tables, the ladies have their own special event lined up at NamesCon too - a "Women in Domaining" social and networking event that will be hosted by Lisa Box, Senior Director - Domains, at Endurance International Group. The event, open to all female attendees, will run from 3-7pm Monday at the Tropicana Hotel in Las Vegas (near the main conference room - Partagas 1). Food and drinks will be served.

The first two hours will be devoted to networking, followed at 5pm with a women's only poker tournament. If your poker skills are minimal, don't worry, there will be a 30-minute lesson before play begins. Prizes will be awarded to the top three finishers.

"Women in Domaining" began in 2012 as a unique networking event to appeal to the industry's female executives. Ironically, while a majority of domainers who attend these conferences are men, many domain companies including Oversee.net, Domain.com, Igloo.com, DomainTools.com and the .CO Registry have women in senior leadership positions.

Tessa Holcomb, Co-Founder and CEO of Igloo, has attended WID events since they began. "When I joined the industry, the WID events were small enough to be held in someone's hotel room. It's great to see that, just a few years later, the numbers have multiplied more than tenfold, with many women holding high level positions among some of the most successful companies in the industry," Ms. Holcomb noted.

Holcomb believes that the WID events enhance what NamesCon offers. "It's great to have a smaller, more targeted event providing the opportunity to meet and get to know more of the other women in the domain industry and beyond," she added.

By the way, if you will be at NamesCon and want to learn more about the new .co.com registry, look up President Paul Goldstone and CEO Ken Hansen, who will both be at the show.

On Thursday .co.com announced an agreement with CentralNic, under which CentralNic will provide the technical registry services to make co.com domain names available through registrars worldwide. CentralNic has already built a successful global business offering domain names using country-specific .com domain extensions (like .UK.com and .US.com).

Mr. Hansen said, ".co.com provides CentralNic with the opportunity to enable a global extension ending in .com. We look forward to benefiting from CentralNic's experience, and tapping into their global registrar distribution network".

.co com is planning a "Sunrise Period" for trademark holders in late February, followed by a first-come, first-served "Landrush Period". Some premium domain names are already available. To inquire about those, or to receive launch updates and additional details

Ken Hansen
CEO, co.com LLC

as they become available, you can subscribe to their email list and find contact information at www.registry.co.com.

One other note today - an update on rock band bree, the Nashville based trio managed by Domain Hall of Famer David Castello (who is also the group's drummer). The band is named for its dynamic singer/guitarist/songwriter, bree, who continues to pop up in the coolest places - this time as a model in the 2014 Gibson Guitars catalog! bree goes by just her first name (all in lower caps), but she loves Gibsons so much she uses the name Bree Gibson on Facebook!
(Posted January 10, 2014)