We arrived at the Tropicana Hotel in Las Vegas late Monday afternoon, joining almost 600 others who are converging at the beautifully renovated property for the debut edition of NamesCon, the highly anticipated conference founded by industry veteran Richard Lau that is being orchestrated with the invaluable help of show co-ordinators Jodi Chamberlain and Jothan Frakes.
A view of the Tropical Hotel entrance shot early Monday evening (Jan. 13, 2014)
as the first NamesCon conference was getting ito full swing at the Las Vegas landmark.
At the registration desk, Todd Reum and his wife Jeanette get their badges from NamesCom staffer Justin Bush. Todd and Jeanette were two of 581 people that had registered for NamesCon by late Monday afternoon. More are expected to register on site today before the first business sessions begin.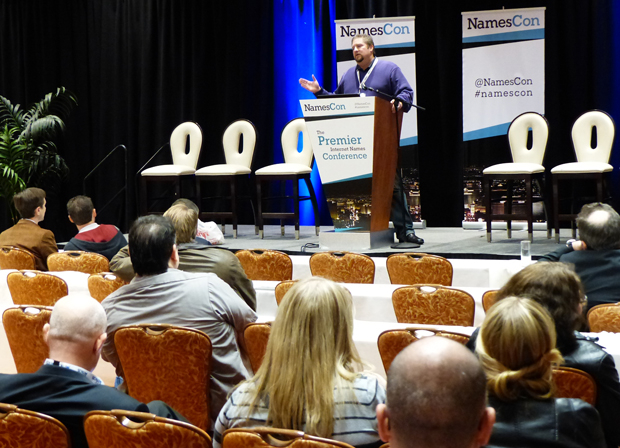 While people were registering at the entrance to the conference center, Jothan Frakes (on the stage where conference sessions will take place starting today) held an orientation session for the 100 speakers that will be fetaured in 30 business sessions today and tomorrow. Jothan and Jodi Chamberlain both have extensive experience in staging domain industry conferences and, though ths is the first for NamesCon Founder Richard Lau, his reputation has helped attract a remarkably large and diverse group of registrants, speakers and sponsors for a show that was announced only three months ago.
At 8pm last night, the first big event of NamesCon, the .XYZ Opening Night Cocktal Party, hosted by the founder of the Las Vegas based new gTLD registry, Daniel Negari, got underway in the Tropicana Lounge with a wall to wall crowd on hand.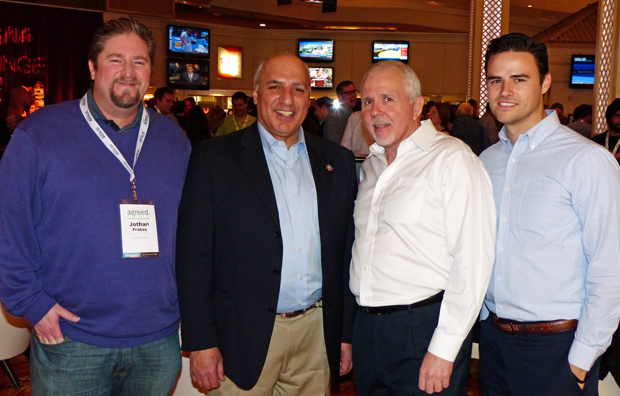 Some special guests at the opening night party with NamesCon's Jothan Frakes (far left) were (left to right after Jothan) Las Vegas Mayor Pro Tem Stavros S. Anthony (the city's 2nd highest ranking official), DotVegas President and CEO James Trevino and DotVegas's Tyson Mackay.
NamesCon has attracted a vibrant mix of industry veterans and newcomers alike. It was a pleasure for us to see some long time industry friends and colleagues in person for the first time in years, including Donna Mahony, Brian Null, Grant Keiser and Dale Porter, just to name a few.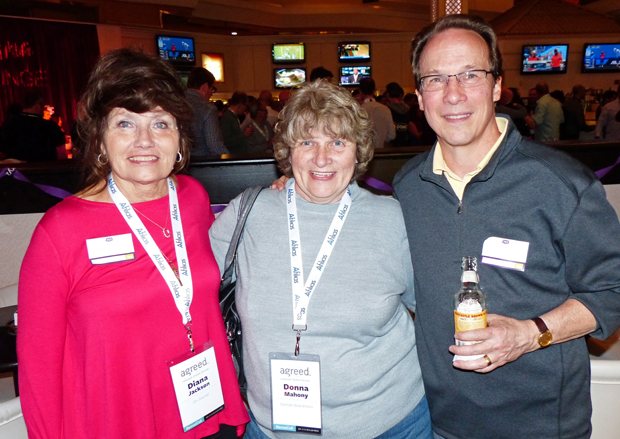 Above (left to right) Diana Jackson, Domain Boardroom founder Donna Mahony and Domain Boardroom member David Harrison at NamesCon's Opening Night Party hosted by .XYZ.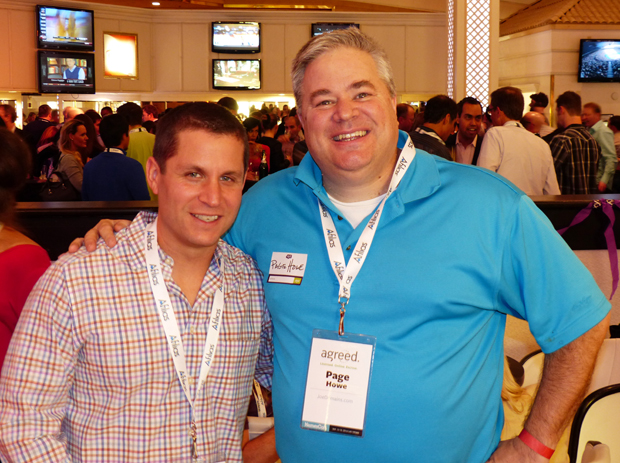 Familiar and always friendly faces in the crowd also included (above)
DomainCapital's Gregg Freeman (left) with veteran domain investor Page Howe.
And below, three members of a huge Go Daddy contingent at NamesCon, a group that totaled at least 16 at last count: (left to right) Greg Silvius (my long time executive account manager), Aftermarket Director Paul Nicks and Director of Sales Operations at Afternic.com/GoDaddy Dave Helgeson.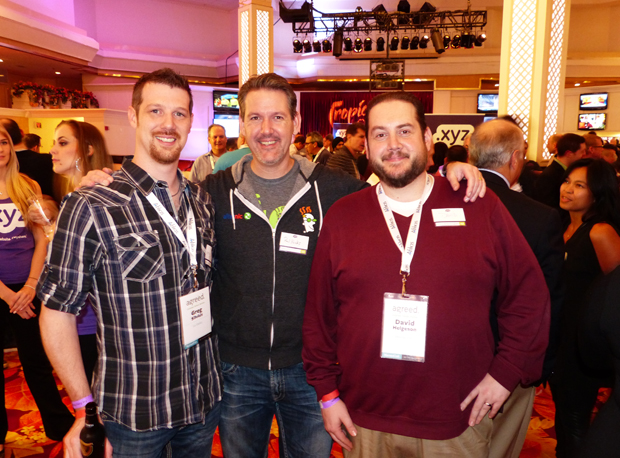 The first full day of business at NamesCon get underway at 9:55am local time today (12:55pm in the Eastern U.S.). It will be a very busy day with a jam packed agenda followed by the show's signature social/networking event, Water Night, that gets underway at 8pm at the Tropicana. Water Night is also a major fundraiser for a great charity - the Water School.
I'll have the photos and highlights from today and tonight's activities for you in this column tomorrow. NamesCon continues through Wednesday evening with a half-dozen keynote speakers among the main events scheduled over the next two days.