Wow! What a big news day for domain registries - one that culminated late this afternoon, right after the stock market closed, when Neustar (operator of the .biz and .us registries) announced they have entered into a definitive agreement to acquire .CO Internet S.A.S., the administrator of .CO domains. for $109 million.

Neustar already had an existing partnership with .CO Internet to provide back end registry services and infrastructure support - a contract that earned Neustar $4 million in revenue last year. It was also reported that .CO exited 2013 with an annual revenue run-rate of $21 million, so you can see why Neustar valued .CO so highly.

Since its global launch in 2010, the number of .CO domains has grown to more than 1.6 million with registrants in over 200 countries and territories worldwide.

Juan Diego Calle
CEO, .CO Internet S.A.S.

The remarkable growth of .CO (a TLD assigned to Colombia that re-launched as a global offering in 2010) is a credit to the masterful marketing job done by CEO Juan Diego Calle, VP Lori Anne Wardi and and the entire management team and staff at .CO Internet. We have often pointed to it as the "textbook" example of how to launch a new TLD.

Lisa Hook, President and CEO at Neustar said, "The acquisition of .CO Internet is a natural fit for us given our successful partnership over the past four years and our domain name expertise. By combining .CO Internetís innovative domain marketing capabilities with Neustarís distribution network and technical resources, we will be able to broaden our registry services and the .CO brand worldwide, while creating shareholder value.Ē

The acquisition is subject to standard closing conditions and is expected to close within one month. Following the acquisition, .CO Internet,

as a wholly-owned subsidiary of Neustar, will continue to manage the .CO domain extensions from its headquarters in Bogota, Colombia.
While Neustar and .CO Internet S.A.S. are celebrating their deal, the TLD Registry team is in Macau throwing a big party of their own surrounding the launch of their two new Chinese TLDs, Dot Chinese Online (.在线) and Dot Chinese Website (.中文网). The festivities there include a two-day Landrush celebration and a live/online hybrid premium name auction tomorrow (March 21). .CLUB Domains (their strategic partner) and Afilias are sponsoring the auction event with all auction lots online now at Sedo.
The new TLD Registry extensions got a very nice jump start earlier this week when an agreement was reached with the the Chinese central government's own registrar that agreed to buy 10,226 domain names in each of TLD Registry's Chinese TLDs, one meaning "online" (.在线) and the other "website" (.中文网).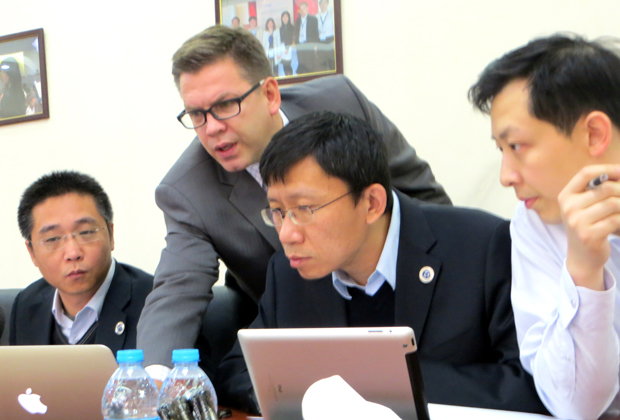 TLD Registry CEO & Co-Founder Arto Isokoski (standing) with Chinese officials in Beijing who signed a deal to buy over 10,000 domains in each of TLD Registry's two new extensions.
The domain names sold by TLD Registry include the names of every city in China with populations of over 200,000 people, all 3,000 counties, all provinces, all municipalities, all Special Administrative Regions, and a number of key locations such as mountains. In addition, names such as "Invest in [Name of Place]", "[Name of Place] Tourism", "[Name of Place] Information" and "Place [Transportation]" were included.
Daniel Negari
.XYZ Founder

While TLD Registry was getting their launch party underway in Macau, the new .XYZ Registry, founded by Daniel Negari, celebrated the start of .XYZ's Sunrise registration period for trademark holders today. The .XYZ Sunrise period, that ends on May 20, 2014, gives companies that have registered their marks with the Trademark Clearinghouse (TMCH) the opportunity to register their corresponding .XYZ names before the general public.

Following the sunrise, .XYZ will have a 14-day Landrush Period where individuals, businesses, and trademark holders alike can priority register domain names which were not taken during sunrise.

With hundreds of new gTLDs coming online this year, one of the biggest hurdles for new registry operators is getting "shelf space" at the leading registrars, especially industry giant Go Daddy. Negari has done very well on that front with nearly 200 registrars around the world agreeing to offer .XYZ domains, including Go Daddy, Network Solutions and 123-reg. Registrations are also available

through brand protection agencies such as Corporation Service Company (CSC) and MarkMonitor. A list of .XYZ's featured registrar partners can be found here.
(Posted March 20, 2014)