I had the pleasure of participating in two sessions via Skype, first interviewing keynote speaker Michael Castello of CCIN.com then, after an in person keynote from Deepak Daftari, returning to interview another long-time friend and industry leader, DNForum.com owner Adam Dicker.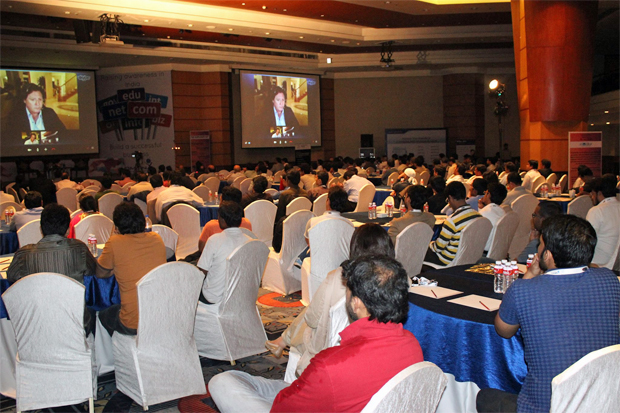 A view of the conference hall and crowd during Michael Castello's keynote speech
at the first DomainX Conference in Hyderabad, India Sunday (Sept. 7, 2014).
Since I couldn't be there in person (due to widely publicized problems with the Indian visa system that also kept the other U.S. based speakers from coming) I can't give you a first hand account of how the day went, but the initial feedback has been very good. The first review from an attendee that I have seen online was published by K.V.A.Sridhar here.
I thought that one of Mr. Sridhar's most interesting observations was this - "Attendees on my table are not domainers, in fact I am the only one on my table who owns domains for flipping. Others own one domain at most for their business purpose. But the beauty is that, by the end of conference, every single one of them is planning to buys domains for domaining."
That - and the personal relationships that are built at a conference like this - is how an industry grows. The arrival of domain investor-centric conferences in the rapid growing and increasingly important Indian market this year is a very positive development for the global domain industry and we are looking forward to watching and participating in the expansion as it unfolds. We expect to receive additional photos and highlights from DomainX and will bring you those when they become available.
Dolly Parton
Dolly image from Bigstock

On another growth front, new gTLDs continue to roll out with those who understand the need for marketing scoring some interesting coups. The new .country extension (operated by Minds + Machines and marketed in association with Uniregistry) appears to have hit a home run by landing the perfect celebrity partner in country music legend Dolly Parton.

As part of the .country pioneer program, Dolly has registered queenof.country, dolly.country, and dollyparton.country among others. In agreeing to be a .country pioneer, Dolly will assist in the launch of .country by using her new domain names and by providing her name, image and other assistance.

Members of the .country pioneer program receive their choice of domain names ahead of general release in exchange for their help in marketing the new top-level domain. The program provides domain names to musicians, businesses, and organizations before the release of .country domain names to the general public on September 15, 2014.
Congratulations are also in order for domain industry veteran Kellie Peterson who has been promoted from Chief Strategy Officer to President at DNC Holdings, Inc., the parent company of popular registrar DirectNic.com. In her new role, Peterson will add responsibilities for all registrar services, aftermarket, monetization and publishing units as well as lead the company in new business opportunities.

DNC Holdings owner Butch Decossas said, "Kellie brings a wealth of strategic, financial, and business development expertise, specifically from the domain registration industry. With her business acumen and personality, she will be a huge asset to our company and our corporate strategic direction and goals."

Peterson said, "Since the change in ownership there's been a tremendous amount of reinvestment in not only the Directnic brand, but the technology and products that we offer. This is just the starting point and I'm looking forward to steering Directnic and the rest of our business interests into the next phase."

Kellie Peterson
President, DNC Holdings

In a related note, Directnic.com announced they have started accepting digital or "crypto" currency. The company believes they are the first accredited registrar to accept Bitcoin alternatives, Litecoin and Dogecoin.

In addition to Bitcoin, Directnic.com can now accept Litecoin and Dogecoin through their partnership with the processing platform company GoCoin.