Above, at far left: Chief guest Vinit Goenka (National Co-Convener, BJP IT Cell & India Head for verticals E-Governance, ICT Industry Interface & Policy Issues) inaugurates the first DomainX conference Sept. 7, 2014 in Hyderabad, India while the leader of the DomainX organizing team, Manmeet P. Singh from the Domain Name Owners Association of India (DNOAI) looks on. (All photos in this article are courtesy of the DNOAI).
Below (first three attendees seated left to right): Arvind Reddy, Vinay Murarka and Eldo Thomas in the large crowd attentively listening to DomainX 2014 speakers.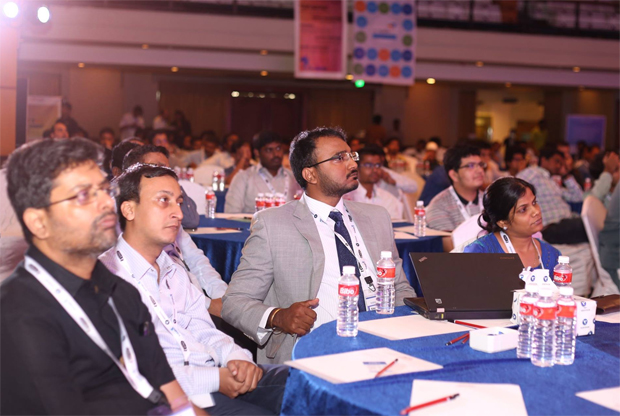 I was honored to participate in the conference, appearing with both Michael Castello of CCIN.com during his keynote speech and with DNForum.com owner Adam Dicker in a later session. Unfortunately, due to a massive problem with the Indian visa application system in the U.S. (caused by an incompetent company that took over visa processing this summer with disastrous results) none of us were able to enter the country to speak in person as we had planned. DomainX organizers made the best of a bad situation that they had no control over by setting up Skype connections with U.S. based speakers so we could address our friends in India (I have read that the Indian government plans to have a new visa system in place by the end of this year that should eliminate this problem in the future).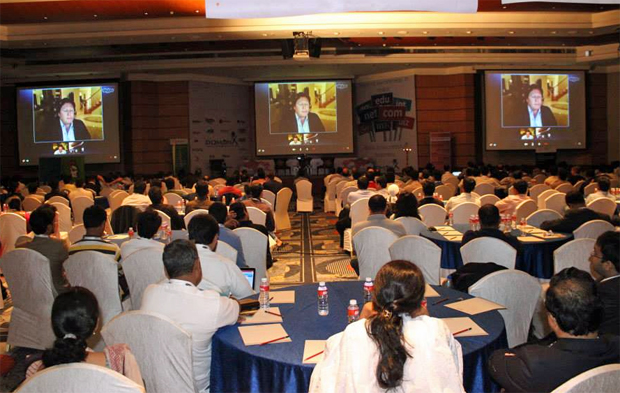 DomainX Keynote Speaker Michael Castello appeared on three large
screens in the conference hall to address the audience via Skype.
While those of us in the U.S. had to speak over the internet, many experts from India and other parts of Asia spoke in person, including another keynote speaker - leading Indian domain investor Deepak Daftari.

While I can't give you a first hand account of how well things went on site, every account I have read from people who were there gave DomainX and its line up of speakers glowing reviews. You can see those at these links: ContentOpus.com (written by Anil Kumar Pammidimukkala), YuvaEngineers.com (written by K.V.A.Sridhar), INForum.com (written by Arpit Agrawal) and DomainInvesting.com (a very comprehensive review written by keynote speaker Deepak Daftari).

Since they gave such thorough first hand reports that include every session held at DomainX I won't go over the

Keynote Speaker Deepak Daftari
on stage at DomainX 2014.

same ground they covered so well, but it is obvious DomainX delivered a very well received package and did it despite charging no admission fee to attend! Sponsor support made that possible, so kudos to the companies that helped underwrite this event in an effort to grow the industry for the benefit of all.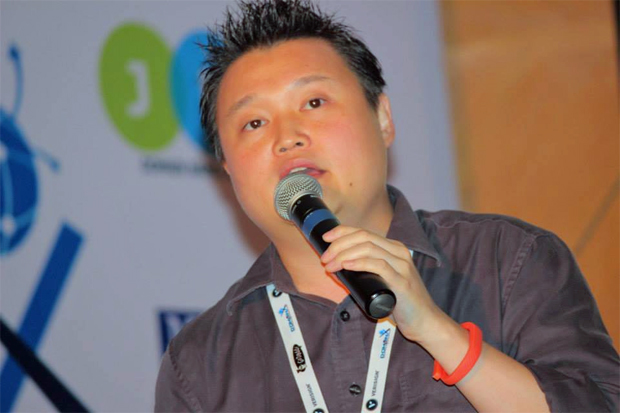 In addition to making the trip to DomainX to speak, .Asia CEO Edmon Chung
further supported the show's maiden voyage as one of the top sponsors.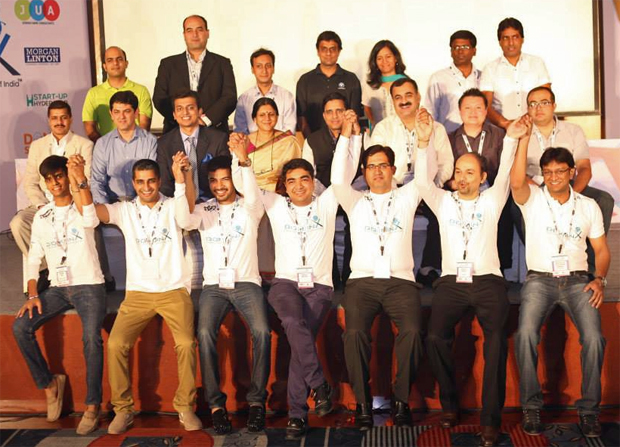 Reason to celebrate! The entire DomainX production crew gathered for this team photo
to mark a successful debut that laid a great foundation to build on going forward.
Now that the appetizers have been served we are looking forward to a rich banquet of future conferences produced by India-based entrepreneurs. With the experience they have gained from their initial outings, added to the many talents they already possessed, there is no stopping them now!