Afilias, who last February won the rights to operate one of the best new gTLDs, .green, has made some major moves to bolster the prized TLD's prospects. If you have been following the .green saga, you know that The DotGreen Community Inc., a San Francisco based non-profit organization led by Founder Annalisa Roger, had been pursuing the .green extension since 2007. However, other applicants with deeper pockets later entered the fray forcing DotGreen Community to reluctantly end their quest late last year.
That left three applicants standing, with Aflias (who administers the .info domain and provides back end services for many others TLDs) finally winning rights to .green in an auction that also included Top Level Domain Holdings and Demand Media. Before the auction I wrote, "The eventual winner of .green might benefit by bringing some of the passionate people from the DotGreen Community aboard when the extension is launched." So, as you would imagine, I am delighted that is exactly what Afilias has done - actually going one better to partner with the entire DotGreen Community organization, giving them the responsibility to manage the extension while Afilias provides the back end services they are so well-known for. Details were announced in a press release today.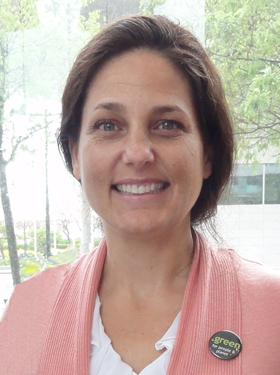 Annalisa Roger
Founder and CEO
DotGreen Community Inc.
Kathy Nielsen
DotGreen Community Executive Director of Registry Operations and Channel Relations

In another smart move, DotGreen Community just added industry veteran Kathy Nielsen to its team as Executive Director of Registry Operations and Channel Relations. Ms. Nielsen has been at Sedo the past seven years, most recently serving as VP Business Development, Registry Services. She has extensive executive level experience with both public and privately held companies in the e-commerce, e-publishing and Internet domain name industries. Prior to joining the DotGreen team, Ms. Nielson was also one of the new gTLD program's strongest advocates.

Ms. Roger said, "We are fortunate to welcome Kathy to our team. She brings a wealth of knowledge from the domain name, digital media, and advertising industries and is excited about the value .green domain names can provide to registrants and participants in the green economy.

The launch schedule for .green domains has not yet been released.