You never know when or where you will receive good news. Last week my wife Diana and I spent a week at one of our favorite places on the planet, Florida's Siesta Key, a barrier island in the Gulf of Mexico, just west of Sarasota. Siesta Key Beach was named the Best Beach in America by Dr. Beach in 2011 (once a beach wins that title it is "retired" from the competition, but I've still never see a prettier one in the U.S.). I spent almost every day on that beach during the 11 years I was the sportscaster for the ABC-TV station in Sarasota, and it is still only 90 minutes from where we now live in Tampa so we go back as often as we can.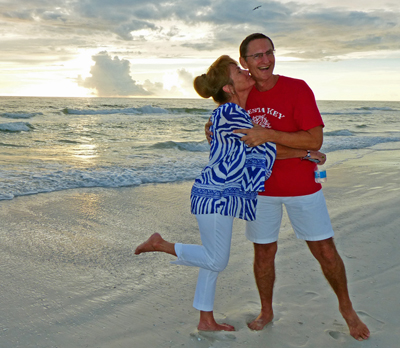 Ron & Diana Jackson on Florida's Siesta Key last week
(Photo by Barbara Neu)
Last Thursday (Sept. 25), Diana and I were walking along that stretch of beach with T.R.A.F.F.I.C. Co-Founder Howard Neu and his wife Barbara, who had come over from Fort Lauderdale to share the sun and sand with us for a few days (we will be doing the same on their turf next month when we head over to Miami's South Beach for the 10th anniversary edition of the T.R.A.F.F.I.C conference that runs October 28-November 2 at the historic and spectacular Fontainebleau Hotel).
Escrow.com President Bandon Abbey

While we were on the morning walk Thursday my mobile phone rang with a call from Escrow.com President Brandon Abbey who wanted to let me know he had just closed a deal (that would be announced later that day) to buy competing escrow company Agreed.com from Thought Convergence. Brandon was understandably excited to make an acquisition that brought together the only two licensed online escrow companies in the United States that have products, services, and systems specifically designed for the domain community and online personal property transactions.

In the news release about the sale Brandon said, "By integrating the technologies of our companies, we will be able to offer a more comprehensive set of options to the domain community. As the worldwide leader in providing escrow services for "the real estate of the Internet", it is important that we react to the needs and expectations of our customers as the global marketplace changes. Agreed.com has developed unique and proprietary

technology that our clients will now be able to enjoy, while bringing together the only government-licensed and audited, insured, and bonded personal property Internet escrow companies in the world."
In my first sentence I referred to this as good news because a deal that makes both parties happy is always welcome. Such was the case here with Ammar Kubba, the CEO of Thought Convergence and Agreed.com, also very pleased with the transaction. Ammar noted, "We've spent the past several years building a powerful and intuitive online escrow platform for the domain community. Escrow.com will now be able to scale more rapidly and successfully deliver additional services to the global market."
Kubba added, "I look forward to working with Brandon and his team throughout the transition and for years to come. The rapidly evolving domain industry needs a trusted third party that is neutral, transparent, and independent, which is why joining Escrow.com was the obvious choice for us. They've been in this business for 15 years, and they've clearly withstood the test of time and trust. Escrow.com has always been a pillar of the domain industry, and they're the only ones that I would trust with our future business and that of our customers."
That wasn't the only good news we heard while on vacation. Earlier on Thursday morning we had gotten word from new DNC Holdings Inc. President Kellie Peterson that the parent company of popular registrar DirectNic.com was bringing Mike Robertson on board as Director of Business Development based at the company's headquarters in the hometown we both share, Tampa, Florida. Mike, the widely known and universally respected co-founder of DomainGuardians.com, will move from Australia, where he spent many years as an executive with Fabulous.com, to assume his new duties heading up DNC aftermarket, monetization and account management programs.

Ms. Peterson said, "Obviously, we know Mike's abilities in managing a portfolio and brokering high value domain names (DomainGuardians recently brokered a $1

Mike Robertson and friend kicking back
at home in Australia (photo from an
excursion at the 2008 T.R.A.F.F.I.C. Down
Under conference that Mike helped produce).

million sale of BTC.com). We also have great faith in his ability to turn up new business opportunities for us. With our recent work to update and reinforce our technology, our next step is investing in our people and Mike is a great investment for us."
Robertson said, "Having spoken with Kellie Peterson earlier this year, I know they have some pretty cool stuff that they're looking to roll out soon. So when the opportunity to join the team presented itself, I jumped at the chance. I see it as a great way to challenge myself both professionally and personally. I'm looking forward to working with the DNC team in Tampa and helping them bring a fresh new brand to market soon."
As a longtime friend we were delighted to hear Mike is on his way to Tampa (he is due to arrive in mid October). Once he gets here, we know of a very special beach we are sure he will like!