A common complaint about ICANN's Uniform Domain Name Dispute Resolution (UDRP) process is that decisions handed down by UDRP panels or individual arbitrators can be wildly inconsistent if not downright inexplicable. A perfect reminder of that came today when we got an interesting domain sale report (more on that in a moment) on the same morning that Michael Berkens published an article at TheDomains.com about a troubling UDRP decision involving EasyTrain.com that went in favor of London's easyGroup Limited.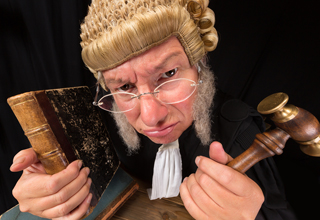 Judge image from Bigstock
Michael noted that the decision by a lone arbitrator, William R. Towns, appeared to give EasyGroup the right to every domain containing the word "easy" that the company holds now or may decide to trademark at any time in the future.
EasyGroup has claimed the rights to terms like EasyTrain, EasyCar, EasyGym and many others including EasyHotel. That last one brings us to the new domain sale I mentioned above. This morning I got a documented sale report (including a copy of the completed Escrow.com transaction) from Pascal De Vries showing that he sold EasyHotel.ch (a Swiss country code domain) last week for $21,800. De Vries said the buyer, represented by an agent from a negotiating company, was none other than easyGroup IP Licensing Ltd!
But wait a minute. If EasyGroup really owns the rights to EasyHotel, as they claim, why did they cough up so much money to buy this name? It turns out that easyGroup had tried to get this domain from De Vries once before, back in 2005, but not by offering to buy it but by trying to

Cart full of cash image from Bigstock

take it through a UDRP filed against De Vries. The problem was, easyGroup lost that one (for a variety of reasons, including the fact that De Vries had a Swiss trademark of his own on the term).

So, nine years later, easyGroup had to part with some cold hard cash to get the domain. Of course, they may be able to acquire more "Easy" domains like EasyTrain.com through UDRP (this one made easy for them by the fact the respondent never answered the claim) but they can't always count on a slam dunk as they learned the hard way - and as we have seen over the years from decisions that often defy common sense.