The 2015 NamesCon conference got underway Sunday (Jan. 11) at the Tropicana Hotel in Las Vegas with a day christened Domainfest at Namescon following the show's acquisition of the Domainfest conference from Oversee.net a few weeks ago.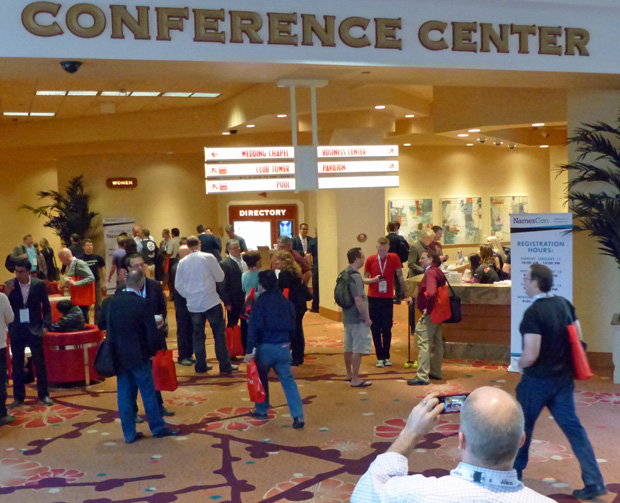 Above: The first of an an expected 900 attendees begin arriving at the Tropicana Hotel's Conference Center Sunday morning for the opening day of the 2015 NamesCom conference that runs through Wednesday (Jan. 14).
Below: NamesCon staff busy checking in attendees Sunday morning at the Tropicana Hotel.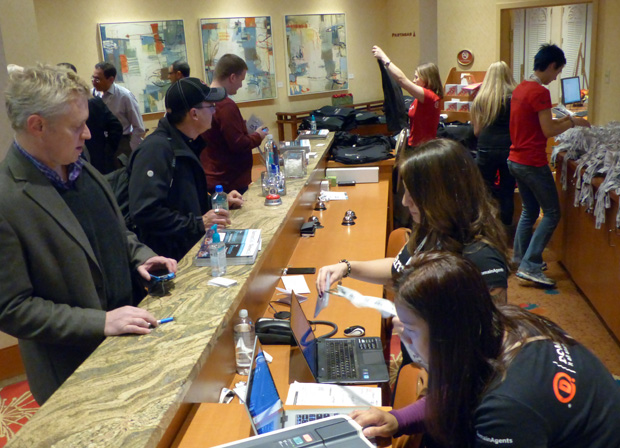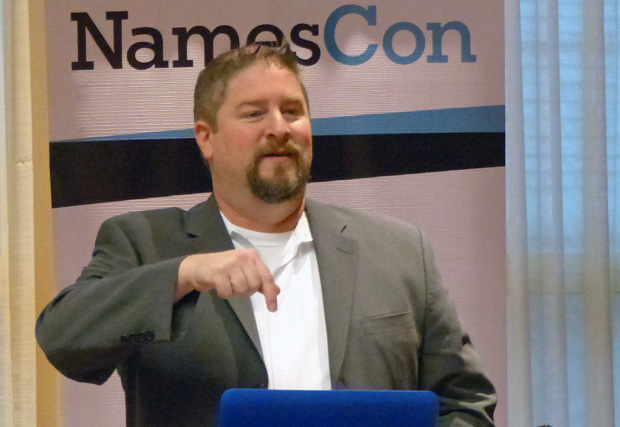 Above: NamesCon Co-Founder Jothan Frakes welcoming attendees to the 2nd annual conference in Las Vegas Sunday morning (Jan. 11, 2015).
Below: The first round of business sessions began at 10:15am Sunday with four separate seminars on a variety of topics. In this photo you see part of the standing room only crowd at Adam Dicker's DN College session.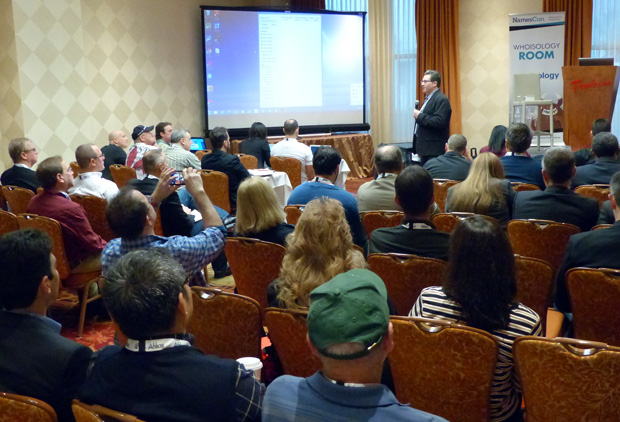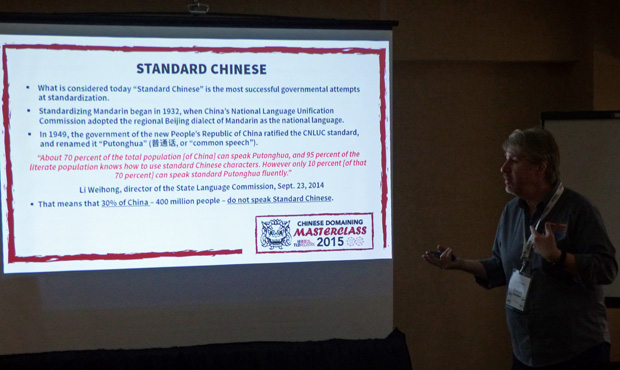 TLD Registry's Simon Cousins may be the busiest guy at NamesCon. He is helping stage a weeklong Chinese Domaining Masterclass that has him doing as many as a half dozen presentations a day including this one Sunday (Jan. 11, 2015).
At the same time Sunday morning, Victor Pitts of Above.com conducted a session on Monetizing Your Domain Traffic while the dynamic team of Bruce Marler and Tiffany Marley of LocalTek LLC presented the first of multiple sessions on mastering Wordpress.
Below: The next round of sessions on NamesCon's four-track agenda started at 11:25am. In one of those Mark Jeftovic of easyDNS held court on The 7 Deadly Types of Domain Name Risk.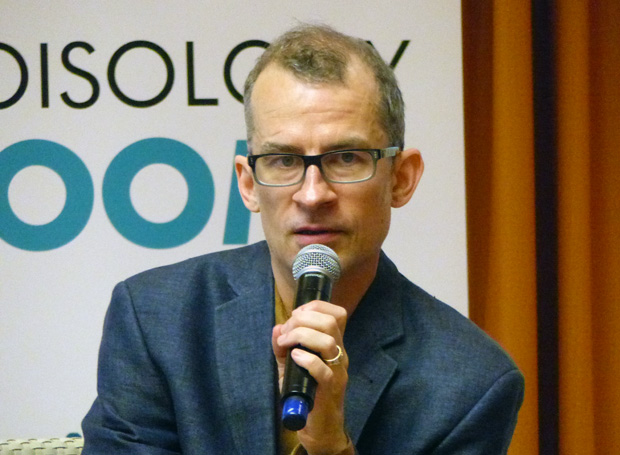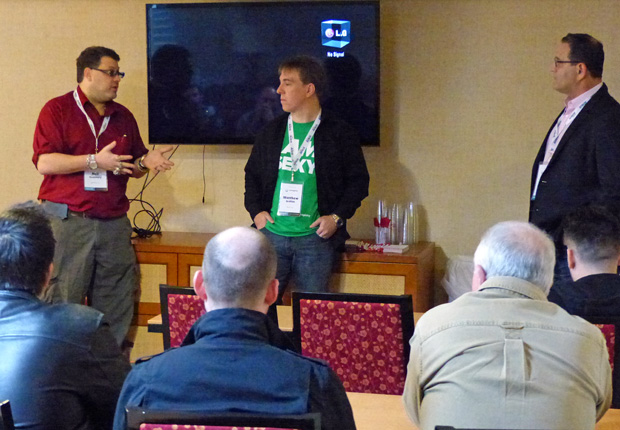 Above: In another Sunday morning session Neil Sackmary of GetItFido.com (left) and Matthew Griffith of Merlix LLC (center) were part of a Workshop on Uniregistry Registrar Services that was moderated by Uniregistry's Sevan Derderian (right).
Below: After the lunch break, sessions resumed in 1:10pm Sunday with Angie Graves (far right) overseeing one that covered Pitching the Venture Capitalist. Facing the camera at left is attendee Kirk Klinkhammer.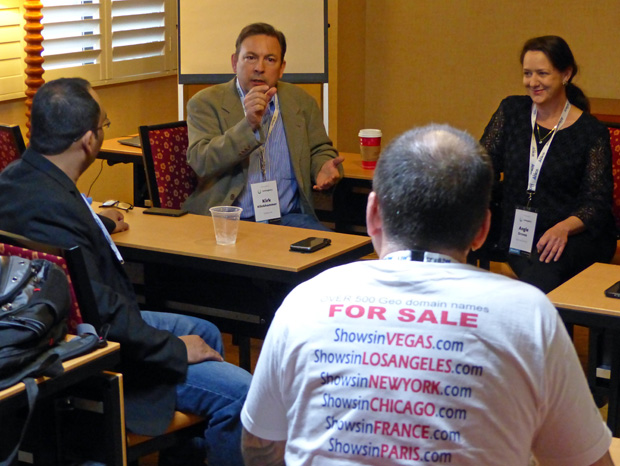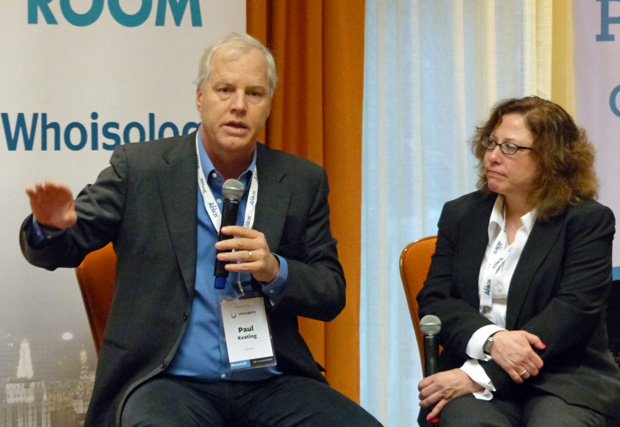 Above: At 2:20pm Sunday attorneys Paul Keating from Law.es and Karen Bernstein from Bernstein IP provided A Primer on Legal Protection for Domain Names.
At the same time, another one of the industry's top attorneys, Zak Muscovitch from DNAttorney.com was in another conference room conducting a workshop on Leasing Domain Names. Meanwhile TLD Registry's Chinese Domaining Masterclass sessions continued to run on another track.
Below: In yet another mid-afternoon session Sunday Thunayan K. AL-Ghanim from FMA.com (left) and Adam Dicker (DNForum.com) drew a standing room only crowd to a session covering Uniregistry Registrar Services (a company whose services both utilize).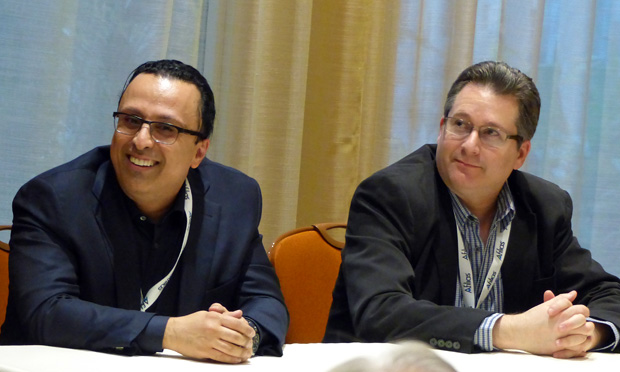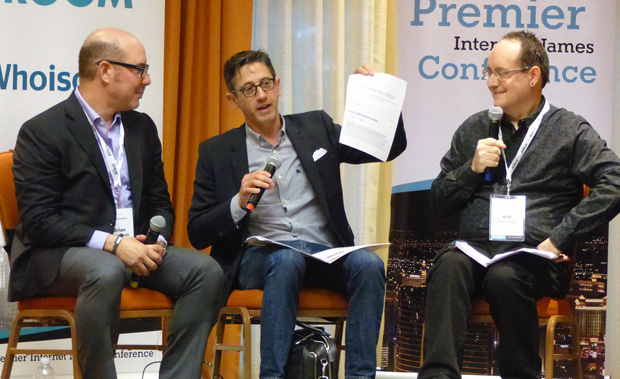 The next round of sessions began at 3:30pm and included (above) Fundamental Domain Name Concepts for Digital Brand Managers that featured (left to right): Brian Winterfeldt (Katten) and Frederick Felman with moderator Bill Sweetman (NameNinja.com).
In another room Hiro Tsukahara of GMO Registry detailed what was happening in the Japanese Marketplace and with new gTLD .Tokyo.
Below: In yet another, ParkLogic.com's Michael Gilmour came over from Australia to conduct a Dissecting Traffic Monetization workshop and the session obviously went well.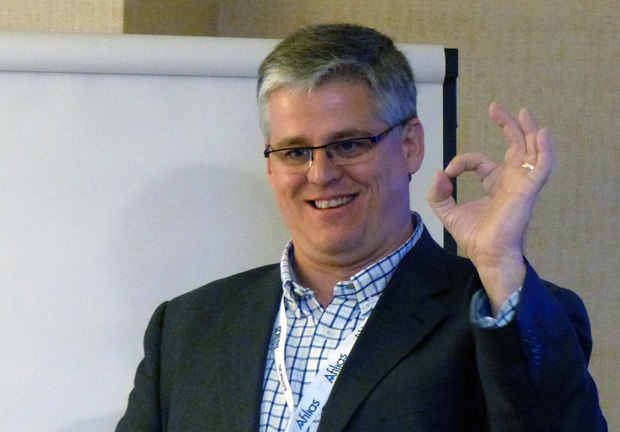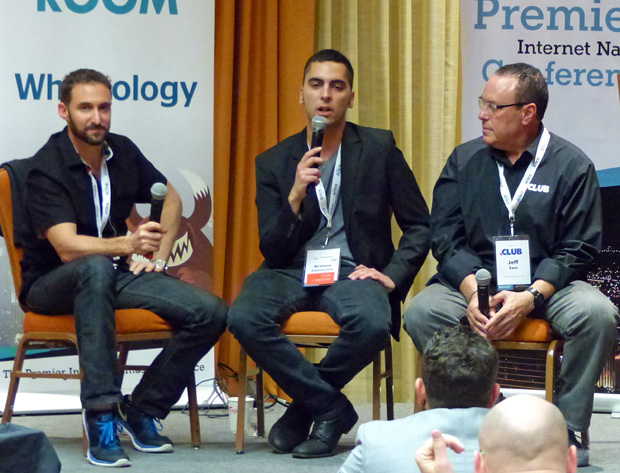 Above: The final round of day one business sessions included a workshop on the various new gTLD Founders Programs that featured (left to right): moderator Braden Pollock, Armen Zeynalvand (Minds + Machines) and Jeff Sass (.CLUB).
At the same time in other rooms Gary Fisher conducted a workshop called Meet the New TLDs, Kevin Murphy (DomainIncite.com) and Matt Bentley (Pretarget.com) joined forced to dissect Stats: What Measures a New GTLD, with another Chinese Domaining Masterclass bringing Sunday's business day to a close.
Below: With business now out of the way it was time to party at the Sunday night NamesCon Welcome Networking and Entertainment Event. This scene captures just a fraction the crowd spread across the spacious ballroom.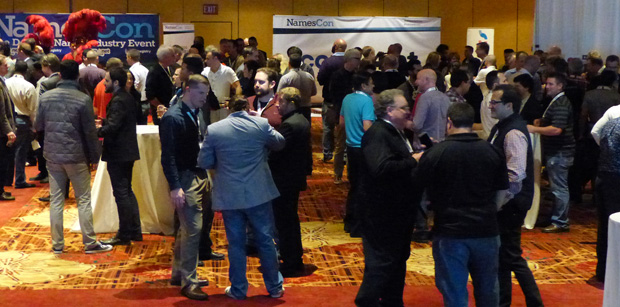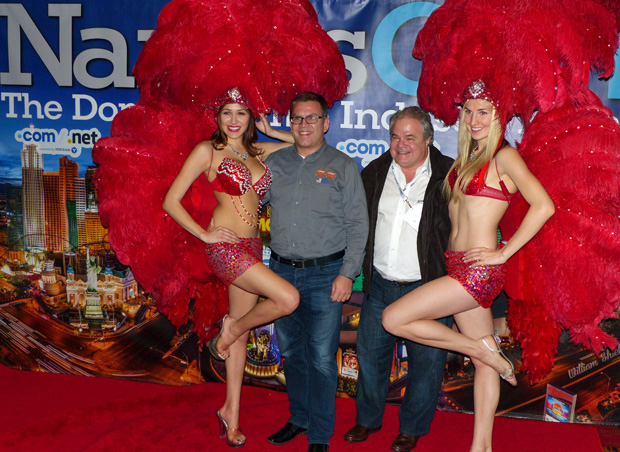 Above: Of course, what would a convention in Las Vegas be without Las Vegas Showgirls?! TLD Registry's Arto Isokoski and Pinky Brand took advantage of their presence for this colorful photo op.
Below: The Vegas Showgirls are great but they have nothing on our Domain Women and Tiffany Marler (LocalTek LLC) proved it by striking this pose! Left to right are Bruce Marler, Thomas Stocking, Tiffany and Victor Pitts from Above.com.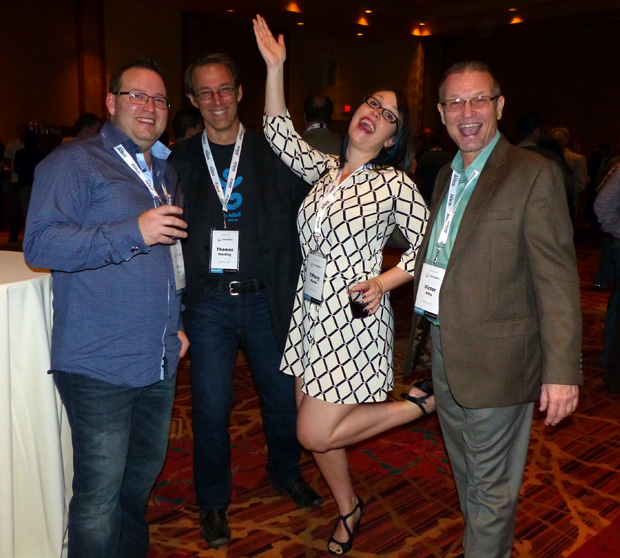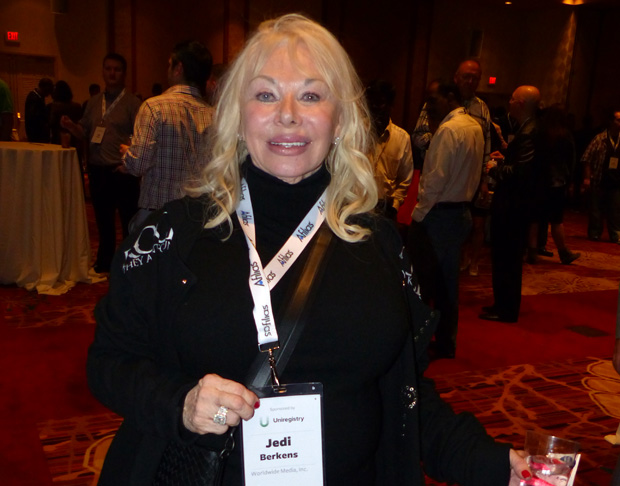 Above: This may be the most accurate typo ever. The status of Judi Berkens, the wise wife of TheDomains.com's Michael Berkens, was acknowledged on her Jedi Berkens nametag!
Below: Faces in the Sunday night party crowd included (left to right): James Morfopolous (an important part of the team that puts on NamesCon), Tessa Holcomb (Igloo.com), Diana Jackson and Jason Schaeffer (ESQWire.com).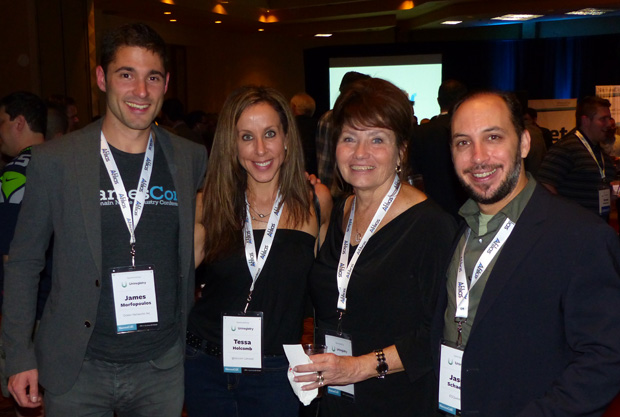 As I write this a very busy second day at NamesCon is winding down with the big Water Night charity fundraising party still to come tonight. It starts at 9pm local time and runs until 1am (that is midnight to 4am Tuesday for our fellow Easterners). I'll have all of the Monday photos and highlights for you in my next post from Las Vegas.