The 2015 NamesCon conference completed its four-day run Wednesday evening (Jan. 14) at the Tropicana Hotel in Las Vegas. This second annual edition of the event enjoyed tremendous growth from the debut edition a year ago with attendance jumping nearly 50% and floor space, sponsorship and program content also enjoying a major expansion under the direction of Co-Founders Richard Lau and Jothan Frakes and their Co-Producer Jodi Chamberlain. Here are photos and highlights from the final day of the big event.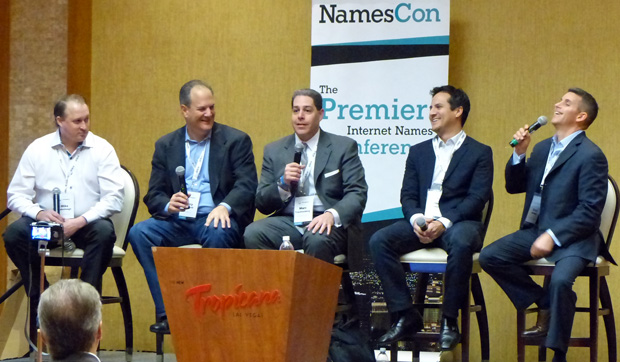 Above: Wednesday began with a trio business sessions at 9:55am including one on Domains, Brands, Trademarks and the Law where this photo was taken. Featured panelists (left to right) were Mike Rodenbaugh (Rodenbaugh Law), Gary Saposnik (TMNetLaw), Mark Trachtenberg (Greenberg Traurig), Anthony Beltran (101Domain) and moderator Derek Newman (Newman Du Wors LLP).
At the same time sessions in other rooms featured Domain Name Association Director Kurt Pritz in one and DomainNameSales.com VP Jeff Gabriel in another where he offered advice on Eliminating Roadblocks to Selling Your Domains. At 10:20am sessions also resumed in the weeklong Chinese Domaining Masterclass presented by TLD Registry.
Below: At 10:50am everyone returned to a central location - Verisign Hall - to hear Sedo Chief Sales Officer Dima Beitzke's address on Marketing Premium Domains.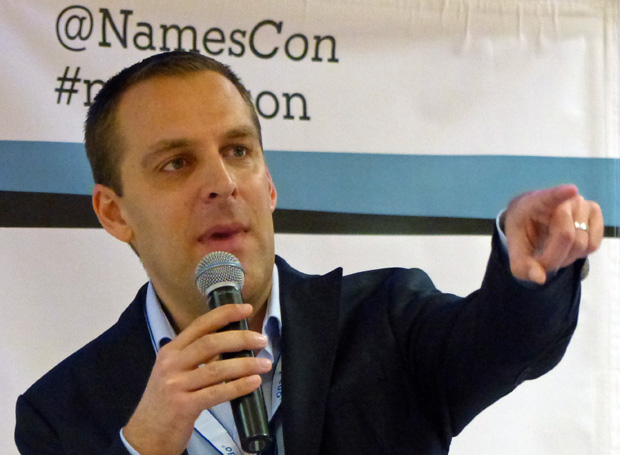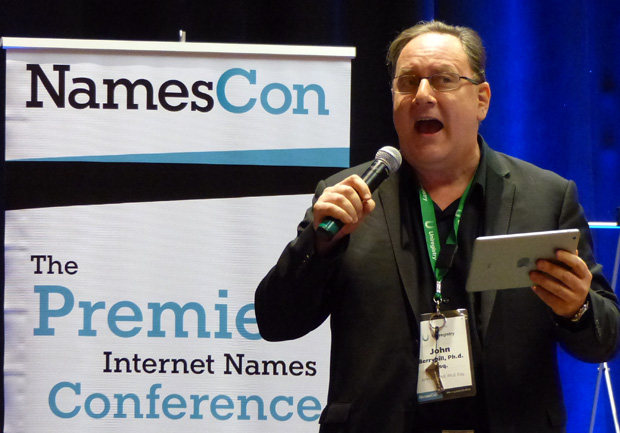 Above: At 11:25am - in what had to be the most entertaining session of the week, titled Legendary Tales - some of the world's top domain attorneys shared some hilarious anecdotes about real life cases that have handled over the years. John Berryhill, who has a background in theater, took his presentation to an entirely new level with theatrical readings of wildly over the top accusations made against him or clients in UDRP filings. You really had to be there to appreciate the Shakespearean delivery that had the audience in stitches. With Ari Golderger, Paul Keating and Brett Fausett sharing their stories as well you missed the boat if you missed this one (but we are hopeful it will dock again at another show)!
Also at 11:25 on The ICA Stage Thomas Stocking (Gandhi US Inc.) told his audience How to Be a Reseller of registrar services while a panel discussion in the Whoisology Room covered efforts being made toward Universal Acceptance of Domain Names (with respect to having them behave correctly with software to prevent technical issues).
Below: At the same time on The DNA Stage (left to right) - Jonathan Tenenbaum (NameJet), Chris Ambler (GoDaddy) and moderator Andrew Allemann (DomainNameWire) presented The Drop Zone - Evolution of Tools in the Secondary Market.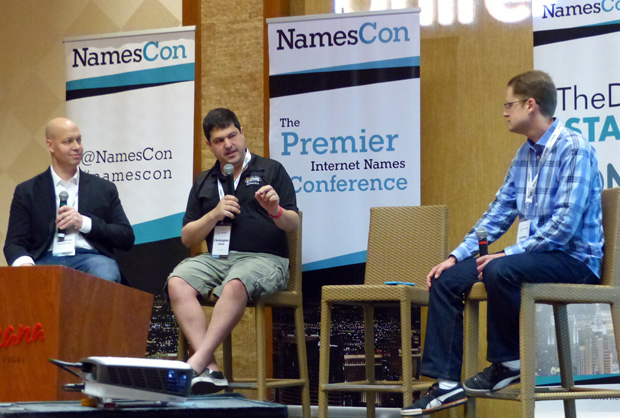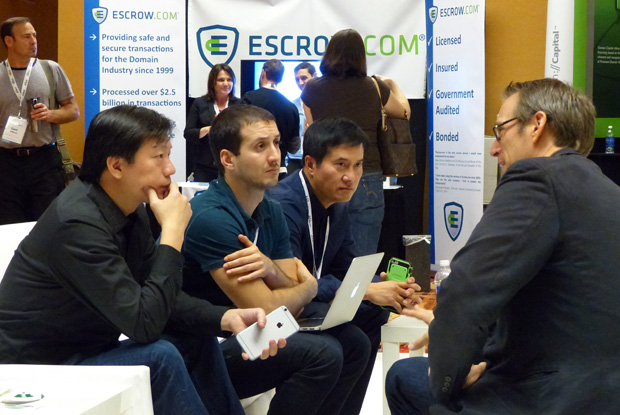 Above: At the Wednesday lunch break, as it did every day, the Exhibit Hall and its comfortable lounge area drew a crowd. Some used the time to schedule meetings like this one in front of the Escrow.com booth.
Below: Others took the time to visit sponsor booths where all kinds of cool swag could be found like the Radix Registry T-Shirts laid out in front of the crew at their booth (including Kevin Kopas at far right who had his head shaved to raise money for the Water School at the big Water Night fundraising party Monday night).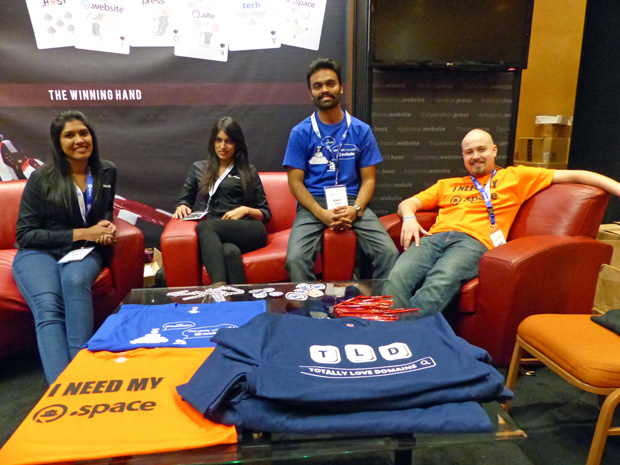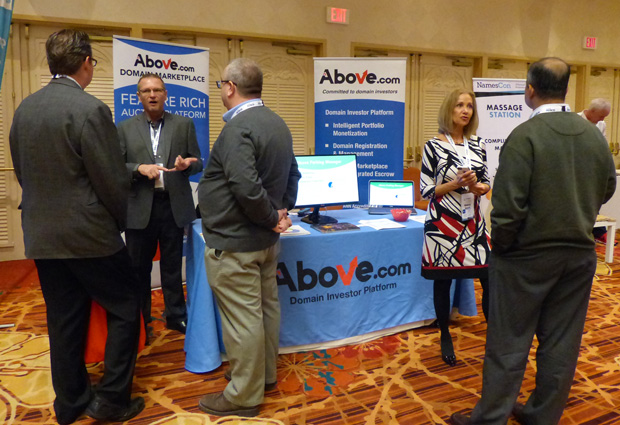 Above: The Above.com booth featuring industry veterans Victor Pitts (facing camera at left) and Nancy Bianchi (facing camera at right) was also a popular stop in the Exhibit Hall. With three separate stage entrances/exis in the exhibit area sponsors enjoyed a steady flow of traffic throughout the day as attendees came and went from the various sessions.
Below: Business resumed after the Wednesday lunch break with five more sessions starting in the various meetings rooms at 1:15pm. One of those, Extracting the Most Value from a Portfolio, featured (left to right) Bob Mountain (Afternic.com), Monte Cahn (RightOfTheDot.com) and Dave Evanson (Sedo.com).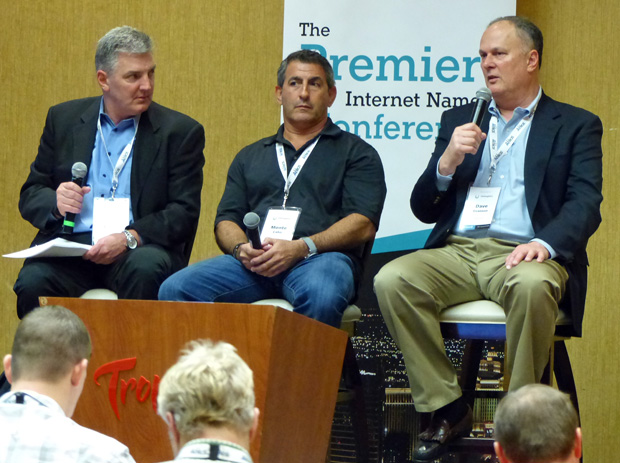 Other 1:15pm sessions covered Global SEO and Domain Name Preferences, New gTD Statistics and Business Implications, a Frogans Platform Workshop and the continuing Chinese Domaining Masterclass.
Below: After a 2:15pm Coffee Break, attendees headed back to the conference rooms for another five-session set that started at 2:40pm. On the main stage in Verisign Hall, Joe Alagna of 101Domain.com presented his Ten Percent Rule for Domain Names in Advertising. Joe makes a solid case for the value of buying and using domain names in advertising vs. other options.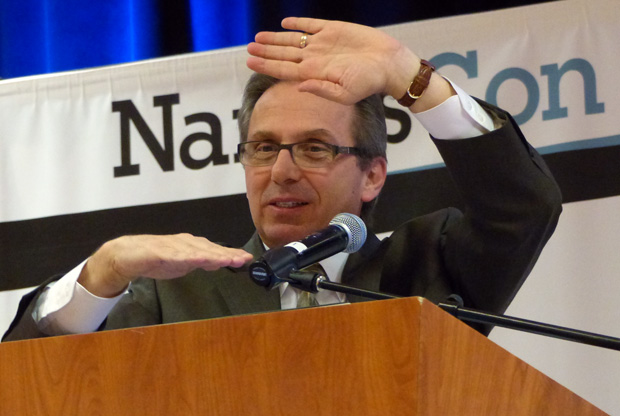 2:40pm sessions on other stages discussed How to Leverage Opportunism in Emerging Markets, The Politics of ICANN, IANA and Internet Governance and there was a legal workshop titled I'm Getting Sued, What Do I Do Now?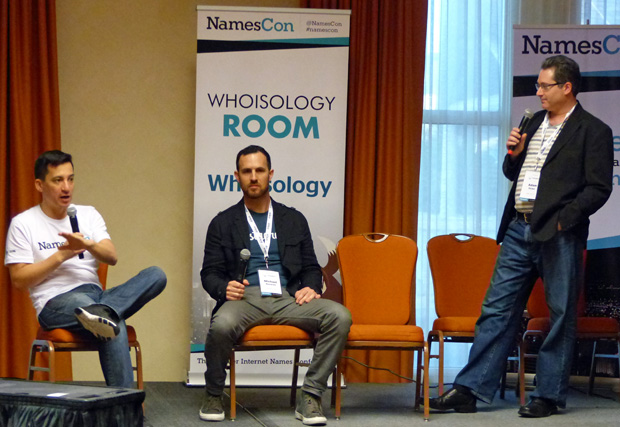 Above: Yet another round of sessions on NamesCon's content-rich schedule began at 3:50pm, including a panel discussion on Brandable Domains that featured (left to right) NamesCon Co-Founder Richard Lau, Michael Navarini of Namerific.com and moderator Adam Dcker.
Below: There was also a session on Essential Industry Tools as well as the show's third Meet the TLDs session (below) that featured (left to right) moderator Braden Pollock, Vladimir Shadrunov (Asiamix Digital Ltd.), Urs Eroes (.LTDA Registry) and Antony Van Couvering (Minds + Machines).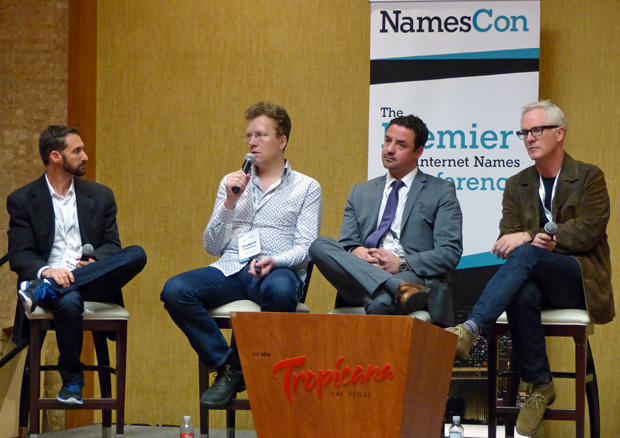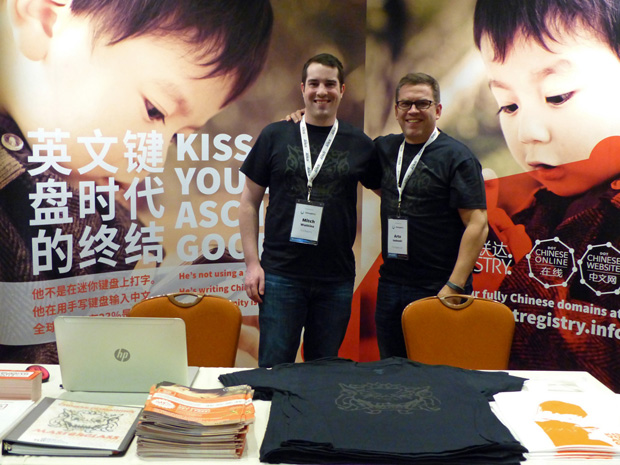 Above: With only one business session left on the 2015 NamesCon schedule attendees paid their final visits to sponsor booths in the Exhibit Hall. Those visiting the TLD Registry table were greeted by Mitch Watkins (left) and Founder Arto Isokoski.
Below: Meanwhile fans of popular domain forum NamePros.com made a bee line to their table to see Eric Lyon and Edward Zeiden (right).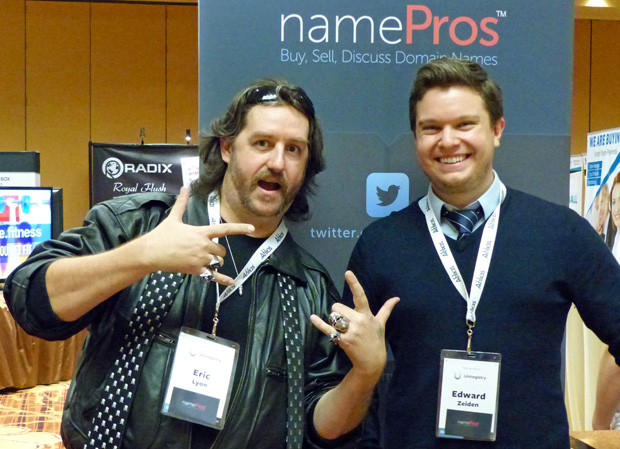 Above: At 5pm NamesCon's grand finale - The Executive Roundtable: Outlook for 2015 was held in Verisign Hall with attendees hearing from (left to right) Michele Neylon (Blacknight), Cybele Negris (WebNames.ca), moderator Christian Dawson (i2Coalition), Elliott Noss (Tucows Inc.) and Antony Van Couvering (Minds + Machines).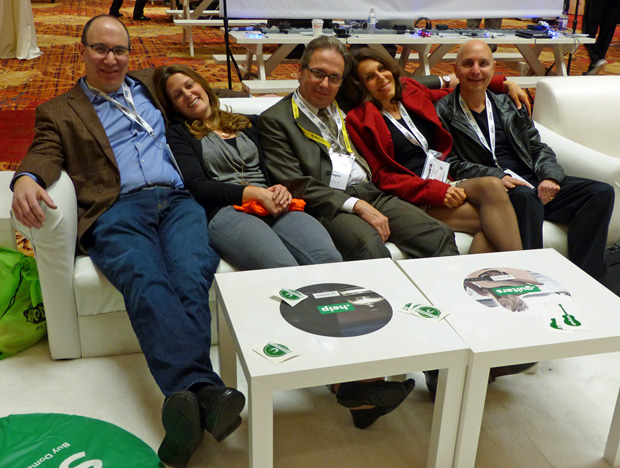 Above: With the 2nd annual NamesCon conference now complete these exhausted but exhilarated attendees kicked back on one of the Exhibit Hall sofas just minutes before a crew arrived to carry the furniture away! Left to right are Larry Fischer, Michelle Miller, Joe Alagna, Kina Merdinian and Alan Hack.
After its successful debut show in 2014 NamesCon raised the bar even higher this year and you can bet it will go higher still in 2016. Kudos to Co-Founders Richard Lau and Jothan Frakes, Co-Producer Jodi Chamberlain, James Morfopoulos and the entire NamesCon team on a job exceptionally well-done.
Below: While Richard and Jothan appeared on stage several times during the show, Jodi stays so busy behind the scenes that she was rarely still long enough for us to snap a photo. However, we did finally catch up with her at the registration desk (center below) along with NamesCon teammates Kevin Burke and Len Rada. They, along with Frankee Teeter and every other NamesCon team member, helped the domain industry take a giant step forward this week! We are looking forward to seeing you all again at NamesCon 2016!