Since entering this business 13 years ago one thing I have commented over and over on his how remarkably creative so many people in the domain industry are. Having worked in broadcasting and the music business before discovering domains I've been around a lot of creative people in the past but never so many with such diverse talents in one place as we have in our unique community. There are musicians, artists and writers in our midst and I guess that's not surprising because succeeding with domains involves a sense of harmony (between keywords and extensions), beauty (what is pleasing to the eye and ear) and certainly a mastery of language as our entire business is based in words. Equally impressive are the builders, who create websites, new businesses and entire industries from scratch.
Our embarrassment of creative riches was underscored again this morning when a very well-known industry veteran, ParkLogic.com Founder (and author of Whizzbangs Blog), Michael Gilmour, had his first novel - a science fiction epic titled Battleframe The Mindwars - released at Amazon.com (in both paperback and Kindle editions, the latter at the astonishingly low price of $2.99 when I downloaded it today).
Having just gotten my hands on it I can't provide a review of the book yet, but having known Michael for over a decade and become very familiar with his intelligence, wit and work ethic, I know it is going to be a very good read (for a detailed overview of Michael's life check out the in-depth profile of the Melbourne, Australia native that was published in our November 2008 Cover Story).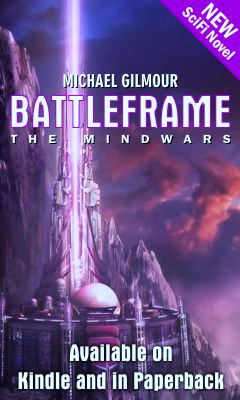 Michael Gilmour
After spending two years creating and polishing Battleframe The Mindwars Michael told his blog readers, "The plot is fast paced, has lots of action and the novel has a number of twists and turns that I hope really keeps the reader's attention." True to his reputation as one of the nicest, most genuine guys in the industry, Michael also quickly turned the spotlight to people who helped turn his vision into reality, writing, "I would also like to publicly acknowledge the tireless work of my team of beta-readers/editors. They are Roselyn (wife), Timothy (my son), Ray (father) and Laci (best friend). They made suggestions to improve the characters, tightened the plot and made the world of Alpha Three an exciting place to visit. More than that….they fixed a lot of my English!," Gilmour grinned.
Michael has always been a major supporter and proponent of our industry and the people in it. It would be great to see everyone in the business return that favor by picking up a copy of Battleframe and help turn it into a best seller. I have a feeling it is going to get there with or without us, but it would be a lot more fun if we all did what we have done so well in the past - lead the way to a previously undiscovered but extremely rewarding new world!