If you have been in the domain business for any length of time you know the name Divyank Turakhia, the wildly successful serial entrepreneur who teamed up with his brother Bhavin to build Directi into a domain industry powerhouse before selling the company to the Endurance International Group for a reported $110 million in 2013. Divyank is currently building another business dynasty at Media.net.
We profiled Divyank and his penchant for adventure (including standing on top of a flying airplane!) in a popular September 2008 Cover Story. Divyank is a guy who never stands still so he has accomplished much more in the seven years since that story came out, both in business and in his pursuit of the biggest adrenaline rush possible.
Forbes Magazine was so enthralled with Div's latest passion, barrel rolling his own airplane over the Pacific Ocean, that they sent a film crew to document what he is doing and why he does it. It is a great video (and runs less that 5 minutes) that you really must see to appreciate. You can do that here.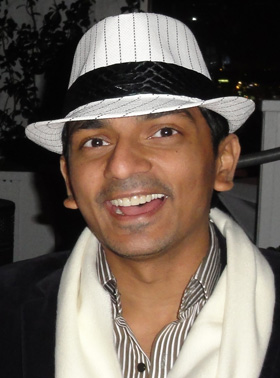 Divyank Turakhia in a photo we snapped at the Mondrian Hotel's SkyBar in West Hollywood, California during the 2011 Domainfest Global conference.
Divyank told Forbes reporter Ellen Huet, ďAerobatics is like business. Itís fun if itís done right. If itís not, you crash and burn. So you have to know your limitations. You have to have a backup plan of a backup plan.Ē That philosophy has made Turakhia (who was a millionaire by the time his was 18) a very wealthy man. Yet, as high as he has flown, Div has always kept his feed solidly on the ground, building a reputation as one of the nicest guys in the internet world. It's really great that Forbes is giving the rest of the world a closer look at one the of most interesting people to ever grace our industry.