Most of our readers buy and sell domains and some take the next step and attempt to develop one or more of their favorites into successful businesses. That is a lot harder partly because domain investors go at from the exact opposite direction taken by mainstream entrepreneurs. People in the latter group normally come up with a business idea and well thought out business plan then look for an appropriate domain name to build on. The domain investor is more likely to start with a name they love then try to figure out how to make a business work on that particular name (kind of like putting the cart before the horse).
Since doing it that way is such a daunting task it is good to see examples of people who have done it successfully. On that score, Bobbleheads.com Founder Warren Royal (who was profiled in our December 2008 Cover Story), has done it as well as anyone you are ever likely to find. Warren didn't know a lot about bobbleheads when he bought Bobbleheads.com in an auction for $30,000 in early 2008 but once he acquired the category defining domain name, he decided he might be able to turn it into a pretty nice little business by selling bobblehead dolls on it.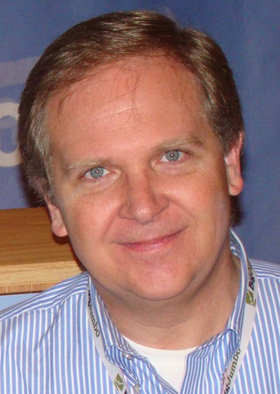 Warren Royal, Founder
Royal Bobbles and Bobbleheads.com
Warren started out selling bobbleheads from a variety of companies and that worked out pretty well - well enough to pique his interest in manufacturing his own bobbleheads to sell. He even produced dolls of two domainers - Rick Schwartz and Ron Jackson that first year (and as you would expect, both now sell at a big discount)! The two domainers aside, the move to manufacturing worked out pretty well too - in fact way beyond pretty well. Since debuting his Royal Bobbles line, Royal has become one of the biggest players in the entire industry. These days he is frequently called upon by major corporations to create a doll to their specifications and by celebrities who want one made in their own likeness to sell to fans. A huge number of satisfied customers have found that when it comes to bobbleheads nobody does it better than Royal.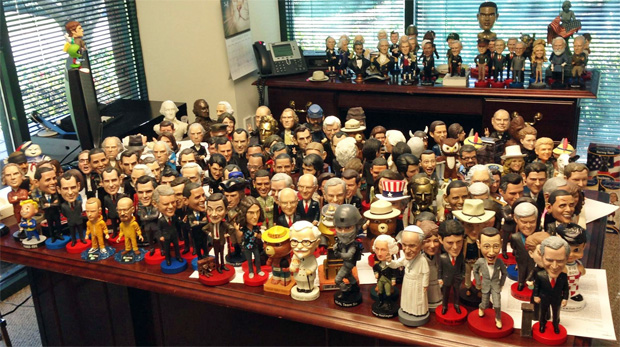 Some of the now famous Royal Bobbles creations spread out on a table in Royal's office.
Royal's latest coup came earlier this month when his company was featured in a segment of Mike Rowe's TV show, Somebody's Gotta Do It on CNN (you can see the full episode here - the segment featuring Royal Bobbles starts at the 30:00 mark).

Royal told us how it all came about saying, "We worked with Mike Rowe (star of the Discovery Channel hit show Dirty Jobs) on a project to produce a Mike Rowe "made in the USA" bobblehead that he could auction off to raise money for his nonprofit mikeroweWORKS Foundation, which supports the skilled trades through scholarships. That journey resulted in him deciding to film the segment for his TV show."

Bobbleheads.com has also produced a fascinating 3-minute video of their own that will give you a great inside look at what the Atlanta-based company does and how big they have grown. Amazing what has blossomed from that $30,000 domain name purchase eight years ago. It is a real testament to the powerful combination of a category defining domain and a smart entrepreneur - as well as proof that sometimes putting the cart before the horse can pay off in a really big way!