Greenberg & Lieberman (G & L) has long been of the best known and most often called upon intellectual property law firms in the domain industry. The Washington D.C. based firm's high profile in our business can largely be credited to attorney Stevan Lieberman's presence at key domain conferences ever since they began with the first T.R.A.F.F.I.C. show in 2004 right up through this year's NamesCon conference (where the photo at right was taken).
What you may not have known is that Greenberg & Lieberman have been providing escrow services more than 20 years. The main reason you may have been unaware of that is the firm seldom handled transactions under $100,000. That has now changed with the firm's acquisition of the software platform that had been developed by EscrowHill.com - a company that was founded by Andee Hill early last year. Ms. Hill reportedly plans to remain in the domain industry and we've heard rumors she will begin work with another company in the near future.
Lieberman told us the software automates much of the escrow process making it possible for G & L to handle transaction of any size. The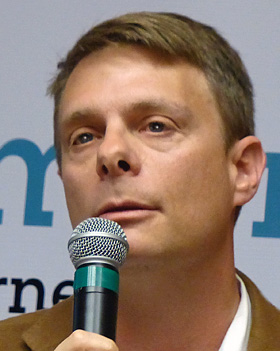 Attorney Stevan Lieberman
Greenberg & Lieberman, LLC
APLegal.com
system can be accessed at escrow.aplegal.com. While EscrowHill branding is still on the page, Lieberman said that will likely go away over time as the brand is closely associated with the former owner rather than G & L. The law firm bought only the software application with no employees or system other business assets included (since the sale the EscrowHill.com domain has been pointing to the escrow information page at G & L's APLegal.com).
Lieberman became more familiar with EscrowHill earlier year when the company, that was registered in New Zealand, retained him to give their customers the option of using an associated service provided based in America. Lieberman said G & L will service all

geographical regions except Texas, one of a handful of states that has very strict escrow licensing rules - rules that EscrowHill ran afoul of a few months ago (before Lieberman was retained), resulting in a stiff fine from authorities in that state. Lieberman said he will extend service to Texas residents as soon as possible.