As domain industry veterans and our regular readers know, David Castello (of Castello Brothers fame) returned to his music industry roots a few years ago to manage the career of his wife BREE in the rock trio named for her that David also plays drums for. The Nashville based group has been making steady progress ever since and is now poised for a major breakout in the UK, a country long known for discovering talent before the rest of the world catches on.
David and Bree just returned from a promotional tour of the UK where Bree was interviewed on many of England's top radio stations. Bree's first single from her upcoming album New Skin, "Damn, I'm Being Me Again", is currently receiving play on over 40 radio stations in the UK.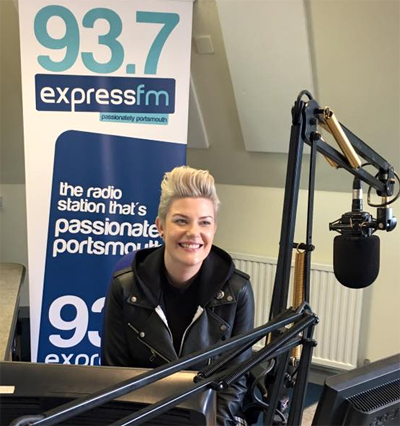 Bree doing one of several major radio interviews
in the UK this month (photo from Steve Hughes).
They will return to the UK in May with fellow band member, upright bassist Mayrk McNeely, for a series of live shows and interviews. I believe their music and the discerning UK audience is a perfect match that is going to create major waves in the months ahead. You can check out their newly released video for " Damn, Iím Being Me Again" by clicking the play button below.