Volumes have been written about the business of selling domain names, but what if you found yourself on the other side of the table and wanted to buy a specific domain so badly you could almost taste it? It isn't always as easy as looking up the owner's contact information and sending a note asking if they would be willing to sell and, if so, for how much? You can also bet that the better the name is, the more complicated the process is likely to be.
If you find yourself in that situation (or someone has asked you for advice on how they might go about acquiring a domain they need) veteran domain broker/consultant Giuseppe Graziano from GGRG.com has published an extensive free guide to the process titled The Ninja Guide to Buying a Domain When It's Already Taken.
You probably already know about Giuseppe. Prior to opening his own shop based in Lisbon, Portugal, he served as the European Director of Business Development for DomainHoldings. Since opening GGRG he has published a number of insightful free domain business guides on his blog with the latest being this in depth piece on an important topic that often gets overlooked.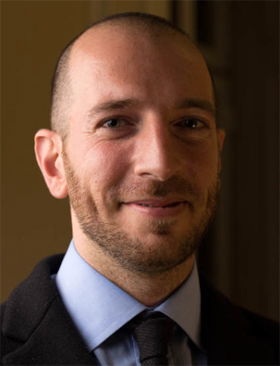 GGRG Founder Giuseppe Graziano
Whether you want a specific name for a development project or to improve your investment portfolio, the advice in his guide could help you land the asset you've set your sites on.
Graziano noted in his introduction to the guide, "Over the past few years, this has been my job – helping people buy and sell domain names. After many hiccups, a decent amount of large deals and a few millions in brokered transactions later, I have a good grip on what is the best way to approach the acquisition of a domain name. It is both an art and a science, because every domain name and every domain owner is different. Whoever gives you generic negotiation advice is not telling the full story. In this post, we are going to open the kimono and reveal our proven acquisition process and domain negotiation hacks, so you too can experience that feeling of being a proud owner of your dream domain, and know that you paid a fair price for it."
The guide is well worth checking out - or at the very least, bookmarking, so you will have it handy when the need arises.