THE Domain Conference (TDC) has landed two accomplished keynote speakers for their 2nd annual show coming up September 10-14, 2016 at the Hyatt Regency Pier 66 Hotel in Fort Lauderdale, Florida. As most of you know, TDC debuted last September under the direction of Howard, Barbara and Ray Neu, all well known throughout the industry after a decade of helping stage the pioneering T.R.A.F.F.I.C. conference that Howard co-founded with Rick Schwartz in 2004 (T.R.A.F.F.I.C. held its final show in 2014 when Mr. Schwartz retired, with TDC then formed to fill what would have been a large Florida void on the conference calendar).
After a successful debut in 2015, the stars also appear to be lining up for their return to Fort Lauderdale, especially with the two seasoned leaders they have lined up as headliners - Sedo CEO Tobias Flaitz and Neustar VP Lori Ann Wardi.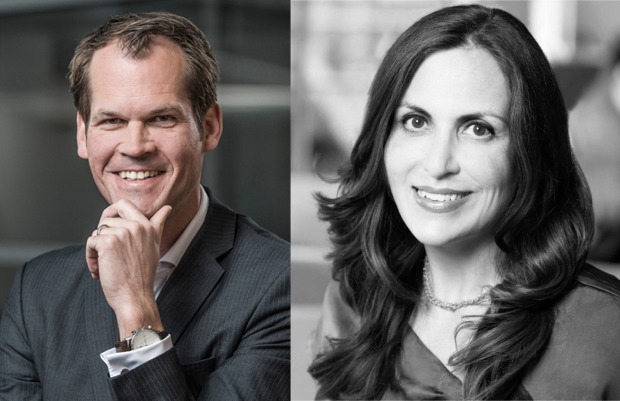 Tobias Flaitz (Sedo CEO) and Lori Anne Wardi (Neustar VP Registry Services)
will be Keynote Speakers for the 2016 edition of THE Domain Conference
You can read the impressive bios of Tobias and Lori Anne on the TDC website's Speakers page where you will also find details on another 16 (and counting) industry experts that have already been added to the agenda. Despite their experience in the field many of them will be people taking time out to speak to a domain investors group for the first time, including Stacey King, the General Manager for Amazon Registry Services.
The burgeoning China market will be represented by another featured speaker - Liangji Zhuang (BookSir), a successful serial entrepreneur, domain name investor, Booksir investment founder, vice director of ISCSME, expert advisor of ISC, and executive vice-director of research center for the commercial development of SMEs. Mr. Zhuang published a book that named "拆掉互联网那堵墙 (Dismantling the Wall of Internet)" in 2014 that has sod more than 100,000. copies.

Registration for THE Domain Conference is open now. You can also book hotel rooms at the beautiful Hyatt Regency Pier 66 (situated on 22 lush acres between the Atlantic Ocean and the Intracoastal Waterway) at a show rate of $109 a night for pool view rooms or $129 for tower view rooms (those rates include free internet and no resort fee).

Liangji Zhuang (Booksir)