After a legal challenge failed to stop ICANN from auctioning off the rights to run coveted new domain extension .WEB Wednesday, the competition among bidders went on as scheduled with the new gTLD going to Nu Dot Co LLC with a startling high bid of $135 million. That is more than triple the previous top dollar paid for a new gTLD (the $41.5 million that GMO Registry Inc. spent in an auction for .shop in January).
If the name Nu Dot Co LLC doesn't sound familiar to you it's because it is a new legal entity that, as Domain Name Wire noted Thursday, almost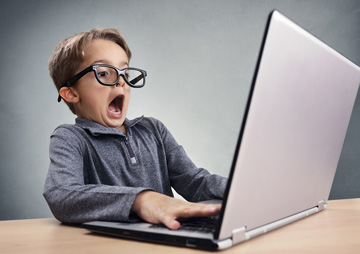 .WEB Sticker Shock!
(Image from Bigstock.com)
certainly represents the interests (and deep pockets) of domain industry giant Verisign, who already operates the .com and .net registries. That certainly makes sense (even if the price doesn't) as many considered .web to have the best chance of challenging .com's overwhelming dominance on the web. It is also a natural threat to their .net.
Now, if .web does prove to be a big winner, Verisign just gets stronger. If it doesn't the multi-billion dollar corporation is one of the few that can absorb a $135 million investment that doesn't pay off without batting an eye. In any case they keep .web from falling into the hands of a competitor.

The auction itself is big news for the industry and especially for the new gTLDs that need all of the publicity they can get as they struggle to make the public aware of the hundreds of new alternatives to legacy extensions. While it will pain many of them to see their chief

competitor, the industry's 800-pound gorilla, snap up one of the new gTLD "crown jewels", the news is all over the web on both industry and mainstream media sites.
That will be little consolation to the bidders that didn't win .WEB (especially since all of the proceeds go to ICANN rather than being split up among other auction participants as has been the case in most previous new gTLD auctions), but numbers like $135 million always draw attention, so it's another plank in the recognition bridge.