THE Domain Conference Co-Founders (left to right):
Howard Neu, Barbara Neu and Ray Dillman Neu.
As I told you last month, a new event, Startup Saturday, will be going on inside simultaneously on September 10. TDC is bringing in expert speakers Morgan Linton (FashionMetric.com) and Brett Napoli (AmbitionInsight.com) to lead that day for potential startup and small business owners who seek advice that will help them succeed. Most of the attendees will come from the

South Florida business community but TDC guests can sit in on any or all sessions as the conference ticket also covers Startup Saturday.
The conference's Official Welcome Party will cap off the busy opening weekend Sunday night (September 11) in the revolving room atop the Hyatt Pier 66 (Howard, Barbara & Ray are standing inside that room in the photo above and you get a nice view of the spectacular surrounding area in the shot below). Barbara said, "An added attraction this year will be the Internet Commerce Association celebrating their 10th Anniversary with a Cocktail Party at our Conference. Igloo.com will also host the traditional Gregg McNair Suite Party where everyone is welcome, giving them an opportunity to relax and network that has always been a highlight of our conferences."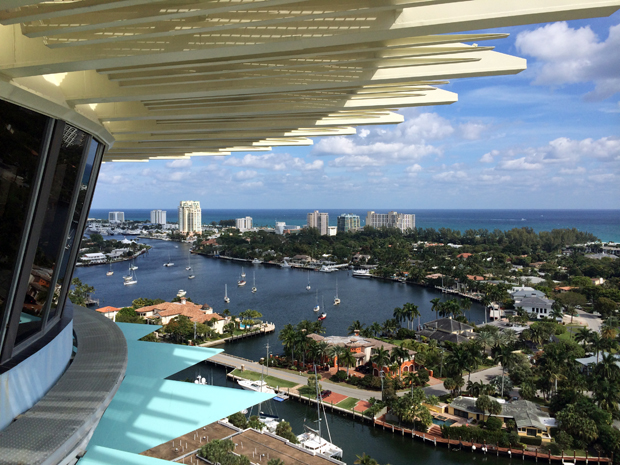 The view from the top of the Hyatt Regency Pier 66 Hotel in Fort Lauderdale where
THE Domain Conference will hold its Welcome Party to kick off the 2016 show
Sunday night (Sept. 11).
Two full business days will follow Monday & Tuesday (September 12 & 13). Barbara noted, "We serve lunch both of those days so everyone can break bread together and not have to leave. It gives everyone a chance to socialize and sit together and visit with the exhibitors. Also, Bill McClure from Coffee.Club will generously provide his delicious coffee during the day for everyone to enjoy and keep them awake after staying up late hours!"
Barbara added, "We have two great Keynote Speakers - CEO Tobias Flaitz from Sedo.com and VP Lori Anne Wardi from Neustar. We also have a number of speakers who have never spoken to domain audiences before including Stacey King from Amazon, Gerald Levine (who wrote the "bible" of UDRP cases), Jebidiah Burnett (Senior Domain Consultant at Rightside, David Warmuz (President at Trellian.com), Jennifer Gore from ICANN and Dante DeAngelis covering Digital Assets. The annual Domain Industry Awards will also be handed out Tuesday. You can check out the full schedule here)."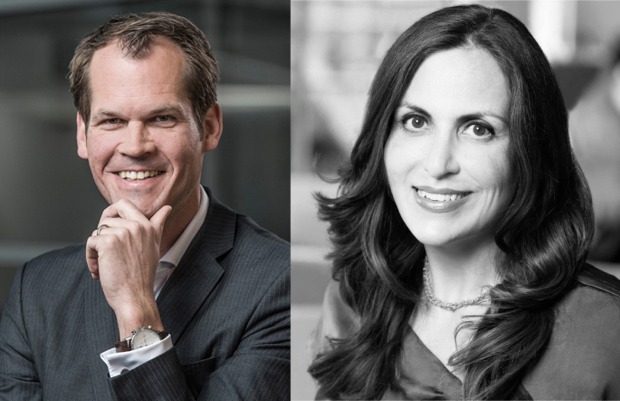 Tobias Flaitz (Sedo CEO) and Lori Anne Wardi (Neustar VP Registry Services)
will be Keynote Speakers for the 2016 edition of THE Domain Conference
THE Domain Conference will close with its traditional Farewell Breakfast Wednesday morning, September 14 (back in the popular rooftop room!), the perfect way to wrap up what promises to be another productive and memorable week.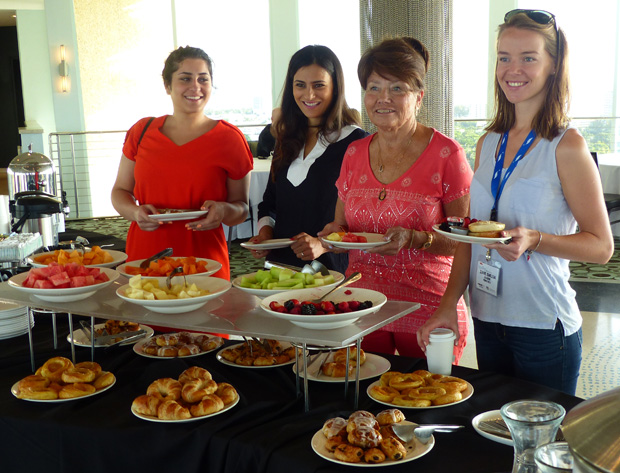 A scene from the Farewell Breakfast at last year's inaugural edition of THE Domain Conference. Seen enjoying the buffet are Sedo's Negar Hajikhani (2nd from left), Negar's sister (far left) Diana Jackson and Zane Emilija (far right).
Registration for THE Domain Conference is still open. You can also book your hotel room at the Hyatt Regency Pier 66 at a show rate of $109 a night for pool view rooms or $129 for tower view rooms (those rates include free internet and no resort fee). We look forward to seeing many of you there!