Those of us in the domain space are used to a competitive landscape. For as long I have been in the business there have been a lot of different service providers to choose from including registrars, parking companies, brokers and aftermarket sales platforms, to name a few. While we have also seen competitors come and go in the escrow business, one player - Escrow.com - has long dominated that turf.
Certainly having the category defining domain name helped their cause but that had to be backed up by outstanding and consistently reliable service, something that former company President Brandon Abbey and his team became widely known for. A few months after Freelancer, a public company based in Australia, acquired Escrow.com in the spring of 2015, Abbey wound up leaving the company - a common occurrence with management changes that often accompanies acquisitions. However, now Brandon is back in the domain escrow business as Senior Advisor at Payoneer, a deep pocketed, long established payment services firm with a global footprint that is based in New York City.
With Abbey on board, Payoneer served notice that they intend to be a major player in our space when they set up in the Exhibit Hall at THE Domain Conference in Fort Lauderdale, Florida last month. I re-connected with Brandon there and followed up with him after the show to find out more about Payoneer, his role with the company and how they hope to make inroads against the powerful competitor he was so instrumental in building.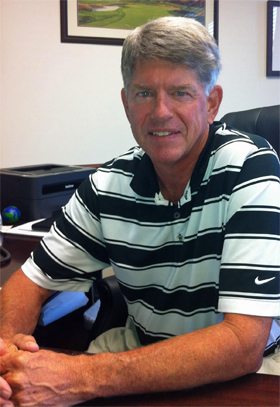 Payoneer Senior Advisor Brandon Abbey in a photo taken during his time as President at Escrow.com.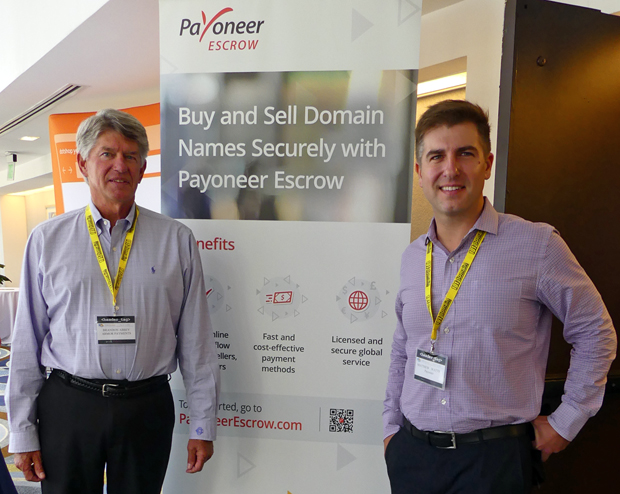 Above: Payoneer.com Senior Advisor Brandon Abbey and Business Development Director Matthew Watts at THE Domain Conference in Fort Lauderdale, Florida (September 2016).
"There are only a few companies that are actually licensed to provide online escrow services," Abbey began. "Armor Payments was one of those and they were acquired by Payoneer earlier this year. I had followed their progress and knew their CEO, Scott Reynolds, through our dealings with the California Department of Business Oversight. My specific duties are to support the needs of the domain industry and a few other key areas of opportunity."
"Payoneer is a cross-border payments company that provides services in over 200 countries, in 150 different currencies. Founded in 2005, Payoneer has been ranked one of the fastest growing companies in North America by Deloitte for the last four years. This year, our CEO, Scott Galit, was recognized as EY's

Entrepreneur of the Year - Financial Technology. We have millions of account holders and thousands of corporate clients who receive billions of dollars annually. Our business partners include some of the best known companies doing business on the internet including Amazon, airbnb, Google and many others. We have an illustrious board of directors including the former president of VISA and the former CEO of SWIFT. With over 750 employees we are able to provide 7/24 support in 70 languages. Being able to work with resources like these and bring them to the domain community is very exciting," Abbey said.
Regarding their plans in this field, Abbey noted, "Payoneer recently started offering escrow services for the domain industry. We would like to be the "GO TO" escrow provider for the domain community. Our objectives are to provide escrow services to buyers, sellers and brokers directly through our PayoneerEscrow.com website and to allow marketplaces to integrate our escrow services using our API. The API provides a solid user experience that will keep customers on the marketplace's website."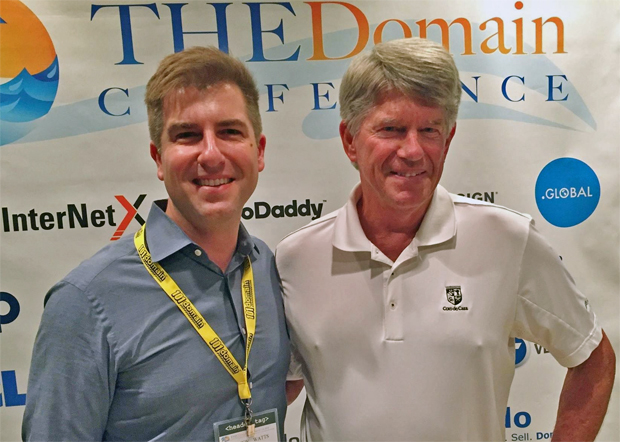 Payoneer's Matthew Watts and Brandon Abbey arriving at THE Domain Conference's
Opening Night Party in Fort Lauderdale, Florida Sept. 11, 2016 (Photo courtesy of TDC).
After his many years at Escrow.com, Abbey felt right at home at THE Domain Conference where he was surrounded by industry participants he has known for years. "For me it was great to see many old friends and the Neu family (Howard, Barbara and Ray) did a spectacular job putting on the conference. Most all the feedback I received was positive about having a licensed alternative enter the escrow space. There were some that feel Escrow.com is so well established they are invincible, I choose to believe differently. Our solution is getting a lot of traction with marketplaces as well as individual buyers and sellers. We recently enhanced our escrow service to include brokers, which I am very excited about."
"Being able to hold domains is a key initiative we are currently working on with some very well-known brokers and marketplaces," Abbey added. "I hope to be in a position to share specific information with you in the near future. Another important feature for the domain community is having the ability to pay with credit cards. We expect to release this very soon. Finally, with Payoneer also offering cross-border payment solutions, it is easy for sellers and brokers to safely expand their business globally.
If you would like to know more about Payoneer services Brandon said you can drop a note to him directly at brandonab@payoneer.com or email escrow_sales@payoneer.com. In closing, Abbey issued an invitation, saying "For those of you who have ideas about features that would make doing business even easier, please reach out. When I was at Escrow.com the domain holding product was developed from a customer suggestion. So, let's work together. I used to share this with the team at Escrow.com - "There is a reason they call it work instead of fun, but if it isn't fun you should find other work!"