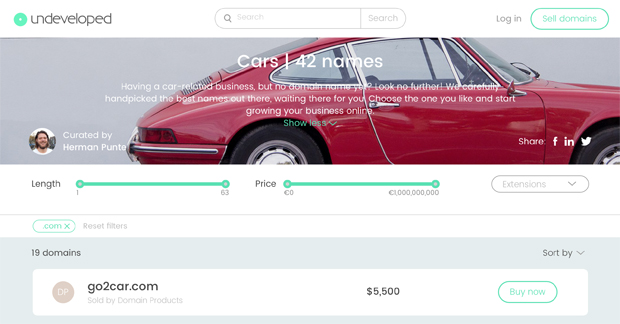 A "curated list" from Undeveloped com shows the best available names
related to a specific keyword, in this case "cars".
Sardeha said sellers will also benefit from dramatically improved for sale pages. "After 9 months of A/B testing, experimenting and finding the right balance we proudly introduce v1.0 of what we believe is the best designed for sale page available on the market," Sardeha said. "Premium domains deserve a premium for sales page. This is step one. In the course of time more rich additions will be introduced on these pages like unique content."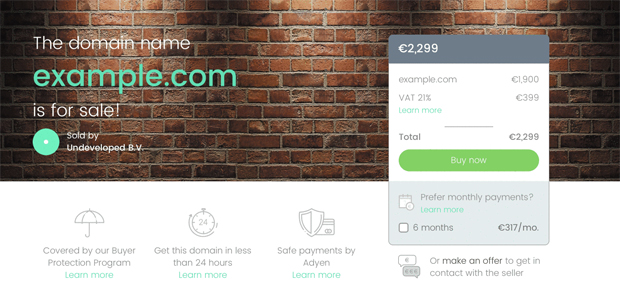 An example of one of Undeveloped's new Domain for Sale Pages
If you have a large portfolio Undeveloped is also allows you to set up your own customizable, professional storefront. Sardeha added, "We've also improved the sellers control panel by putting even more emphasis on simplicity and letting you manage your portfolio and close your leads easily. With the new iteration of our platform we have taken a big step forward in our mission to professionalize the domain industry and to introduce more liquidity in the market."
There are no charges to list names at Undeveloped.com. They only make money (a 15% commission) when successful sale are made. Sardeha also takes pride in prompt transfers and payment, noting "98% of our transactions are completed within 24 hours after payment. We help you get your domain online, so you can focus on your project."
Another feature that could help close more sales is Undeveloped's installment payment option. "Once you settle on a price with the seller, you proceed with check out where you can pay in full or in monthly installments and there is absolutely no extra cost for that. We keep the funds safe until we get the domain from its current owner," Sardeha said.