LatinTLD President Alfredo Pinochet was one of the most interesting speakers at the first edition of THE Domain Conference in 2015, so when he returned to Fort Lauderdale for the 2016 edition of the show last month I took the opportunity to connect with him and set up a post-conference interview about domain investment opportunities in Latin America.
Santiago, Chile based LatinTLD, founded in 2007 by Alfredo and Business Development VP Natalia Viera (you can read their bios here), is a one stop shop for all things related to Latin American ccTLDs, including registration, renewals, transfers, appraisals, buying, recovering and various other services.
As most of your know country code domains can have wildly varying nexus requirements, rules and local peculiarities that can be very difficult to navigate if you don't have an insider's knowledge of the various markets. The LatinTLD founders, who have worked in the domain industry since 2001, found more and more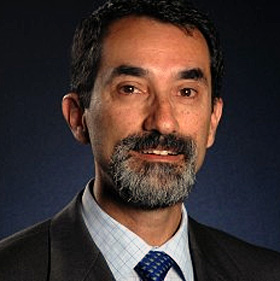 Alfredo Pinochet
President, LatinTLD
people asking them for advice as the industry began booming in the early and mid 2000s. "That's what prompted us to start our own company to assist individuals and companies that required help registering domains in Latin America by providing them all available Latin and Caribbean ccTLDs in one place, with the added benefit of providing advice when needed," Pinochet said.
Latin America image from Bigstock

Asked to give us a more detailed breakdown of the broad region that LatinTLD operates in, Pinochet added, "In terms of domains per registry South and North America are the most developed (Brazil, Argentina, Mexico, Chile and other smaller ccTLDs ), in the middle is Central America with El Salvador, Nicaragua, Costa Rica, Panama and other smaller ccTLDs, and the smallest registries are in the Latin Caribbean (Cuba, Dominican Republic, Puerto Rico and other smaller ccTLDs) and in the non-Latin Caribbean (Anguilla, Bahamas, Guyana, Trinidad & Tobago, US Virgin Islands and many other smaller ccTLDs)."

Pinochet noted, "The highest growth in demand is currently for domains in Cuba, because of the lifting of the trade

barriers, but NIC.cu still has high registry fees as compared to most other NICs in the region. We have also seen renewed interest for .ai domains of Anguilla. Those and the most developed markets like Brazil, Argentina, Mexico, Chile, etc. are the ones investors should start registering in and then, with time, in smaller registries."
Concurring with what I noted above, Pinochet cautioned, "Registering domains in Latin America can be tricky, since, given the current small scale of domain operations, it is usually more useful to know who is in charge at each Registry than to know the bylaws of every Registry, especially when in many cases those are not even published!"
Still Pinochet believes the size of the opportunity makes dealing with the intricacies of the Latin American market worth the effort. "With only 10 million domains registered in Latin America, there are still many opportunities to get, in most countries, the domain you want, be it in just one country, or better yet, the same name in a group of countries, with a medium to long term investment perspective." Whether you are looking to build a portfolio of names or need just one for a new website or enterprises, Pinochet said his firm can make the task much easier for you.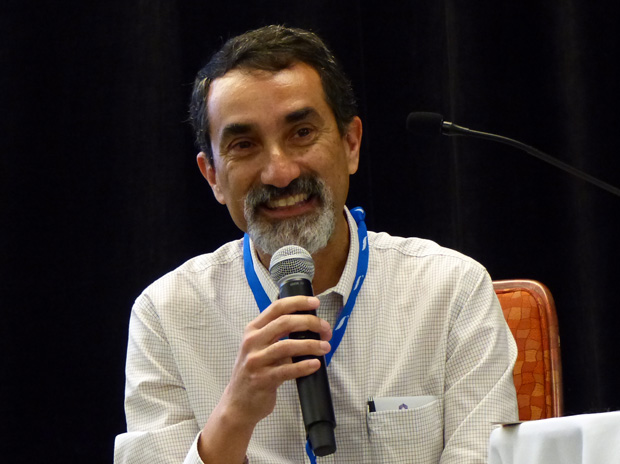 LatinTLD President Alfredo Pinochet speaking at the inaugural edition of
THE Domain Conference in Fort Lauderdale, Florida (September 2015).
If you do decide to take a closer look at the Latin market Pinochet noted there is one other question to consider when investing there. Should you register 2nd level or 3rd level domains? Pinochet said, "Most Registries in Latin America started with the US model of extensions, that is, they started offering ".com.countrycode" (like Brazil's .com.br) with the same 3rd level format using .net and .org. However, now most of the countries also offer registrations on the 2nd level (like Mexico's keyword.mx format for example). Brazil, Argentina, Paraguay and some other countries do not offer 2nd level registration yet but should follow suit in the future. Currently, due to internet users being more accustomed to using domains on the third level, they still outweigh 2nd level domains, but new domain registrations on the 2nd level are on the rise (except in countries where the 2nd level is more expensive)."
With the arrival of hundreds of new gTLDs you may also wonder how those might affect investments in the Latin America market. On that topic, Pinochet said, "new gTLDs are, in many cases, a branding solution to the scarcity of ".com" and other domains in developed counties' ccTLDs. Currently in Latin America, with a grand total (including all ccTLDs in the region) of around 10 million domains registered, there are plenty of opportunities, in most countries, to get the name that you want, so the the idea of getting a new gTLD, instead of the local ccTLD has yet to appear in the domain registrant's mind. If you are uncertain about registering readily available new gTLDs vs. local ccTLDs that are more complex to register, do take into account that the former have yet to prove they have a niche, whereas the latter will be important as long as the country exists."