operates a portfolio of new gTLD extensions including .online, .website, .tech and .store to name a few.
As is the case with most new gTLD registry operators the sale of premium domains at considerably higher price points than standard registrations is a key source of revenue for Radix. These sales are made through their registrar partners or via marketplaces like Sedo, Afternic, auctions, brokerages and direct premium sales.
Some are "annuity" sales (those that carry a premium price that is paid again with each annual renewal) while others revert to a standard renewal price after a one-time premium price is paid when the domain is purchased.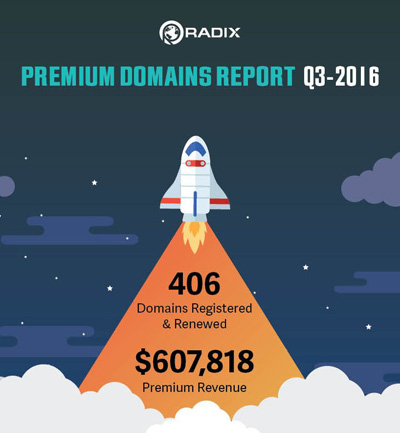 In 3Q-2016, Radix reported 406 premium domains were registered or renewed, generating $607,818 in revenue for them. .Online produced the lion's share of that income - $197,165 - accounting for 37.5% of the total. .Store was next at 19.8%, followed by .tech with 15.9%. Five other extensions were each in single digits percentage wise.
Their annuity sales were by far the most lucrative, producing 86% of their $366,071 in new premium domain registration fees vs. 14% for one-time sales (those with a high price up front that reverts to standard renewals fees after that). Their top one-time sales were 1.store at $30,000, Bam.tech at $15,000 and Hello.store at $10,000. Their annuity sales were led by eight domains that cost $6,500 each up front and require the same amount to be paid again each year as premium renewal fees. Those domains were Reg.tech, Fire.host, Project.space, Audible.store, AWS.store, Showroom.store, Bonds.store and Bot.store.
You will find a lot more data on these premium sales in this easy to read infographic.