In October veteran domain broker and consultant Giuseppe Graziano of GGRG.com launched a new free quarterly report breaking down the sales of a category Giuseppe calls "liquid domains" (those that are relatively easy to sell at prevailing market prices). This group typically consists of short .com domains like those with two to four letters or numbers (there is also interest in 5-number domains).
Graziano's first report covered 2Q-2016 sales. Today he released his second Liquid Domains Market Overview (.pdf file) breaking down 3Q-2016 sales. Graziano found that in the 3rd quarter Chinese buyers continued to be the most active in this category, scooping up approximately 6,000 domains including 15 ultra high end 2-letter .coms, 170 of the 3-letter variety and 5,500 4-letter domains. That resulted in China's market share of these kinds of domains increasing a full percentage point (while US and European owners each lost .2 % and the rest of the world lost the remaining .6%. At this rate Graziano said Chinese owners will hold 50% of liquid domains by the year 2022.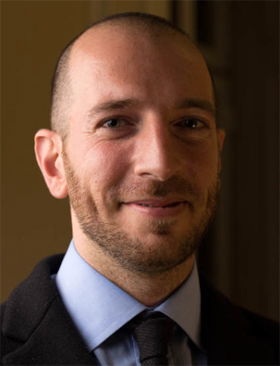 GGRG Founder Giuseppe Graziano
In 3Q-2016 Graziano found $5,092,793 in total reported sales in the liquid domains category. That was down about 35% (minus $2.8 million) from the previous quarter. He noted, "The cause of this might be seasonality, but also the fact that large transactions in the most valuable categories are typically kept confidential. Because of this, we do not have any sales data for LL, NN, NNN, LN & NL. LLLs are the only category that registered a value appreciation over last quarter (+5%), although trading volumes decreased by 50%.
Looking ahead Graziano noted, "Letter domains, which typically have a higher development index, seem to have reached a support level. LLLs and LLLLs have been relatively stable (respectively up +5% and down -4%). We therefore foresee stable prices and a small chance of further downside in the last quarter. While LLs, NNs and part of the NNN group are considered unique assets with separate market dynamics, in our opinion, LNs and NLs appear undervalued because their price is quite low in relation to their scarcity (only 520 domains available) and high development index (29.23% of these domains have been developed)".
Again you can get the complete report here.