When I came back from NamesCon a couple of weeks ago I mentioned the extraordinarily large number of new company launches, service improvements from existing companies and personnel changes that were announced during the show. There were far too many to get to while covering events at the conference itself so I will continue to share some of those developments with you in this column over the next couple of weeks.
One of them was the beta launch of domain monetizer Above.com's new Portfolio Manager. Above,.com/Trellian President David Warmuz tolf us, "The Portfolio Manager is designed to help domain investors more efficiently manage portfolio data, make more informed decisions, and quickly take actions to improve earnings. For example, Portfolio Manager's dashboard offers insights on revenue boosting opportunities associated with Aboveís AutoPilot platform. AutoPilot drives revenues higher by finding the
highest earning monetization channel for each domain visitor. The AutoPilot Maximizer feature provides a substantial revenue boost by offering domain traffic to our premium direct advertiser channel, fully seamless and integrated with Trellianís Direct Search Network, where advertisers compete for your traffic."
Warmuz added, "Portfolio Managerís dashboard also offers a Registrar Consolidate feature, which pulls together data required to make timely, ROI-based domain renewal decisions. Domain investors can also manage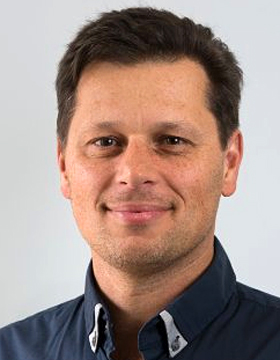 Above.com President David Warmuz
offers and counter-offers, generate BuyNow prices based on domain and revenue stats, and get domains posted quickly for sale on Aboveís Marketplace. Portfolio Manager truly offers everything a domain investor needs, all in a single dashboard. I encourage domain investors to check out the time saving, revenue boosting, and cost reduction opportunities offered by the data and tools in our new Portfolio Manager dashboard."
You can also get more insight into the capabilities of Above.com's new Portfolio Manager in this video at YouTube: https://youtu.be/wt6YJ0npAmM.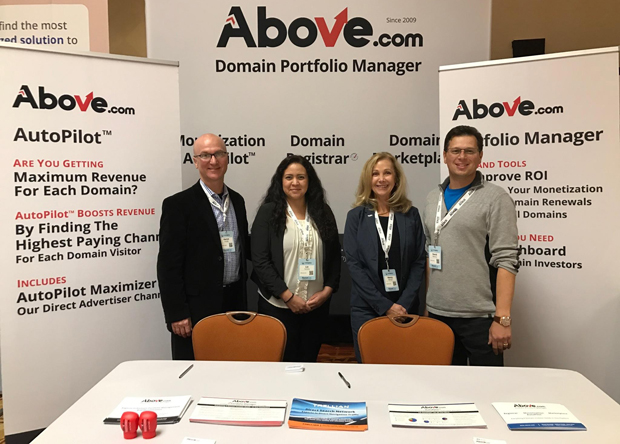 The Above.com leadership team at their booth during the 2017 NamesCon conference in Las Vegas. Left to right are Aaron Kvitek (SVP Strategic Marketing), Liz Corona (Senior Account Manager), Nancy Bianchi (Executive Vice President) and David Warmuz (Co-Founder/President).