"On the domain front, we rounded up what has since grown to more than 22,000 of the .CITY domains as well as pursued strategic discussions with a number of new TLD registries about a concept that we call "SmartWeb". I believe this notion of a Smart Web may become of great relevance to the future of the domain name industry."
"In short, the big idea of SmartWeb is to bundle descriptive TLDs with (1) TLD-specific content management systems (CMS) and (2) a single-sign-on Smart Wallet. A domain name registrant gets a free CMS bundled with their domain. The free CMS maps to the logical use-case implied in the TLD. The CMS monetizes through transaction processing that are mediated through the end-consumer's Single-Sign-On Smart Wallet. The free CMS service from DigitalTown can integrate with any registrar, i.e. it is NOT Epik-specific."
Monster added, "By way of illustration, for the .MENU registry, we are developing the Smart.Menu platform to launch at the National Restaurant Association Conference in May 2017. Smart.Menu will let any restaurant be a Smart Restaurant, with a multimedia menu

that adapts to location, time of day and dietary preference, on web or Smart Phone. A non-technical restaurant staff member can update a Smart.menu in minutes. For a live demo, see http://wada.menu, with user login henryjackson and password 123456. Each city in turn gets a dining search engine, for example http://lasvegas.menu."
Regarding DigitalTown's extensive usage of new gTLDs Monster said, "The DigitalTown SmartWeb initiative aims to greatly expand the adoption of the new domain extensions through bundling of turn-key websites that combine intuitive web applications, and mobile applications, with a unified single sign for secure access to personalized services. Descriptive domain extensions represent a logical progression of the consumer-facing web. The missing ingredient for rapid adoption of new extensions, particularly by small businesses has been the availability of cost-effective solutions that turn domains into great user experiences that are intuitive, secure and personalized. Although DigitalTown does not own any of the new registries, DigitalTown is building win-win partnerships around a shared SmartWeb architecture for powering Smart Cities around the world."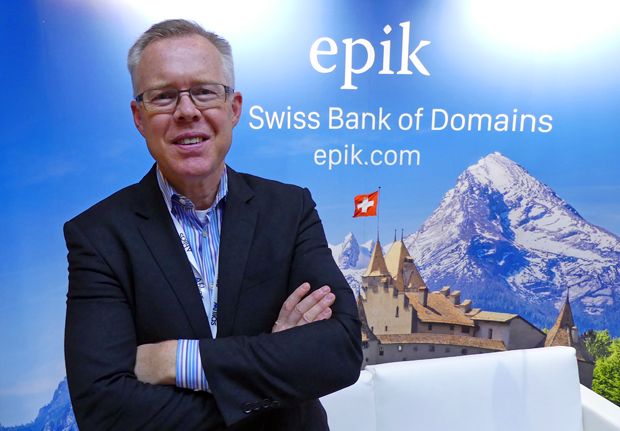 Rob Monster in the Epik booth at the January 2017 NamesCon Conference in Las Vegas.
In closing Monster noted, ""This is not your classic geo domain platform. Rather, DigitalTown is intended as a consumer-centric operating system for Smart cities. The DigitalTown platform is already getting traction with cities, notably in Europe. In addition, our vertical solutions for lodging and dining are garnering the interest of State trade associations and Destination Marketing Organizations in cities as these legacy civic organizations work to stay relevant in the Digital Age."
For a detailed account of the DigitalTown platform you can read this DigitalTown Product Overview (.pdf file). You can also read Digital Town's latest quarterly 10-Q SEC filing here if you want to learn more about the company's recent and projected financial results.