ESQWire's Senior IP Counsel Jason Schaeffer have also brought conference production pro Jodi Chamberlain (32 Events.com) on board to direct NameSummit. Over the years Jodi has played a key role in producing T.R.A.F.F.I.C., Domaining Europe and NamesCon conferences, among others. This show will extend beyond domains with coverage of a full range of digital branding topics.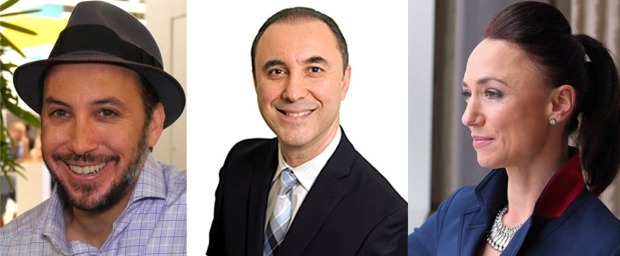 Above: (left to right): NameSummit Co-Producers Jason Schaeffer (ESQWire.com) and Steven Kaziyev (New York Media) and conference Director Jodi Chamberlain (32Events).
Below: The ornate Ballroom at the Hilton Midtown Manhattan Hotel that will serve as the central meeting room for the first NameSummit conference August 7-8, 2017.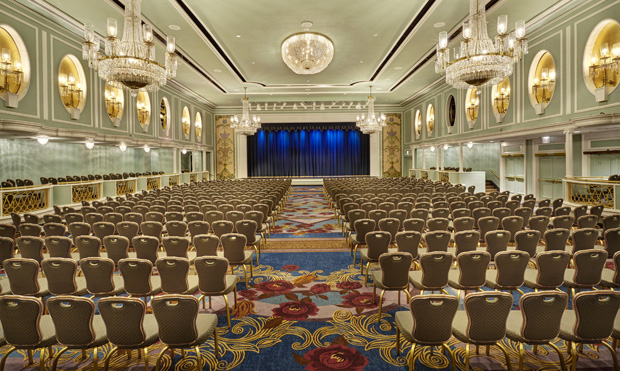 NameSummit organizers, noting that "a great name and concept is just the beginning" said attendees will have an opportunity to "meet with leading branding professionals, domain name industry experts, registries and business leaders, as well as learn from and network with fellow entrepreneurs and digital branding superstars. We're covering it all – developing and maintaining a brand online, mastering up-to-the-minute SEO algorithms, as well as key insights and trends into what really works and what doesn't, across multiple online industries and competitive spaces."
The agenda will feature CEOs, marketing directors, investors, and digital branding specialists with speakers from brands including the Top Level Domain for New York City, .NYC, Personal Branding expert Greg Yuna

(better known to some as "Mr. Flawless") and big city brand owners Josh Perla of TimesSquare.com and John Colascione of LongIsland.com. More information on these speakers and others that will be added can be found here.
Some of the Topics from keynote presentations and discussion panels will include:
It all starts with a great name- Meet with leading domain name industry experts, registries and branding professionals

Optimizing the Digital Experience – Provide users with the information they expect to receive when interacting with a brand

Maintaining Consistency Across Multiple Platforms - Utilizing social media, digital advertising and websites to define a cohesive brand presence

Establishing a Brand Online – Competing with other brands and establishing strong SEO keywords and platforms

Universal Acceptance and New TLDs – Understand how to use new TLDs to reach consumers and promote special campaigns

Engaging Users Based on Behavior Patterns – Analyze actions taken by users to strategically promote a brand

Managing Privacy, Security and Data – Learn how privacy, security and data management can make you more profitable
Early bird tickets (all tickets include lunch) are on sale now until May 2 for $399 and can be purchased here. Rooms at the Hilton Midtown Manhattan Hotel are available for all event guests at a special conference rate of $229 per night. You can make room reservations here. For more information about the event, you can email [email protected].