In a bold move to take industry conferences beyond what we've become accustomed to, two of the most seasoned veterans in the business, Jothan Frakes and Ray Dillman Neu, have joined forces to create an innovative new event called MERGE! that will make its maiden voyage October 14-18, 2017 at the massive Orlando Marriott World Resort in Florida (the largest Marriott hotel in the world).
Unless you are new to the industry you already know that Frakes was Co-Founder of the enormously popular NamesCon conference (that was sold to World Hosting Days last year) and was also instrumental in running DOMAINfest and Domain Roundtable conferences dating back to more than a decade ago.
Ray Dillman Neu co-founded THE Domain Conference with Howard and Barbara Neu and ran that event with them the past two years in Fort Lauderdale. Before that he spent a decade helping run the historic T.R.A.F.F.I.C. conferences that were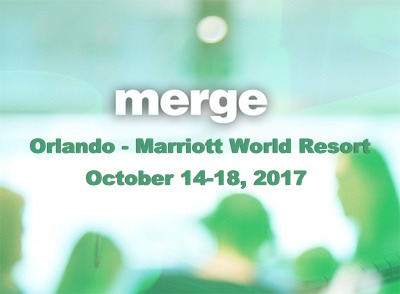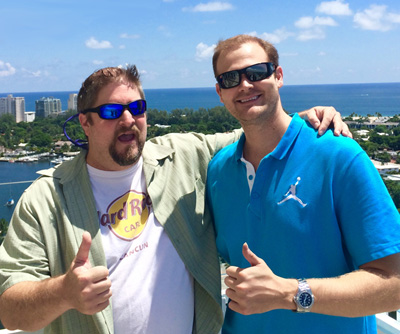 Merge! Co-Founders Jothan Frakes and Ray Dillman Neu
staged in South Florida and other U.S. and international locations (including Amsterdam, Dublin, Milan and Vancouver) from 2004 through 2014. After 12 straight years of putting on shows, Howard and Barbara decided to step back from their leadership role but I've been told THE Domain Conference will continue as the domain branch on the MERGE! tree.
MERGE! will be made up of many events in one location - a concept that will give attendees shared access to multiple networking and educational opportunities in a variety of related fields in addition to domains. The sessions, speakers (including common keynotes), panels, networking, sponsors, and inter-active events will all be focused on fusing ideas, businesses and people. With MERGE! the founders aim to combine the best of Domain Roundtable, DomainFest and THE Domain Conference along with Legal panels, Digital Branding professionals, Website Development, End User Experience, Domain Name Investment and Appraisal, New Business Startups, IP Technology, SEO Design, Security, Hosting and more.
More detailed information on all of the speakers and events available under the single MERGE! ticket will be released in the weeks ahead but I'm told several are already in place including a China Bootcamp, a Hispanic business day, an event devoted to StartUps, a Job Fair and much more.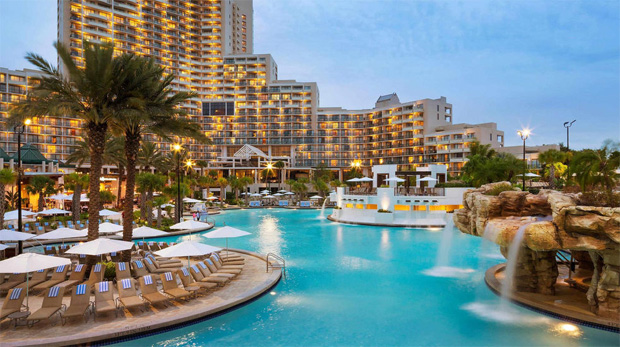 Above: The Orlando Marriott Word Resort
where the 1st MERGE! conference will be held October 14-18, 2017.
Below: An aerial view of the world renowned Orlando Marriott World Resort.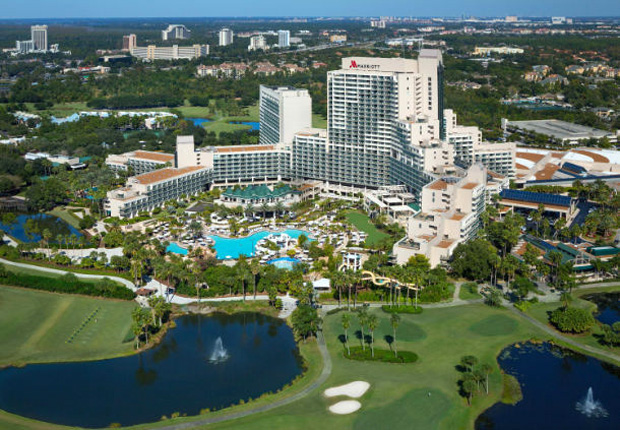 The Orlando Marriott World Resort also has many restaurants to choose from on site and the hotel is located just a mile and a half from Disney World (with shuttle service to the park available). MERGE! has secured a remarkably low conference rate for rooms at this world class facility - just $129 a night (about half of what they normally cost).

Registration has just opened and if you act quickly you can grab one of the limited number of $199 early bird tickets (plus $11.94 service fee) before the discounted Spring Rate of $349 (plus $20.19 service fee) goes into effect (ending June 1). The price will rise to $499 (plus $28.44 service fee) this summer (ending September 1) and will be $899 plus service fee at the door.

Lobby at the Orlando Marriott World Resort

With Jothan and Ray at the helm and a outstanding world class resort venue secured for the event, MERGE! has positioned itself to be a can't miss event for years to come.