At 3pm two tour buses pulled up in front of the conference venue, the Steigenberger Hotel Am Kanzleramt, to whisk attendees away on the first leg of the excursion, a one hour narrated sightseeing trip that provided a close up look at some of Berlin's most famous attractions.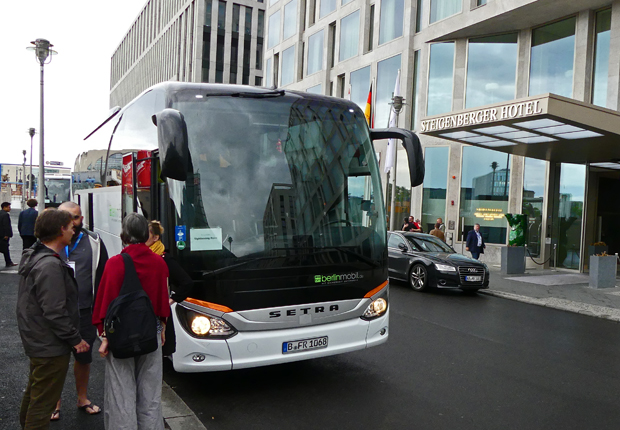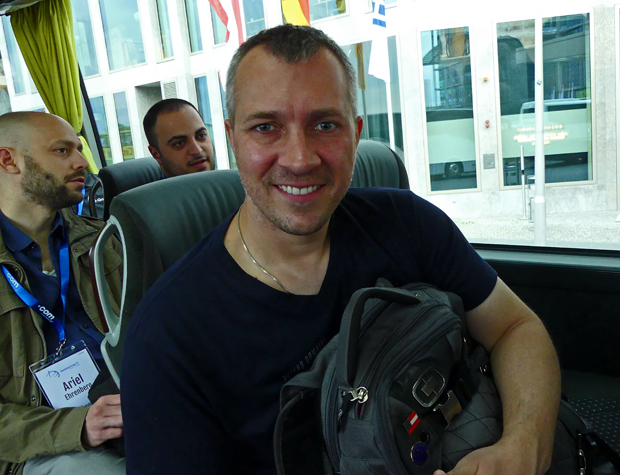 Above: I was delighted to see longtime friend Sean Stafford (VP, Bounce.io) take a seat next to us as the tour bus pulled away from the show hotel at the start of the Sunday afternoon sight seeing tour around Berlin.
Below: Domaining Europe attendees admire the spectacular monuments and architecture in Berlin during the first leg of Sunday's tour.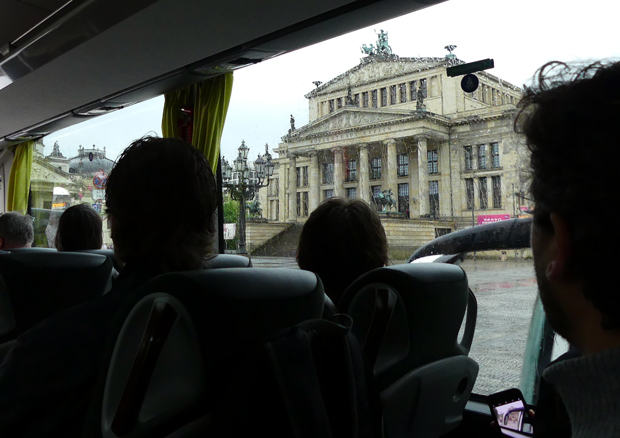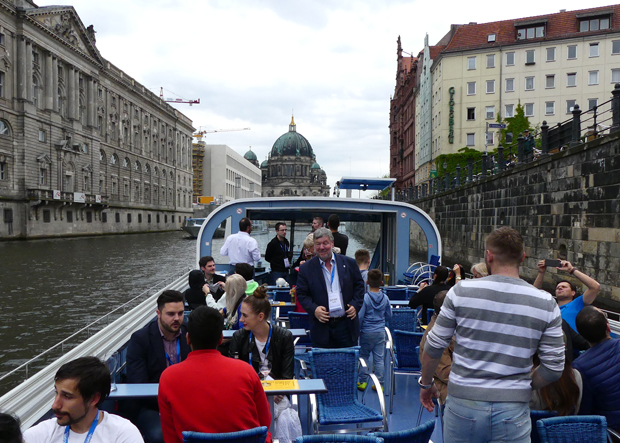 Above: After an hour touring Berlin by bus attendees boarded a river boat for the next hour to see what the lively German capital looks like from a different vantage point. After the Spree River tour, they returned to the buses for a final hour visiting additional sites around the city. Standing at center in the blue jacket is Domaining Europe Founder Dietmar Stefitz.
Below: Karn Jajoo (Radix Registry), at left, and Braden Pollock (Legal Brand Marketing) enjoying the river cruise portion of Sunday's tour.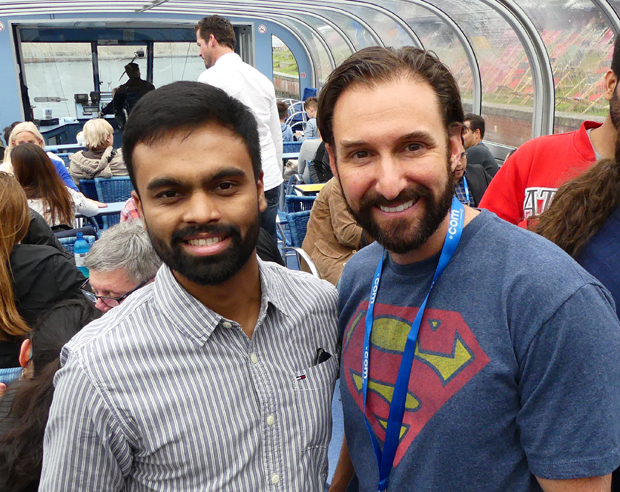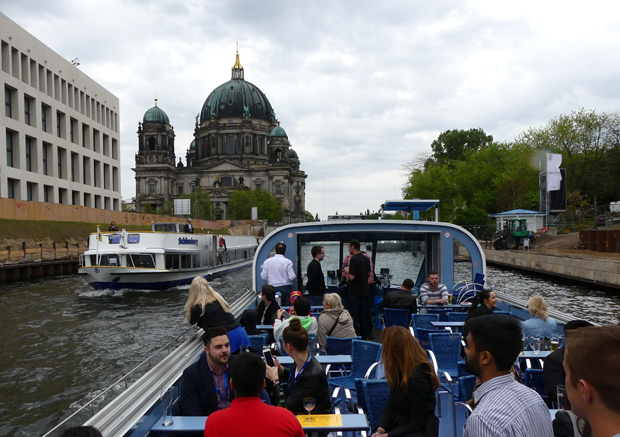 Above: The Domaining Europe boat approaching the
spectacular Berlin Cathedral on Museum Island Sunday.
Below: Guests crane their necks (and cameras) upward as the
boat passes beneath the towering Berlin Cathedral.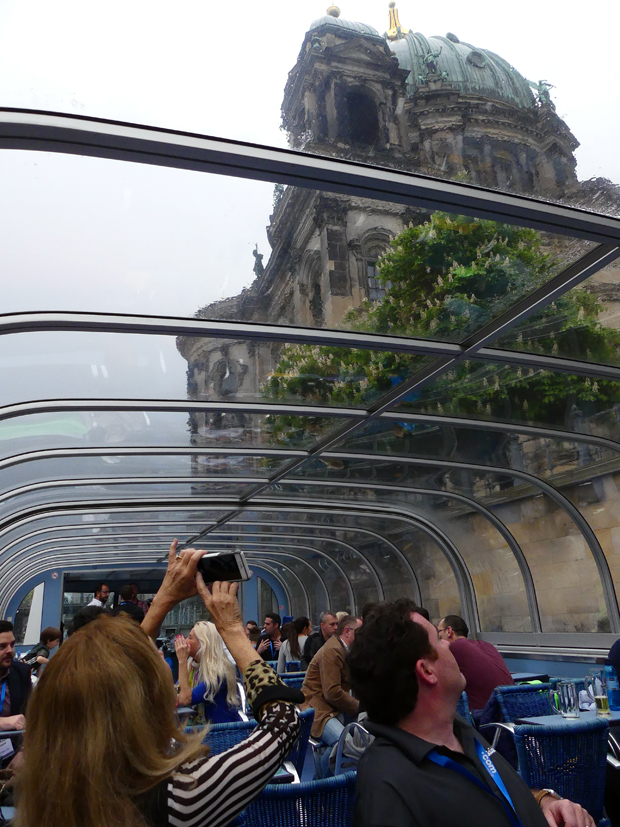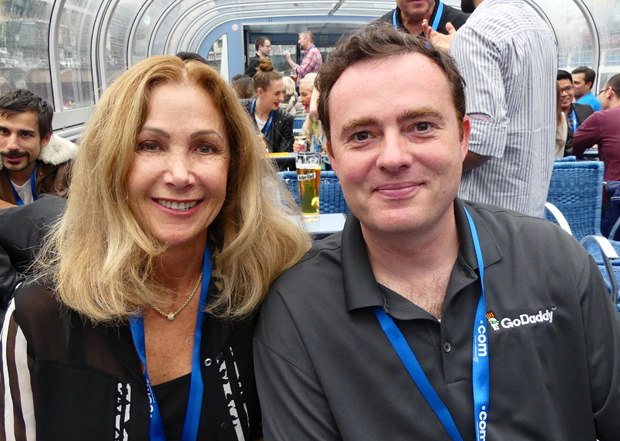 Above: Nancy Bianchi (VP, Trellian/Above.com) and Joe Styler (GoDaddy Aftermarket Product Manager) are among the industry leaders in Berlin for this week's Domaining Europe conference.
Below: After today's bus/boat tour those in Berlin for Domaining Europe had the evening free to enjoy the city's many attractions. Verisign and GoDaddy hosted one group at a dinner held at the highly regarded Paris-Moskau Restaurant near the conference hotel.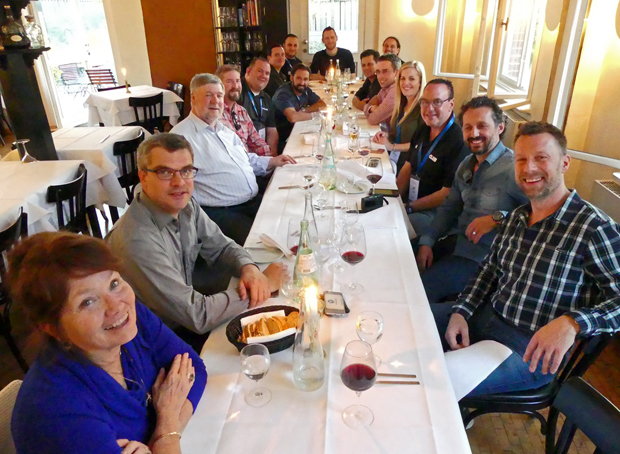 The first business day at Domaining Europe will get underway at 8:45am Monday (Berlin time). You can see the full agenda here. The show will conclude with a second business day (including a 6pm domain auction) on Tuesday. In my next post from Berlin I will have all of the Monday photos and highlights for you in this column.