A major Chinese domain conference - the Global Domain Summit - just ended in Xiamen Sunday (July 9) but another one will be staged just three months from now, on Thursday, October 12, 2017, when NamesCon will present a one-day event in Shanghai. This will be the latest in a series of regional shows that complement NamesCon's multi-day main event in Las Vegas that has been re-christened NamesCon Global. The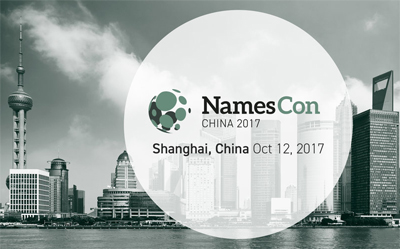 latter event is set for January 28-31, 2018 at the Tropicana Hotel where is has been held since NamesCon debuted in 2014.
NamesCon China will be held at the five star boutique hotel Andaz Shanghai Xintiandi in Shangahi (a concept by Hyatt). For this conference NamesCon has partnered with Racënt who, as the operator of the largest portal for the cloud and domain industries in China, will bring vital regional experience to the event. Racënt also worked with NamesCon's parent company, World Hosting Days, to stage WHD.China in Beijing on May 23rd.
Some of the 990 skyscrapers that
grace the Shanghai skyline.
(image from Bigstock)

Between the WHD and NamesCon brands the company now presents ten annual international events ranging from invitation-only corporate executive retreats to global blockbuster meetings like WHD Global and NamesCon Global.

NamesCon said Shanghai was chosen for the upcoming China show because, "This amazing, modern location is the largest city and metropolitan area in the world. Shanghai is also a major financial, industrial, and communication center with the largest fiber internet cables in mainland China arriving on its shores. And of all the cities in China, Shanghai is one of the most welcoming and friendly — providing the perfect backdrop for the first NamesCon China."

The domain aftermarket saw a huge influx of Chinese buyers in the second half of 2015 that created something of a market frenzy that has since subsided with prices coming back down to earth. However, NamesCon organizers believe China's growth story is just beginning. Their NamesCon China website noted, "The domain market in China is unique, dynamic, and ripe with opportunity. NamesCon China 2017 will be a new exploration that builds a bridge — bringing both regional and international companies together in a spirit of cooperation and mutual success. The demand for websites, domains, content generation, and hardware are going to make China the largest technology market in the world over the next few years and NamesCon China will be at the forefront of this growing trend."

Tickets can be purchased through the NamesCon China site now, priced at just $20 for general admission and $120 for a VIP pass (a small service fee is also added).