Sweetman's guide covers different types of domains that are popular with startups such as one-word .com, two-word .com and invented .com. For each type of domain, Name Ninja's guide outlines the typical price ranges, from domains that might be unclaimed and available to register for only $10 all the way to extremely popular domains requiring an investment of six-figures or more.
Below: A snippet from Name Ninja's Startup Domain Name Price Guide. You can click on the image to bring up the complete infographic or click here for an even larger high res image of the file.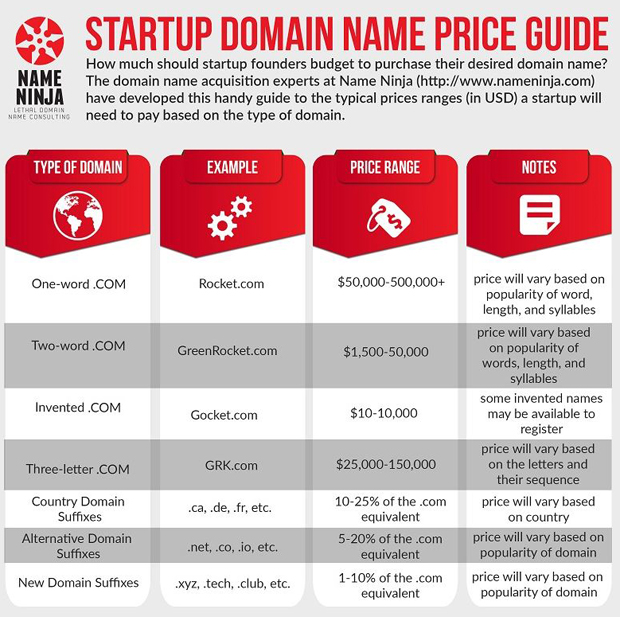 "It's important for startup founders to have a realistic budget in mind when commencing the naming process and hunt for the matching domain," Sweetman said. "Startups will save themselves a lot of time and stress if they align their name and domain choices with their budget. If you've got your heart set on a one-word .com domain name, you're likely going to need to invest at least six-figures. Why? Those types of domains are in short supply and have very high demand."
Sweetman's advice is based on daily requests he gets from potential clients seeking Name Ninja's help in buying a desirable domain for their business. Name Ninja is one of a select few independent professional service firms focused on helping serial entrepreneurs, startup founders, and corporate marketers acquire domain names that are owned by third-parties.