Radix, the domain registry founded by serial entrepreneurs Bhavin Turakhia and Divyank Turakhia, has appointed Sandeep Ramchandani as its new global CEO. Launched in 2012, Radix owns and operates 10 Top Level Domains including nine new TLDs (.ONLINE, .STORE, .TECH, .WEBSITE, .SPACE, .PRESS, .SITE, .HOST and .FUN) and one re-purposed ccTLD in .PW. Radix currently has over 3 million domains under its management.
Commenting on the appointment of Mr. Ramchandani as CEO, Bhavin Turakhia, who has been serving in that role and will continue as Radix's Executive Chairman, said, "Sandeep, with close to 15 years of experience, and having played key roles across our registrar, service provider and registry businesses, has consistently built talented teams, delivered results and demonstrated exceptional leadership. Despite intense competition among new TLDs, he has evolved Radix into a profitable and fast growing business, with over $12 million in top-line revenue. We remain extremely bullish about the registry space and are looking for avenues to re-invest our profits."
Elaborating on his immediate plans as the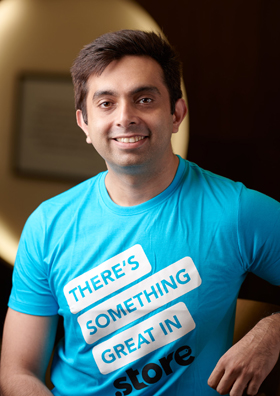 Sandeep Ramchandani
Radix CEO
new CEO, Sandeep Ramchandani said, "Just as the first few years of Radix were about demonstrating proof of concept, the next few will be about growing awareness and delivering accelerated growth. We are also actively looking to acquire more TLD assets to reach newer segments of the market while leveraging economies of scale. My mandate is to grow Radix into one of the largest global players, and given the team and resources at my disposal, I feel confident of being able to achieve that goal."
The 35-year-old Ramchandani has been with Radix since its inception as the VP and Business Head. Prior to Radix, he was with LogicBoxes, an enterprise consulting business, which was one of the businesses acquired along with Radix parent Directi by Endurance International Group in 2014.