day report covering activities Sunday you will find those photos and highlights here).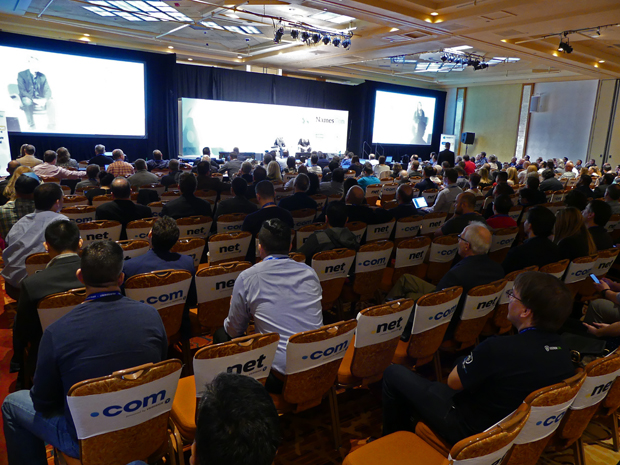 Above: Monday got off to a start most people in our business would not expect to see - a real live rock star on stage - not as a musician - but as the keynote speaker at a domain conference! Yet there was Megadeath's Dave Ellefson being interviewed by Andrew Allemann (DomainNameWire.com) in a Fireside Chat format.
Below: It only took a few minutes for the audience to realize that NamesCon had made a great choice in Ellefson (below) whose knowledge of business and domains is right up their with this world renowned expertise in music. The Megadeath bassist and co-founder is also the author of several books, including the autobiography "My Life With Deth" and music business how-to book "Making Music Your Business...A Guide For Young Musicians". He is also the owner of EMP Label Group/Combat Records and coffee company Ellefson Coffee Co. It made for a highly entertaining and informative hour that made a very positive impression on the NamesCon audience.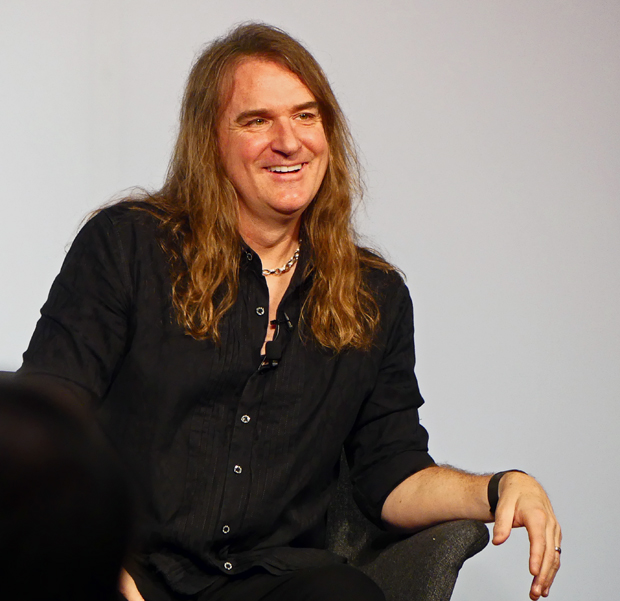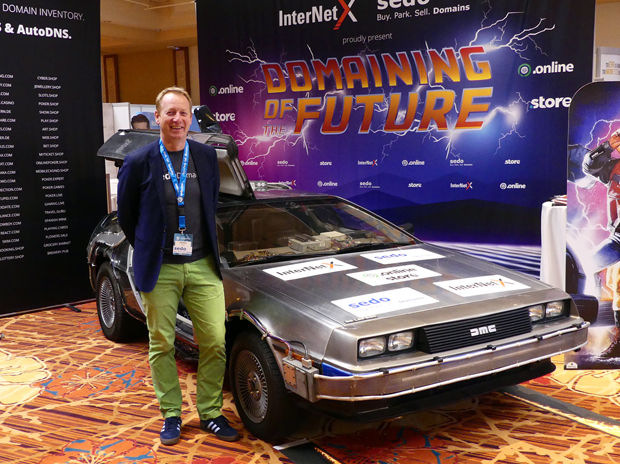 Above: The Exhibit Hall opened immediately after Ellefson's appearance and the Sedo/InterNetX booth, located right next to the entrance to the Keynote Hall, was a huge hit thanks to Sedo Chief Marketing Officer Christian Voss (above) having a classic DeLorean (of Back to the Future movie fame) brought in to match the company's current promotional theme - Domaining of the Future.
Below: Back in the Keynote Hall a few minutes later Jonathan David Lewis of McKee Wallwork + Co. delivered a talk on Using Survival Psychology to Build a Resilient Brand. After 10 years of proprietary research, Lewis provided a how-to guide for navigating uncertain times by correlating survival psychology with modern business, teaching us how to adapt and embrace change.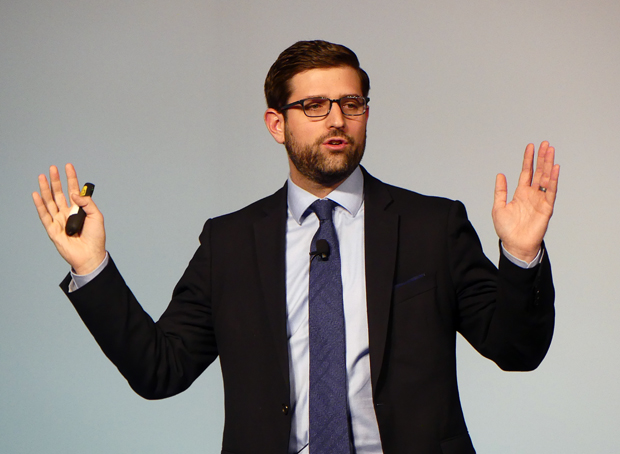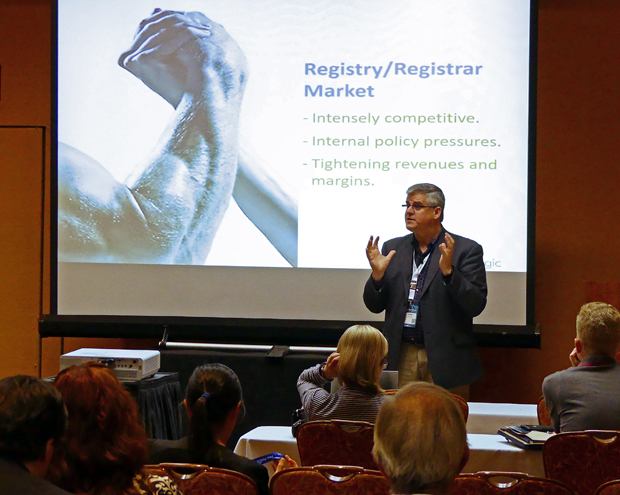 Above: At the same time an adjacent meeting room, Michael Gilmour from ParkLogic.com, covered Data Mining for Revenue with Registries and Registrars.
Below: In yet another session at the same hour, just down the hall, an expert panel featuring (left to right) moderator Stu Homan, Sherry Hildebrand (MarkMonitor), Ryan White (Digicert) and Brian Cute (CEO at the Public Interest Registry) covered Domain Security 101.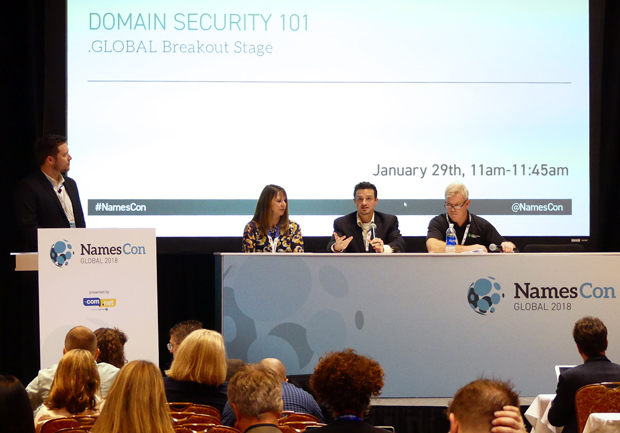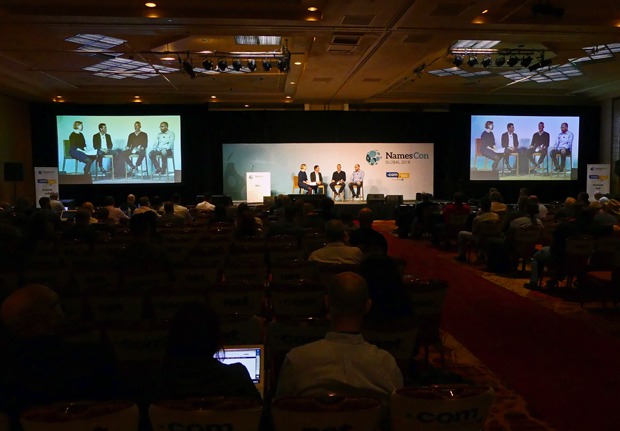 Above: Back in the Keynote Hall at noon there was a Fireside Chat about DNS, Digital Identity, Blockchain and Smart GeoFences featuring Tim Favia (Donuts) Justin Newton (Netki) and Sean Eilers (GeoNetwork). The three discussed Donuts.ventures investments in DNS innovation, how Netki's Digital ID and Wallet Names make blockchains safe and compliant for a broad range of business and personal use cases, and how GeoNetwork's platform of smart geofences is able to pinpoint any location on Earth, down to a square centimeter.
Below: At the same time on the .GLOBAL Breakout Stage down the hall, the topic was nTLD Case Studies: Rising Above the Noise with Bill Sweetman (standing at left) moderating a panel discussion that featured (seated left to right) Christa Taylor (dotTBA), Jennifer Molina (.luxury), Trevor Bowden (.ECO), Toby Hall (MMX) and and Karn Jajoo (Radix).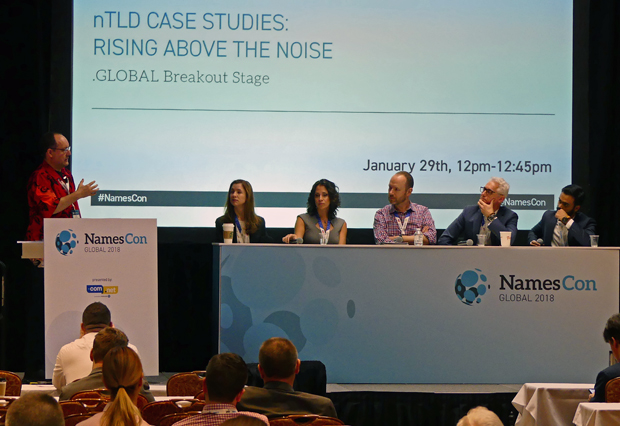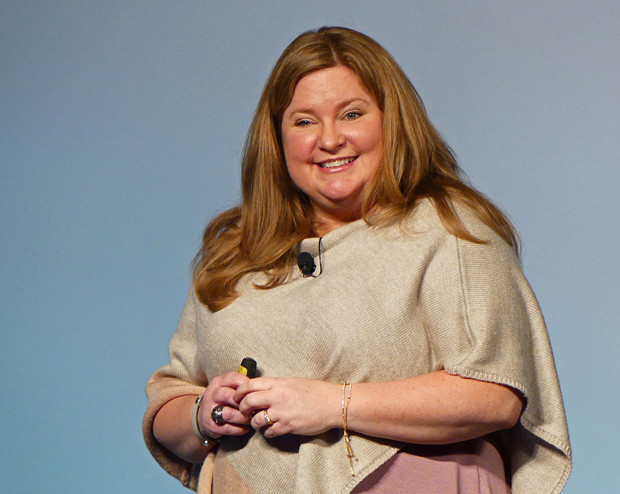 Above: The afternoon sessions continued with one featuring Lisa Box from WP Engine in the Keynote Hall delivering a talk titled Ice Cream, Roller Skates, and Gen Z. Today Millennials and Gen Z want their habits to be anticipated, with each experience better than the last, so this session centered on new research from WP Engine & the Center for Generational Kinetics to illustrate how brands need to evolve if they want to survive in today's competitive market.
Below: In an afternoon walk through the Exhibit Hall we saw NameSummit Co-Founders Jason Schaeffer (at far left) and Steven Kaziyev (2nd from right) telling visitors to their booth about the Pitchfest Global Competition they are doing in conjunction with NamesCon for the 2nd annual NameSummit conference coming to New York City August 6-7, 2018.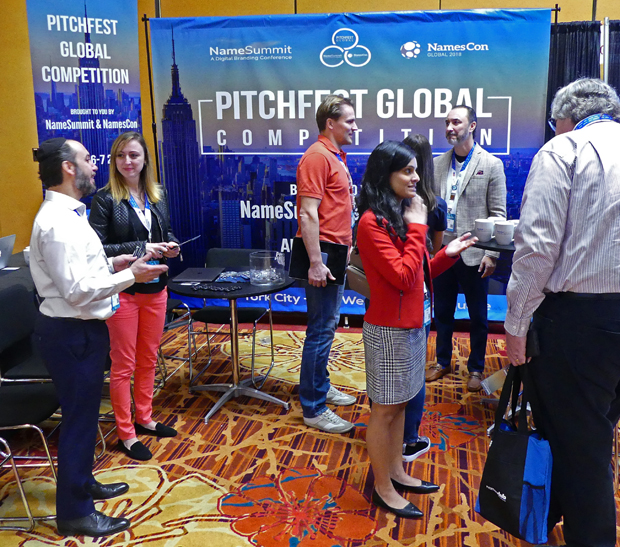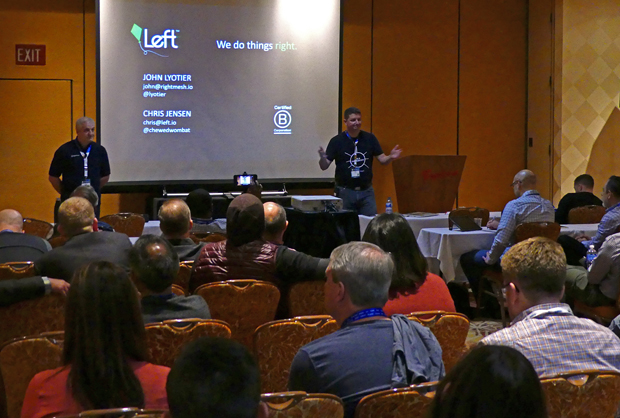 Above: At mid-afternoon we caught Rightmesh's Chris Jensen (left) and John Lyotier's popular session titled How Do You Move From Domainer to Cryptopunk? There are many parallels between Domaining and the Blockchain and Crypto worlds. Their workshop applied hard-won lessons from the domain industry towards these new opportunities.
Below: Just down the hall other attendees were learning about Navigating the World of geoTLDs from five expert panelists, (left to right) Alfredo Pinochet (LatinTLD), Solomon Amoako (MMX) Dirk Krischenowski (.Berlin), Rick Silver (N49) and Stuart Fuller (CenralNic).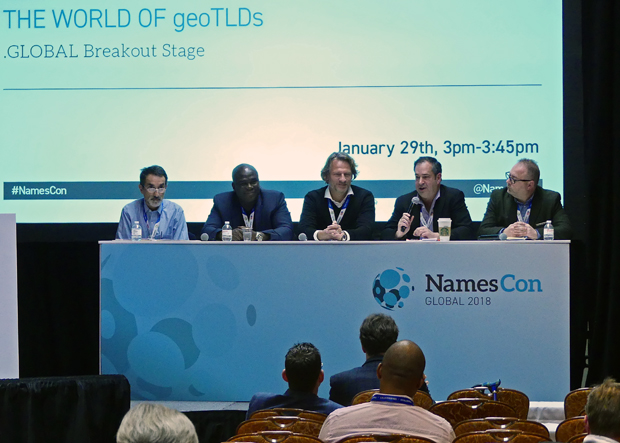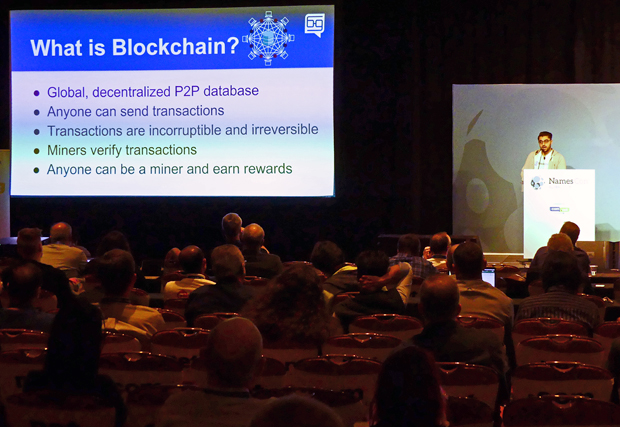 Above and below: In day 2's final business session Monday, Haseeb Rabbani from Blockgeeks drew a large audience in the Keynote Hall to hear his explain What Is Blockchain?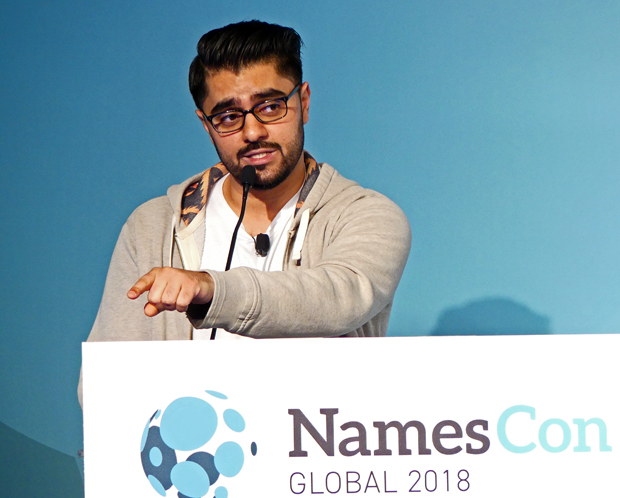 With Monday's business day done NamesCon Global attendees headed out for a mix of casual dining or private company dinners to one of the week's major events - the WaterNight fundraising dinner for the Water School.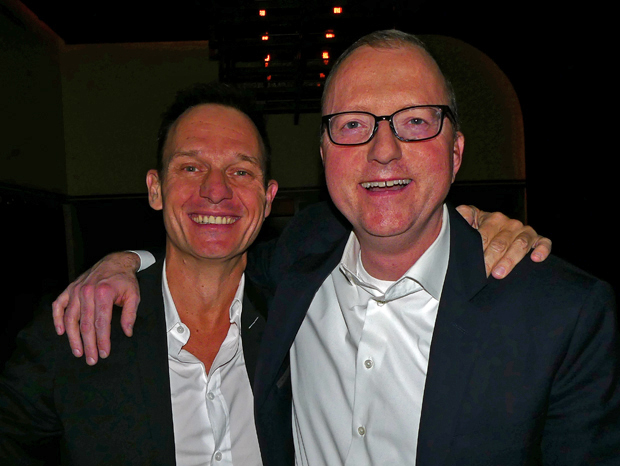 Above: At one of the private company functions hosted by Weebly at Craftsteak in the MGM Grand, Uniregistry Founder Frank Schilling popped in to see long time friends including Weebly's Head of Strategic Partner Sales, domain industry veteran Chris Sheridan (at right).
Below: Meanwhile the big WaterNight fundraising dinner was getting underway at the Havana Club in the Tropicana. Even though NamesCon Founder Richard Lau sold NamesCon last year, he was back to oversee the fundraiser for his favorite charity. Richard (at left below) is chatting with Morgan Linton about one of the items in the Silent Auction that was part of the event.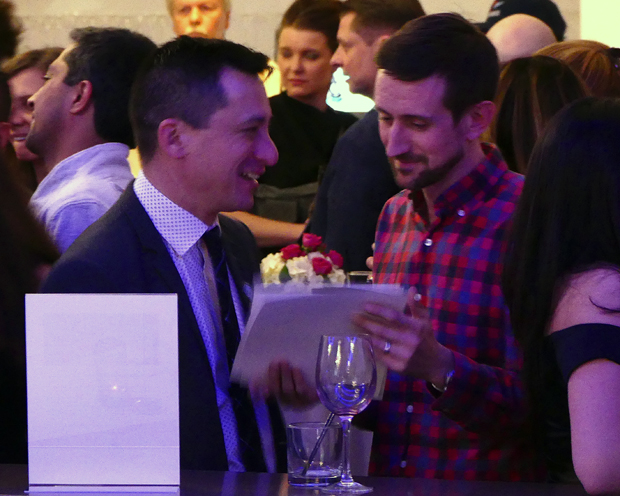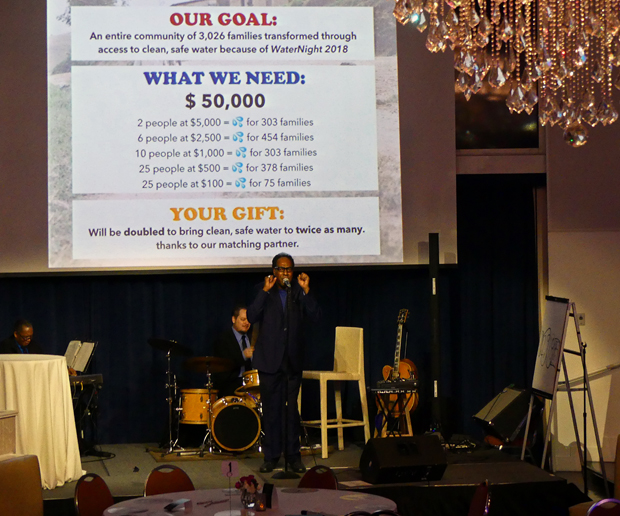 Above: With information about the Water School projected on a screen above the bandstand, musicians and prominent magician Justin Willman entertained attendees. The goal for the evening was $50,000 in donations. In celebration of his sale of NamesCon last year, Richard Lau committed to personally match pledges and donations made at WaterNight. They raised $34,852, which will be doubled to just under $70,000 thanks to Richard. Sponsors have committed another $10,000 so to reach their goal of $100,000 after Richard's match, they hope to raise another $10,148 in donations and pledges. For those at the show, pledge cards will be available at the NamesCon/MMX party at Hakkasan Tuesday night.
As I write this Tuesday, day 3, of NamesCon is still underway (with day 4 still ahead Wednesday). I'll have all of today and tonight's photos and highlights for you in my next post from Las Vegas.
(Posted January 30, 2018)