Patrick Ruddell was known as "Chef Patrick" during the years he spent in the domain industry as an investor, broker, blogger, corporate employee (Moniker) and organizer, with his wife and current business partner Zezura Ruddell, of domain conferences on cruise ships. A couple of years ago Chef Patrick and Zezura moved on to a new industry that actually involved food - opening what has become a wildly popular doughnut shop in Tampa (with a second location recently added in St. Petersburg) called the Mini Doughnut Factory.
They have worked virtually around the clock the past two years to establish and promote their award winning start up company, becoming well-known and respected figures in the Tampa Bay business community in the process. So, I was dismayed to see an article in the World Intellectual Property Review (WIPR) today about an Illinois donut shop operator with a similar name, Mini Donut Factory, filing a lawsuit against the Ruddells claiming trademark infringement. I'm no attorney, but the suit (PDF file) appears to be full of holes to me. I don't think the Illinois company will win it but the distraction will still cost the Ruddells time and money fighting it - resources that could be better used continuing to grow their business.
A couple of the more interesting points in the suit that jump out include the fact that the Illinois company, even though they had been operating since 2008, didn't even file their trademark application until May 2017 and it was granted only two months ago. They claim that though the Ruddell's company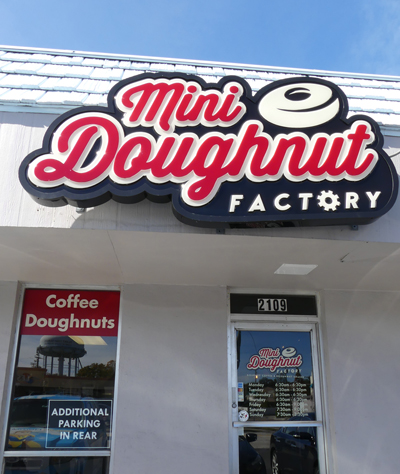 Above: The original Mini Doughnut Factory in Tampa.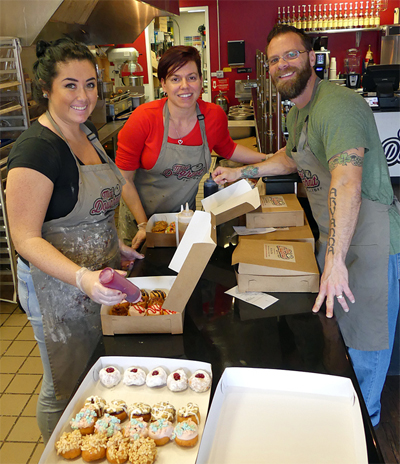 Above: (left to right): Mini Doughnut Factory team member Lisa with co-owners Zezura and Patrick Ruddell getting boxes of mini-doughnuts ready for customers to take home back in 2016.
has a different spelling, the Ruddells, through their own MiniDoughnutFactory.com website were purposely trying to confuse people into thinking they were actually the Illinois company - as if there would be any benefit to the Ruddells in being confused with a completely unknown company that only does business in Illinois (and under a different name at that)!
Here's the real kicker though. The operators of the Illinois company never even bothered to spend $10 to register their own name in .com! It was sitting there unregistered when the Ruddells settled on MiniDoughnutFactory.com and - knowing something about domains - also wisely registered MiniDonutFactory.com to redirect typos to their site. The Illinois company claims the Ruddells took advantage of their own inexplicable oversight to try to trick people and trade on the Illinois company's "good will" (good will that doesn't exist for a company unknown in Florida or anywhere else outside of their very limited trading area).
While I expect the eventual decision to go the Ruddell's way, anything can happen in a courtroom (or UDRP proceeding) as we saw this week in another case involving Domaining.com owner Francois Carrillo's loss of ADO.com - a grossly unfair decision that Carrillo is thankfully going to fight in court, where he should eventually win as well. We are hoping justice prevails in both cases.
(Posted February 13, 2018)