Veteran domain investor Abner Duarte from PremiumDomains.com.br was one of the first people I bumped into at this year's NamesCon conference in Las Vegas. I couldn't help noticing Abner was wearing a T-shirt promoting a new event called Domaining Americas to be held in Rio De Janeiro, Brazil in October 2018. I asked what that was all about and Abner, a native of Brazil who now lives in Boston, told me he was putting together a major domain conference for South America with only a few details - primarily picking the hotel and exact dates - left to nail down. He told me he would let me know as soon as that was done and the news came today.
The debut edition of Domaining Americas will be held at the five-star Grand Hyatt Rio De Janiero on Saturday and Sunday, October 6-7, 2018. The conference website is now up including the registration page where early bird tickets priced at $275 (+ $17.39 ticketing fee) will be available through June 1. After that tickets rise to $475 through September 1 then reach the full $699 rate that will be in effect from that point forward.
The show site notes, "Domaining Americas will bring people together from around the globe, including investors, startups, registries, registrars, registrants, hosting and eCommerce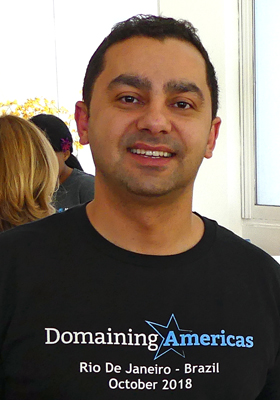 Abner Duarte
Domaining Americas Founder
companies. You will be able to interact with industry leaders such as Nic.br, GoDaddy, Verisign, ResellerClub, Sedo, AfterNIC, HostGator and many more. Win prizes, collect swag, and hang out at beach on your spare time. Our exciting After Hours Party will be another way to network with people from the industry. With over 200 attendees expected, DomainingAmericas will be the first of its kind in Latin America."
The conference agenda and list of featured speakers will be finalized in the weeks ahead with those updates to be posted on the show website as they develop. With its location in one of the world's great cities and a currently underserved market for face to face domain industry networking opportunities, DomainingAmericas looks like an event with great potential - one that is a welcome addition to the global conference calendar.