Throughout the 2000s Sahar Sarid was a widely-known figure in the domain industry as an investor, developer, blogger and conference speaker. So well-known that we profiled him in a 2007 Cover Story. In this decade, amid rumors of questionable business practices, Sarid has rarely appeared in domain circles. However, he is now suddenly back in the news and not in a good way.
West Palm Beach, Florida TV station WPTV is reporting that Sarid and his partners in the Mugshots.com website have been arrested on extortion, money laundering and identity theft charges filed by the California Attorney General's Office. WPTV reports Sarid was arrested at his South Florida home and booked into the Broward County Jail Wednesday (May 16). California officials plan to extradite him to that state for prosecution.
California Attorney General Xavier Becerra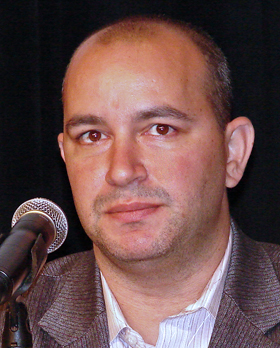 Sahar Sarid at the 2007 Domain
Roundtable conference in Seattle.
issued a press release announcing charges of "extortion, money laundering, and identity theft" had been filed against four defendants who are allegedly behind the exploitative website Mugshots.com. The release said, "The website mines data from police and sheriffs' department websites to collect individuals' names, booking photos and charges, then republishes the information online without the individuals' knowledge or consent. Once subjects request that their booking photos be removed, they are routed to a secondary website called Unpublisharrest.com and charged a "de-publishing" fee to have the content removed. Mugshots.com does not remove criminal record information until a subject pays the fee. This is the case even if the subject had charges dismissed or had been arrested due to mistaken identity or law enforcement error. Those subjects who cannot pay the fee may subsequently be denied housing, employment, or other opportunities because their booking photo is readily available on the internet."
Becerra said, "This pay-for-removal scheme attempts to profit off of someone else's humiliation. Those who can't afford to pay into this scheme to have their information removed pay the price when they look for a job, housing, or try to build relationships with others. This is exploitation, plain and simple."
According to the press release, "The defendants named in the complaint are Sahar Sarid, Kishore Vidya Bhavnanie, Thomas Keesee, and David Usdan. They are the alleged owners and operators of Mugshots.com. Over a three-year period, the defendants extracted more than $64,000 in removal fees from approximately 175 individuals with billing addresses in California. Nationally, the defendants took more than $2 million in removal fees from approximately 5,703 individuals for the same period."
It is impossible to escape the irony of seeing Sarid now in need of the "service" Mugshots.com was selling.