thousand new gTLDs now and dozens of different approaches to pricing, with all registries trying to come up with the best balance to help their extensions succeed.
While total registrations paint an incomplete picture, one measure of success that just about everyone agrees on is a high level of adoption by end users. If people are building websites and businesses on a TLD that dramatically increases public recognition for the extension. That in turn persuades more developers to adopt the TLD creating an ever widening circle of expansion.
| | |
| --- | --- |
| | New gTLDs are less than five years old (with many younger, like .FUN that was just re-lauched in April 2017), so they have just started this cycle but we've already seen instances of how this can work from TLDs that have been around longer and followed the development path to success. One of the most prominent has been .io, a once little-known ccTLD representing the British Indian Ocean Territory, that people in the tech sector started adopting. Others in that field and others liked the way it looked and sounded, so they built on .io too. As a result .io has grown into a widely-known extension that does well in both new registrations (despite a very high registration fee compared to .com) and aftermarket sales. |
That is why the many examples of sites that have be built on .FUN were what really caught my eye in the information I got from Radix. Those included sites representing industries like gaming, media, entertainment, travel, technology and others. There were also blockchain startups (www.coin.fun and www.lucky.fun) and contextual domain-redirects (such as Amazon's www.prime.fun and www.fire.fun) that use .fun domains for brand building and positioning.
| | |
| --- | --- |
| Radix originally acquired the rights to .FUN in October 2016 from Oriental Trading Company, a party supplies brand owned by Warren Buffett's Berkshire Hathaway. Radix wanted the TLD for its broad potential in the lifestyle industry as well as the media and entertainment industry. Radix's Swati Maheshwari told me, ".FUN is one of the few new TLDs that evoke a primary human emotion giving it broad appeal. The keyword 'fun' is also easily understood even in non-English speaking geographies, giving it an edge in the global market for all things light-hearted and leisurely." Radix is practicing what they preach, having incorporated the concept themselves in a game you can play at www.birdie.fun. | |
Swati said, "from apps to comedians, corporate events to luxury travel - a wide array of business sectors are using .FUN in exciting and fun ways," and she went on to provide more examples of websites that are sharing the .FUN:
1. www.culture.fun is based in Sunnyvale, California, and helps its corporate clients build a friendly and fun working environment. It also offers to conceptualize and execute corporate events, parties, team building activities, etc. Some of its clients include Adobe, BuzzFeed, Amazon, etc.
2. www.hello.fun is a voice-chat app by Singapore based Bigo Entertainment. Through this app, users can create free voice chat rooms and join other groups that match their interest.
3. www.tenerife.fun is a luxury yacht rental service in Tenerife, the largest of Spain's Canary Islands.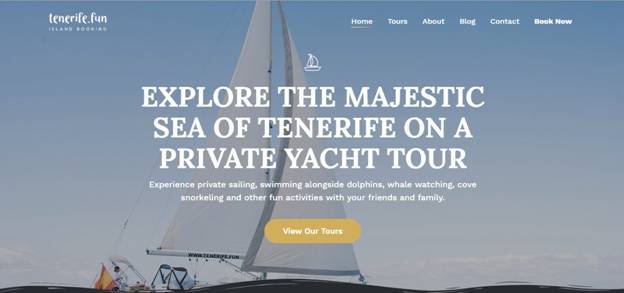 4. www.ismo.fun is the official website of Finnish standup comedian, Ismo Leikola, who made his U.S. debut in 2014 at the Laugh Factory in Hollywood where he won the title of The Funniest Person in the World.
5. www.manwalksintoabar.fun is an an experiential travel company that arranges island tours and pub crawls for tourists in Madeira, an archipelago comprising 4 islands off the northwest coast of Africa.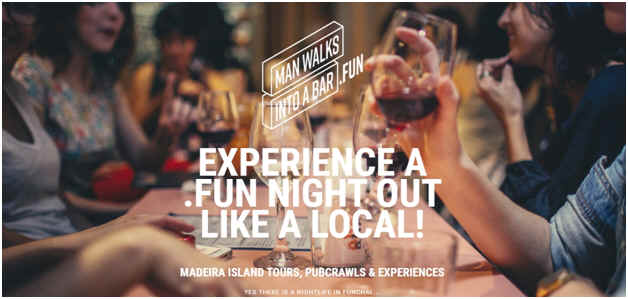 6. www.design-lab.fun is the design portfolio of New York based Ani Liu, an alumnus of Harvard University Graduate School of Design and Massachusetts Institute of Technology Media Lab with significant social media clout.

7. www.gogo.fun is owned by in-flight Internet subscription service, Gogo Air redirects to this Chicago based service's 'buy before you fly' page meant for individual passengers.

8. www.playlab.fun is an American edu-tech startup that promises to create unique and engaging learning experiences for children through Virtual Reality.

9. www.eli.fun is an Armenian business that offers travel packages and boutique experiences handpicked for couples, families, kids, etc.

10. www.jumpingpandas.fun is a fun plug-in from Radix and 1&1. When 1&1's Volleyball team went to the court recently, we got together with them to create a website for the team which is called Jumping Pandas.
In closing Swati noted, "It has already been over a year since .FUN was launched and the TLD has seen a healthy uptake thus-far with 36% registrations coming in from the USA and the rest from Europe, Japan, Russia and China. In November 2017, .FUN received its MIIT accreditation which made it possible for the TLD to make inroads into the growing Chinese business sector. As more and more brands look to connect with their customers with a fun-filled, light-hearted positioning, .FUN will prove to be one of the most promising nTLD for businesses across sectors and geographies."

Swati Maheshwari, Radix Registry