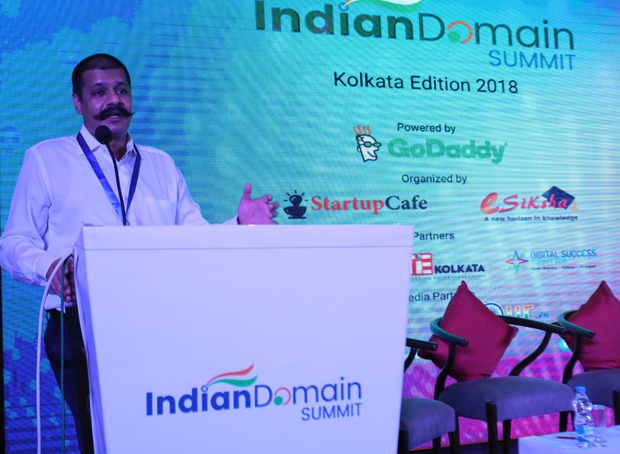 Indian Domain Summit Co-Founder Deepak Daftari (eSiksha.com) welcoming attendees to the debut edition of the event Saturday, August 11, 2018 in Kolkata, India. (Unless noted otherwise, all photos is this article are courtesy of the Indian Domain Summit).
eSiksha CEO Deepak Daftari, an industry pioneer who is well-known throughout the global domain community, told us the original plan was to hold a small gathering for less than a dozen friends and colleagues in Kolkata. However, as word got out the numbers kept growing until a full-fledged conference blossomed before their eyes. Despite the very short lead time, Daftari said a capacity crowd of 115 turned out with more than half of those traveling from outside Kolkata to attend the first major industry event ever held in eastern India.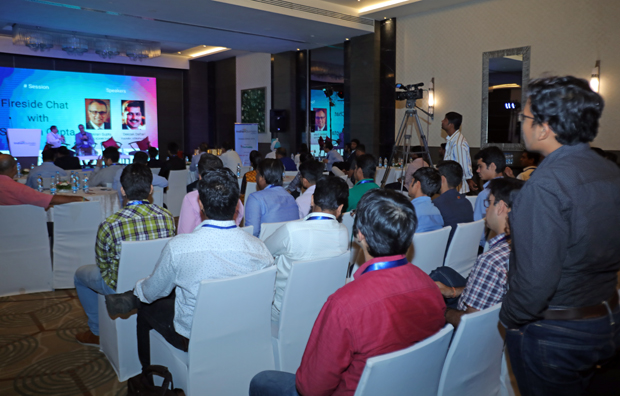 Above: View from the audience as the first Indian Domain Summit
got underway Saturday morning, August 11, 2018 in Kolkata.
Below: In the first business session Deepak Daftari conducted a Fireside Chat
with the Head of ICANN India, Samiran Gupta (right).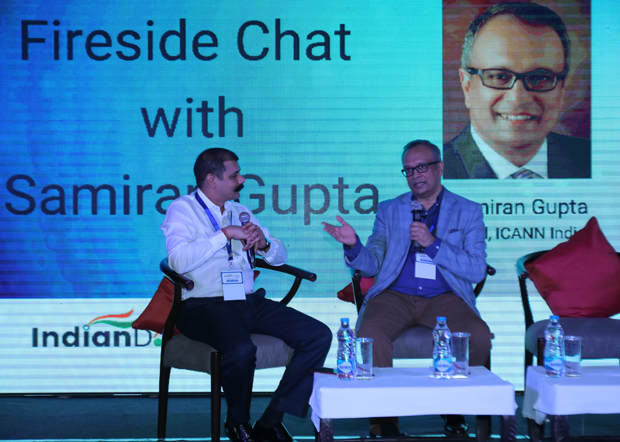 Above & below: The morning sessions continued with "Success Stories From Kolkata", a panel discussion (below) moderated by Deepak Daftari that featured successful local entrepreneurs Abhishek Rungta (center, Founder, Indus Net Technologies) and (at right) Srish Agarwal (Founder & CEO, A1 Future Technologies).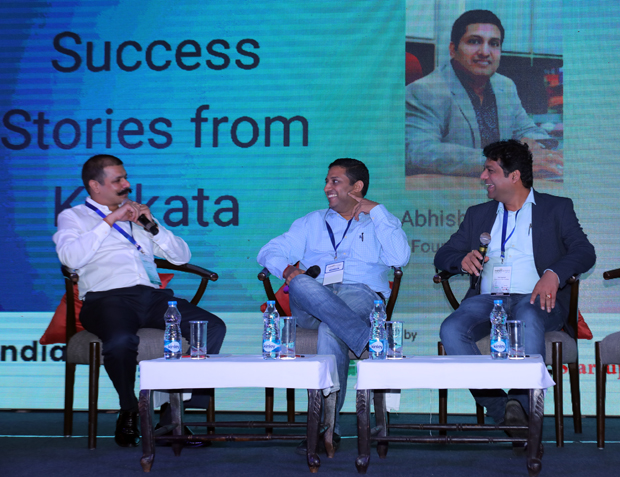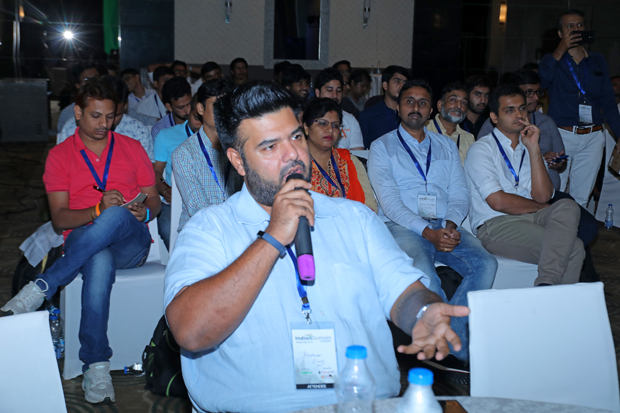 Above: Indian Domain Summit was set up to be an interactive event. Audience members were encouraged to ask any questions they had during the business sessions throughout the day.
Below: The next morning session was "Success Stories from the Domaining Industry." It featured (left to right) Moderator Arun Bansal (CEO, ServerGuy), Nitin Agarwal (InformationTechnology.com), Manish Lunja (BrandPros.com) and Arvind Reddy (100DollarDomains.com).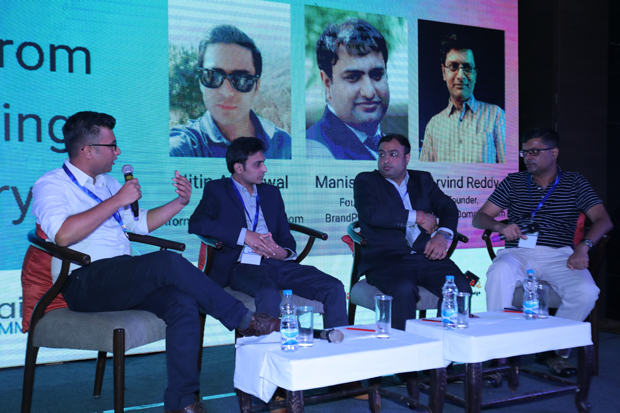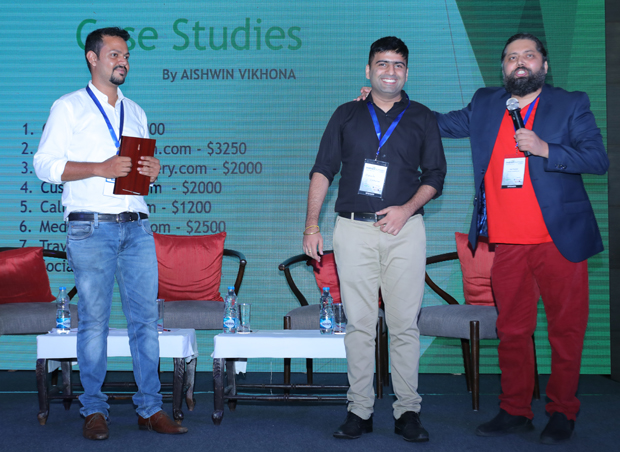 Above: In the final session before the lunch break Rohit Goyal (Founder, SmeHelp.In) and Aishwin Vikhona (eWriting.com) took the stage to share their "Outbound Sales Stories and Domain Sales Case Studies." With Rohit (left) and Aishwin (center) is moderator and Indian Domain Summit Co-Founder Jay Paudyal (DomainKhan.com).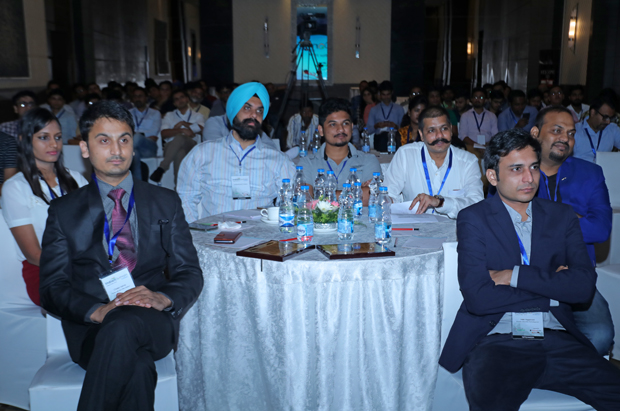 Above & below: After the lunch break attendees returned to their seats for a full slate of afternoon business sessions. Those began with a discussion (below) about "Domain Development, Domain as a Brand, Finding the Right Exact Match Domain." It featured (left to right) Arun Bansal, Chetan Varma (Founder, Elite Back Office Solutions) and Om Thoke (Founder and CEO, Webfosys Group).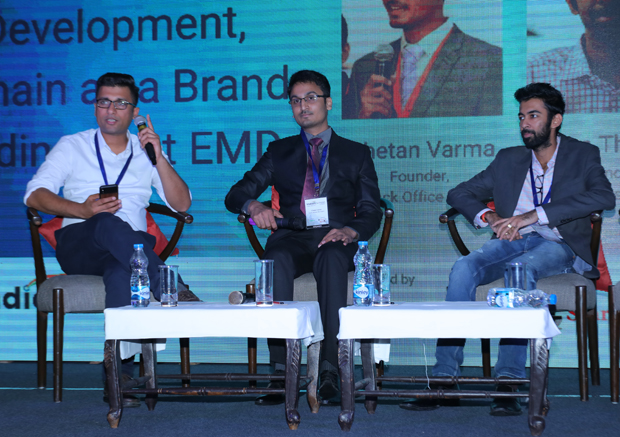 Above: In one of the most well-received sessions of the day Varun Kumar of Pashmina.com (at podium) presented a talk on "Transition of a Domain Name to a Successful Business." Pashmina.com is a sustainable company promoting handcrafted accessories using pure cashmere. Every piece is hand woven & hand embroidered, bringing livelihood to thousands of artisans with fair-trade and ethical practices.
Below: In another highlight of the day, Neha Gupta (Founder, Namaxis Corporation) enthralled the audience with her "Success Story of a Female Domainer." After her talk, conference co-organizer Mayur Saparia presented Neha with a memento of the Summit's appreciation for her support of the event.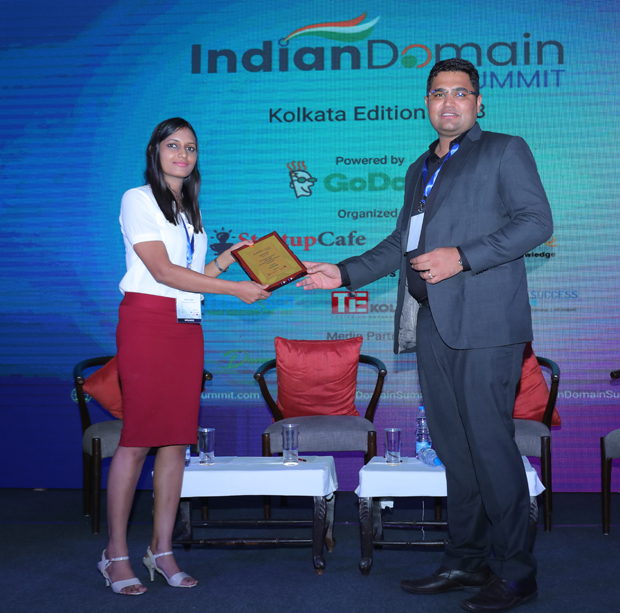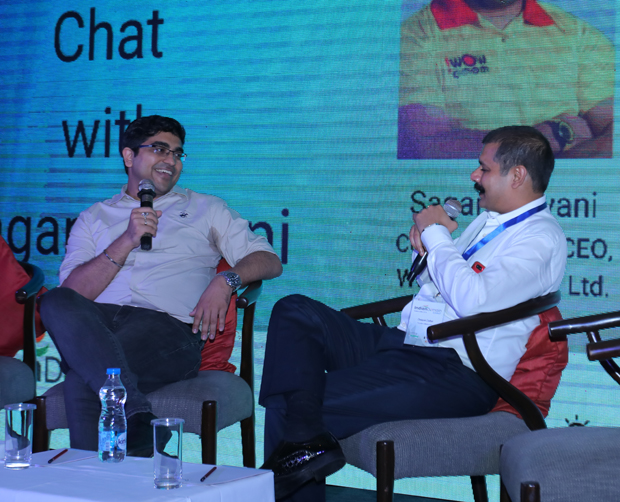 Above: After a break for coffee and tea, Deepak Daftari returned to the stage to conduct a Fireside Chat with local Kolkata business star Sagar Daryani (at left, CoFounder and CEO, WowMomo Pvt. Ltd.) who shared how he turned his company into a multi-million dollar operation.
Below: Next Deepak welcomed Alpesh Shinde (Sr. Manager, Heading Aftermarket & Premier Services at GoDaddy India) to the stage where the two of them conducted a session on the "Domain Aftermarket and Expired Domains."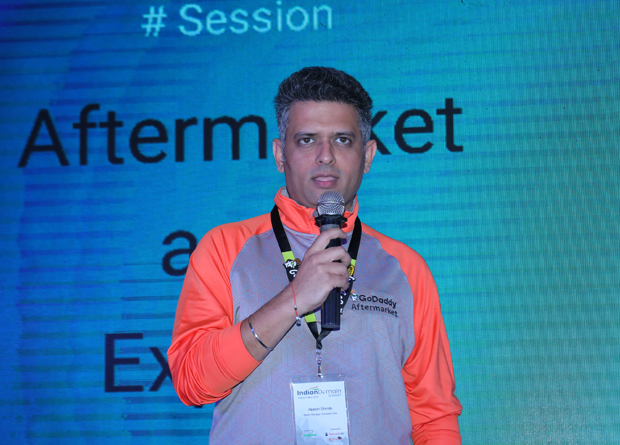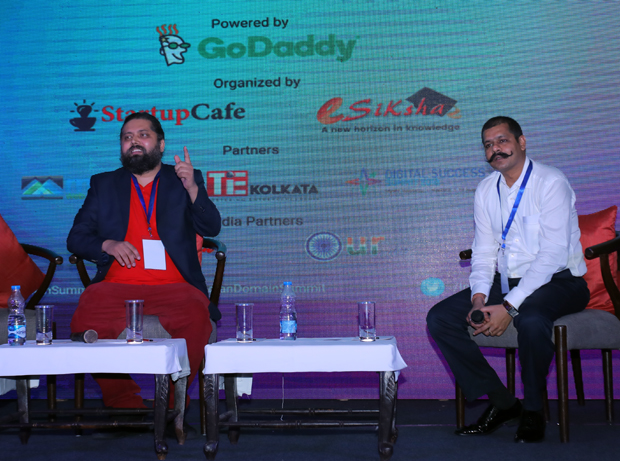 Above & below: The final business session at the 1st edition of the Indian Domain Summit was one of the day's liveliest. Jay Paudyal and Deepak Daftari dove head first into "Domain Name Appraisals." People always want an opinion on what their domains are worth so hands were up in the audience throughout this crowd-pleasing closing session.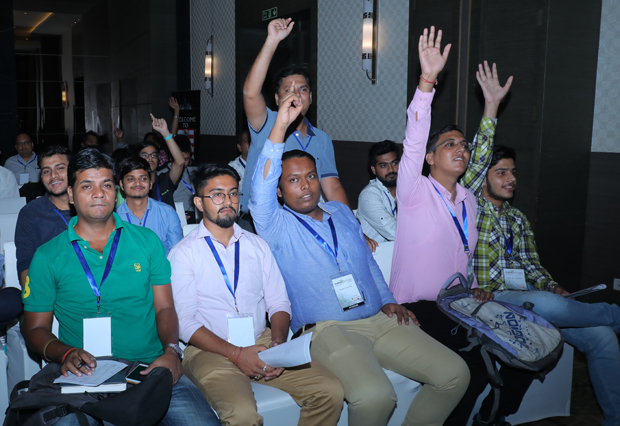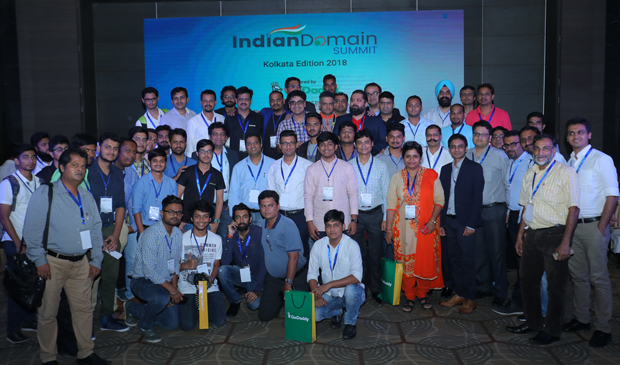 Above: After Mayur Saparia took the stage with his fellow conference organizers for some closing notes and to thank the audience for coming, those still on hand at the end of the busy day were invited to gather for this group photo. In the future, when people talk about the 1st Indian Domain Summit they will have proof they were there!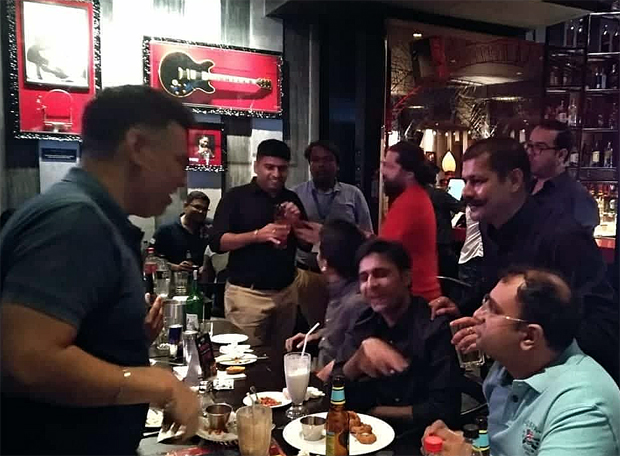 Above & below: As veteran domain conference attendees know, the show being over just means it's time for the after-party to begin! For the Indian Domain Summit that meant reconvening at the Hard Rock Cafe Kolkata to spend the evening celebrating. Photos courtesy of Arun Bansal.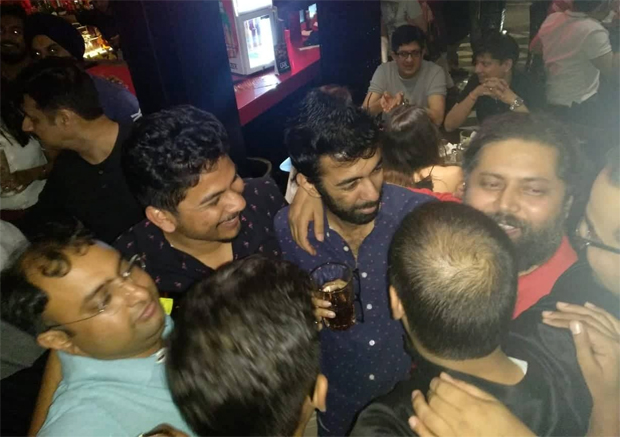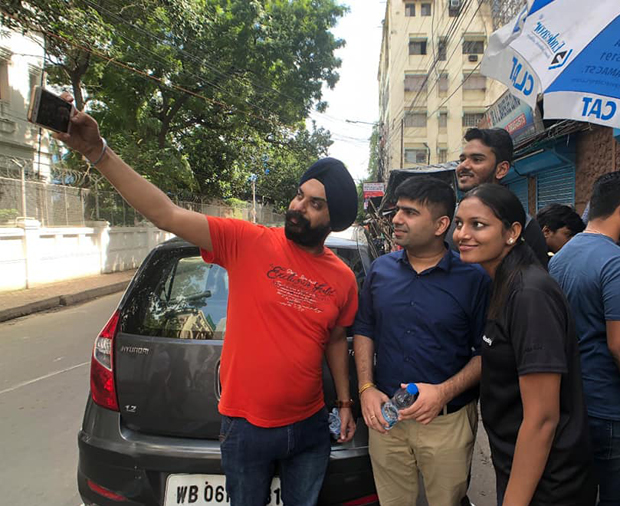 Above & below: ...but wait, there's still more! When domain people get together it is really hard to get them to go home! On Sunday, the day after the show, Deepak Daftari organized a walk around his hometown - Kolkata - for a couple of dozen high energy people apparently determined to turn the Indian Domain Summit into a marathon. Even though there were showers that day they didn't dampen anyone's spirits as witnessed (below) by (left to right): Jay Paudyal, Deepak Daftari, Manish Lunja and Arun Bansal.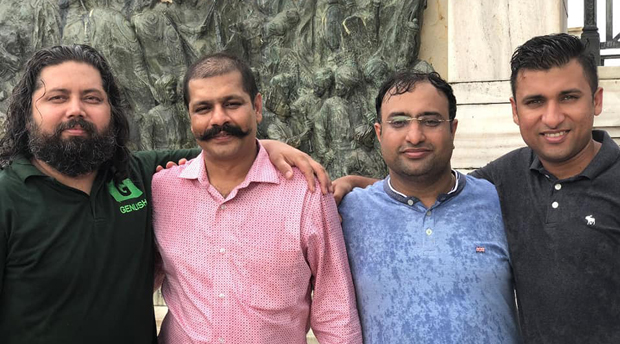 In a closing note about the inaugural edition of the Indian Domain Summit, Deepak credited Jay Paudyal for joining him in turning their initial idea into a finished product with invaluable help from fellow curators Manish Lunja and Mayur Sapiria. He was also especially appreciative of GoDaddy's support as the event's Principal Sponsor. Deepak noted, "The idea was to educate and grow the community and present the new breed of young successful domainers to the wannabes as the ideal role model for them to follow. Based on the feedback and appreciation on various social media platforms like WhatsApp and Facebook, I think we created a lot of value of them. We also wanted to highlight the local (Kolkata area) boys to show the young domainers that there is never a dearth of opportunities!"