Having heard so many good things about the first two Hexonet cruises, my wife, Diana, and I went for the first time this year and the event far exceeded the high expectations we already had.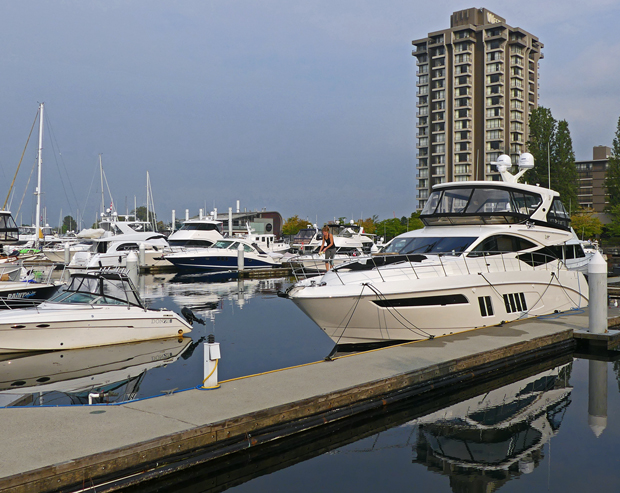 Above: The Westin Bayshore Hotel overlooking the adjacent marina where the Hexonet cruise event began at 5:30pm Thursday afternoon. Most of those who came from out of town for the cruise stayed there. Hexonet created the cruise as a way to educate regional business owners about the importance of domain names and an Internet presence to their enterprises. As a result, well over half of the attendees are local business leaders rather than domain industry insiders. Even so, the success of the cruise has started attracting people who travel thousands of miles to be there as we did, coming from Florida.
Below: At 5:30 Hexonet cruise ticket holders began boarding the tri-level Pride of Vancouver for a three-hour harbor cruise that has to be one of the best entertainment, educational and networking values in North America. Tickets were just $20 (Canadian), with all ticket proceeds going to the British Columbia Children's Hospital Foundation, prompting over 160 people to get on board.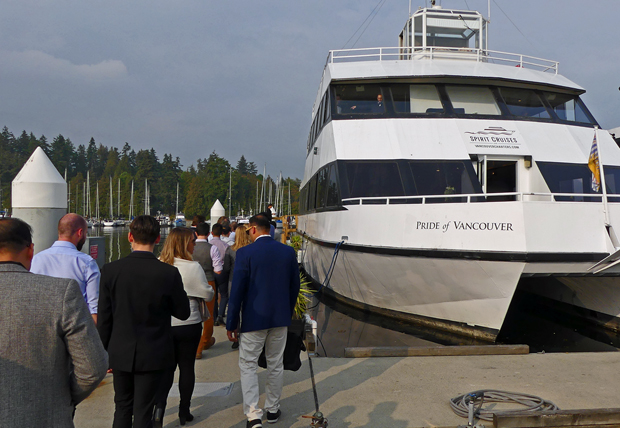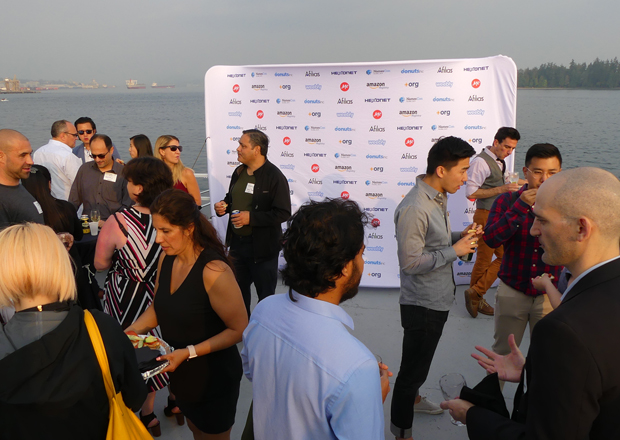 Above: Once on board, guests began exploring the ship's three levels. The first deck was set up for an all-star domain industry panel discussion that was a centerpiece of the night. The middle deck was filled with tables where guests could enjoy their food and drinks and talk while watching the beautiful scenery go by. The open air top deck, seen here, was the most popular at the start of the cruise because the city was blessed with a beautiful evening for the event.
Below: The ship's dock is located on Vancouver's scenic Coal Harbour so within minutes of pulling up anchor we had a great view of the skyline and Canada Place cruise port (the tented structure at left) as our journey began.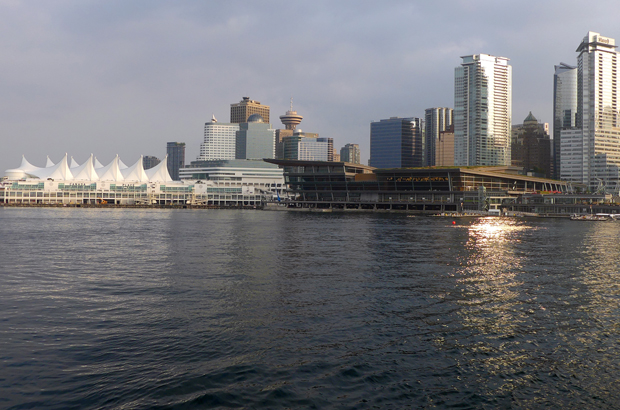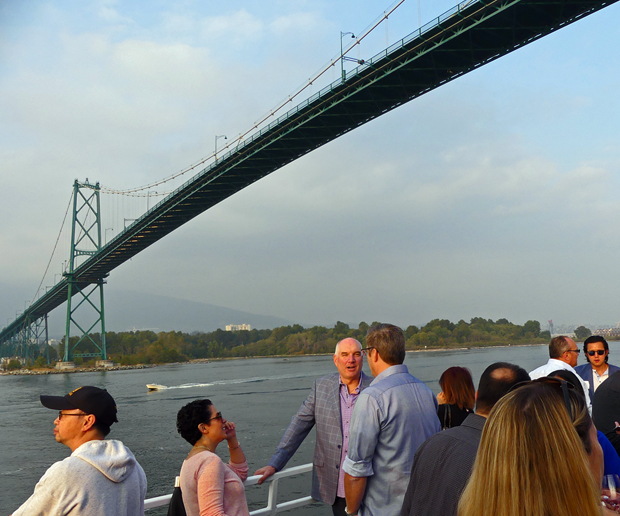 Above: Hexonet cruise guests enjoy the view and conversation while passing under the iconic Lions Gate Bridge, one of Vancouver's most widely-known landmarks.
Below: While there were many new people to meet from Vancouver's business community there were also a lot of familiar faces in the crowd including NamesCon Marketing and Events Director Terri Potratz and Escrow.com General Manager Jackson Elsegood.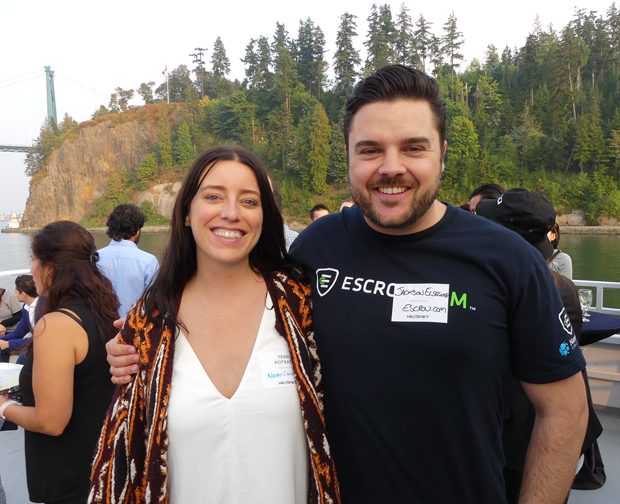 Above: As we got further away from shore a wider swath of the ever growing Vancouver skyline came into view.
Below: After an hour and a half of productive informal networking, it was time for the cruise's sole business session - one the featured eight domain industry experts who filled the crowd in on how to navigate the world of domains, website development, ecommerce and other topics. They also questions the audience members had. The session began when Hexonet Chief Marketing Officier Tony Kim, who was one of the panelists, introduced his fellow industry experts.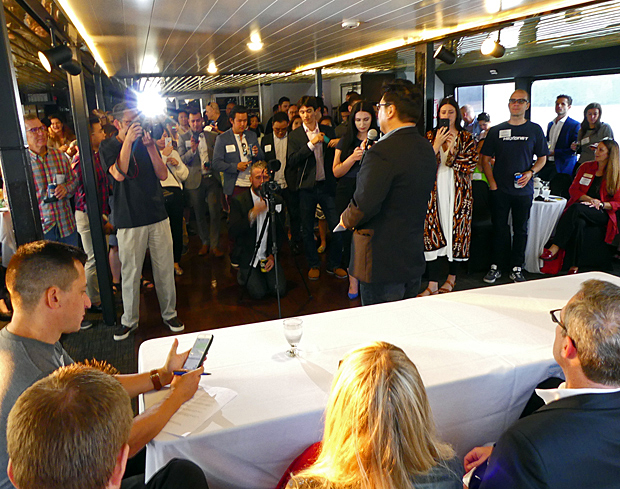 Above: It was standing room only on the first deck when Hexonet's Tony Kim began introducing the audience to his fellow panelists at 7pm.
Below: In addition to Tony, the all-star panel included (left to right) Stacey King (Amazon Registry Services), Chris Sheridan (Weebly), Mariah Reilly (Donuts), Christopher Campbell (Afilias), Kelly Hardy (.ME Registry), Rick Terry (.ORG, Public Interest Registry) and Richard Lau (NamesCon Founder).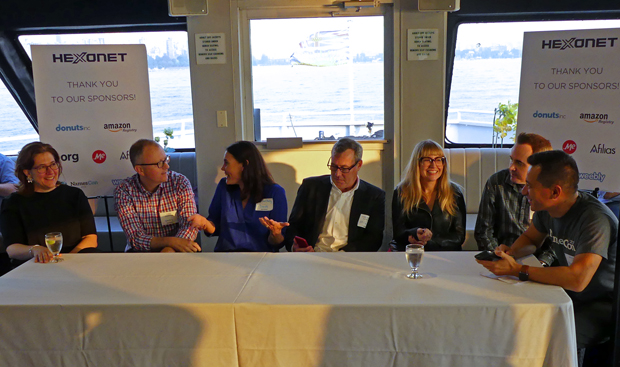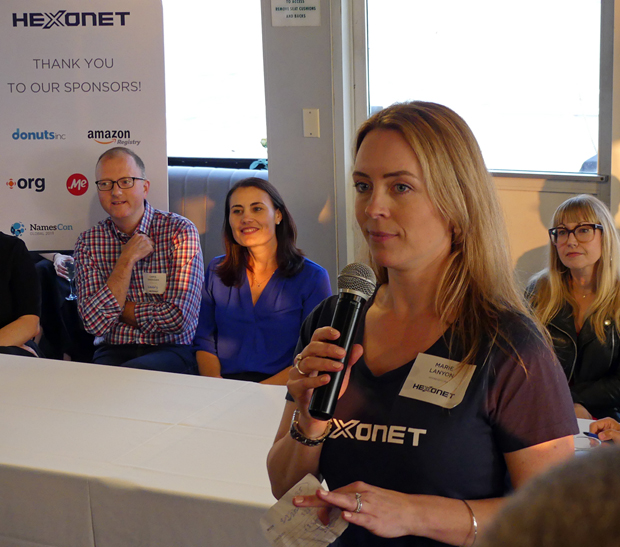 Above: Hexonet VP of Marketing Marie Lanyon, who put the panel together, also served as moderator of the well-received session. Marie joined Hexonet a little over a year ago and has already supercharged their outreach programs aimed at expanding awareness of domain names and their importance throughout the regional business community and beyond.
Below: Snacks were continually served from the time guests got on board until the business session began. As soon as it ended Hexonet rolled out a table filled with sliders, sushi, meatballs and other treats that quickly drew a crowd.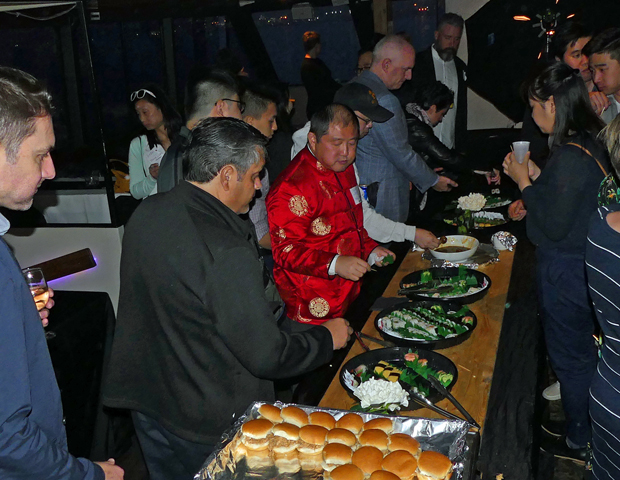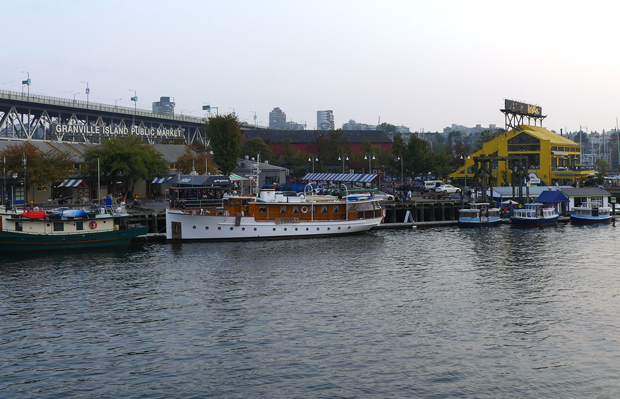 Above: As the sun sunk toward the horizon, the ship entered one of Vancouver's busiest strips of water - False Creek - home of the popular Granville Island Public Market.
Below: Our boat was designed to provide great vantage points from locations throughout the vessel. This trio found a perfect spot to sit and watch the wonderful world of Vancouver go by.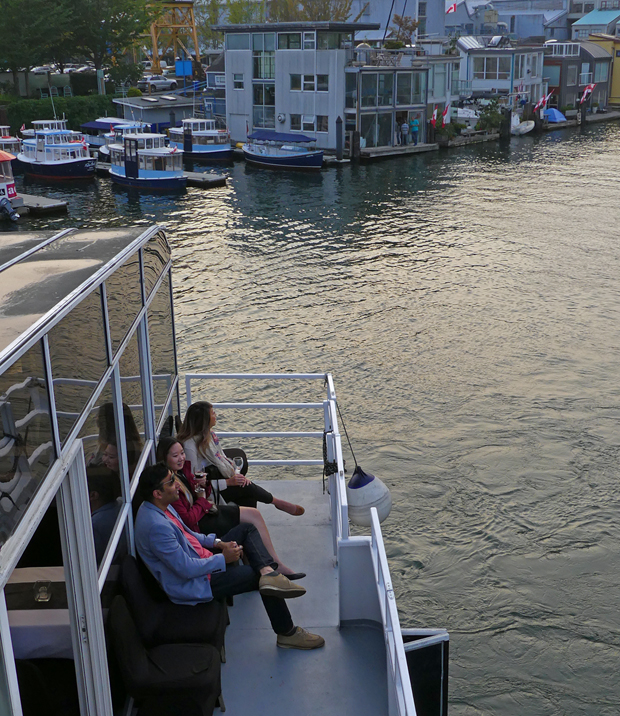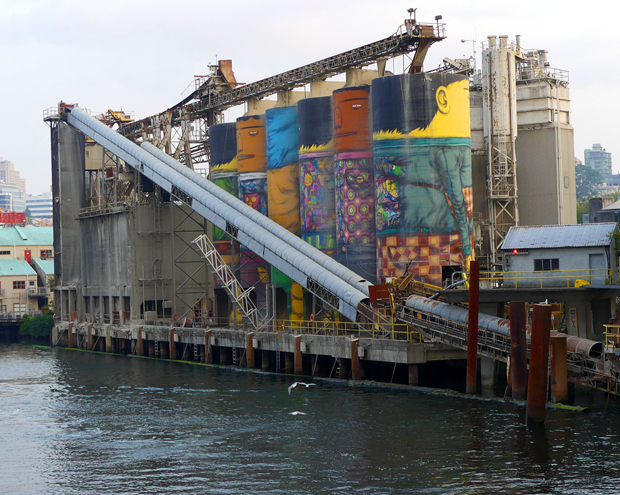 Above: You have to love a town where even the most mundane surfaces are often given an eye-catching new look thanks to the imagination of its artists. These grain silos are a perfect example.
Below: One of the most entertaining aspects of the cruise was watching the wide variety of watercraft that surrounded us on all sides. I'm used to seeing this kind of paddle wheeler on the Mississippi River but wasn't expecting it in the Great Northwest.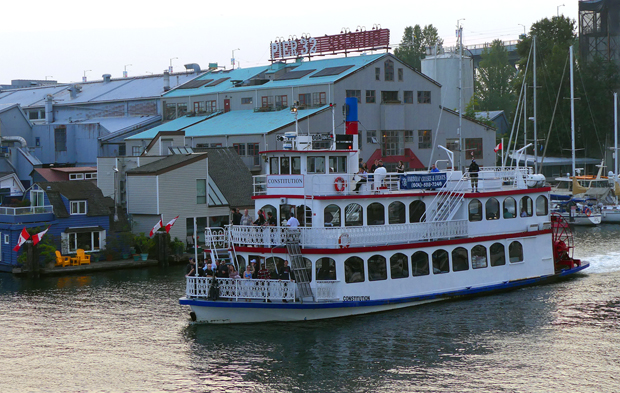 Above: These colorful little Aquabus water taxis crisscross False Creek shuttling passengers from one shore to the other.
Below: With False Creek now in our rear view mirror a racing shell managed to keep pace with our boat for several hundred meters before peeling off. Not far behind him you see one of the many standup paddleboarders that were also on the water Thursday evening.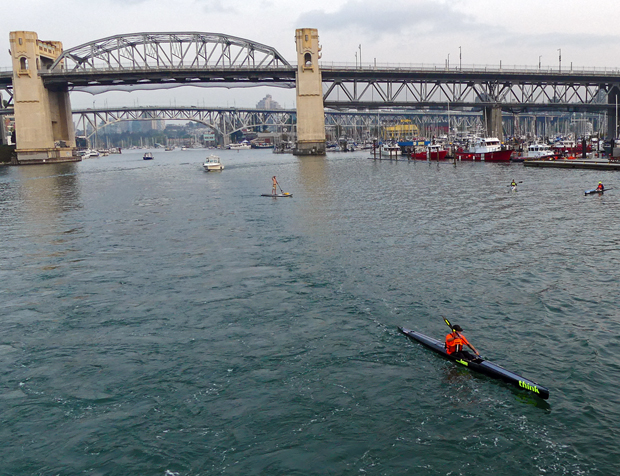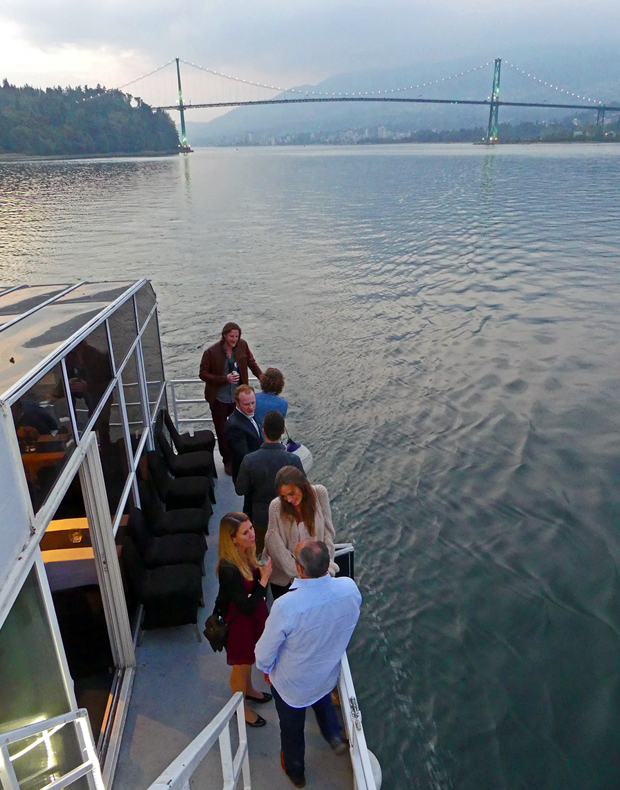 Above: On the way back to Coal Harbour after sunset guests continue to enjoy their conversations and the cool outdoor air.
Below: As we headed down the home stretch, darkness has settled in and the Vancouver skyline is lit up in a brilliant array of colors, all accented by the full moon seen over one of the tent peaks at the Canada Place pier for cruise ships.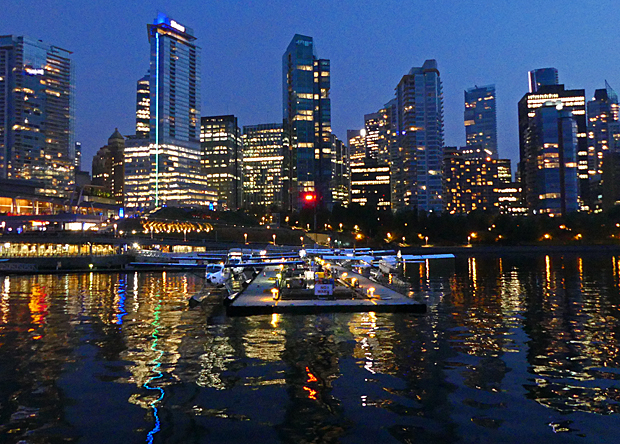 Above: One of my favorite things in Vancouver are the seaplanes that continually take off from and land in Coal Harbour. the Passing them Thursday night as our boat pulled back into the dock where we began was one of the few times I saw them stationary. I couldn't help noticing they were beautiful even when not flying.
Below: Every few minutes during our stay in Vancouver a seaplane would fly by our balcony near the top of the Westin Bayshore, making it easy to snap photos like the one below that I took shortly before the cruise began. It is an appropriate metaphor for the innovative Hexonet cruise itself. The event is flying high and reaching greater altitude every year. As this year's delightful cruise ended, one of the last things I told our friends at Hexonet was, "You're going to need a bigger boat!"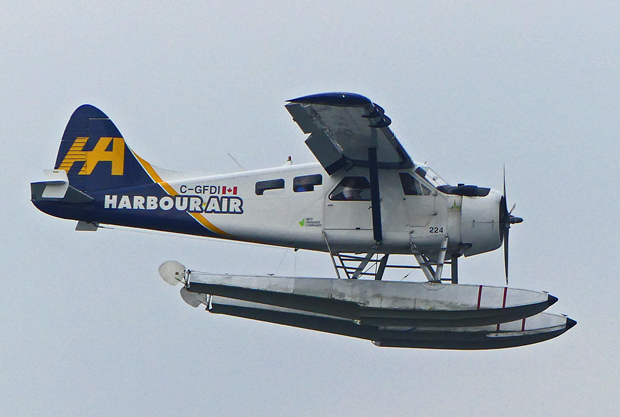 In closing I want to thank Hexonet for being such gracious hosts. It was not only a pleasure being back in Vancouver, it was great getting to better know CSO Robbie Birkner, CMO Tony Kim, Marketing VP Marie Lanyon (who I had just met for the first time in January at NamesCom) and other members of the talented Hexonet team. They are doing great work in building recognition of domain names and explaining their central role in online success to the mainstream business community - an effort that benefits all of us who are part of this extraordinary industry.