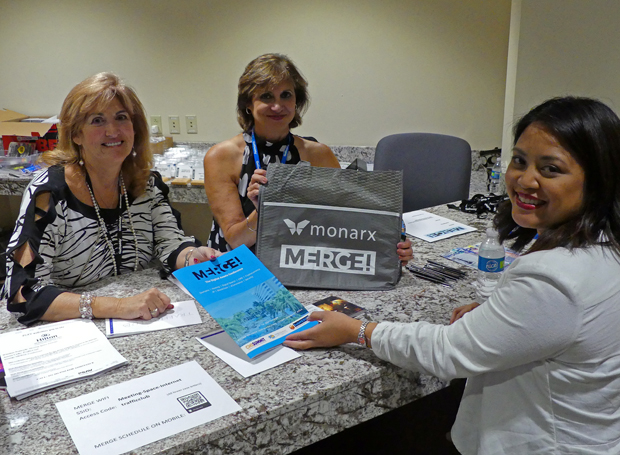 Above: Barbara Neu (left) and Kathy Kepler (center) at the MERGE! conference
registration desk where attendees like Jasmine Gonzalez (right) signed in for the show Saturday morning.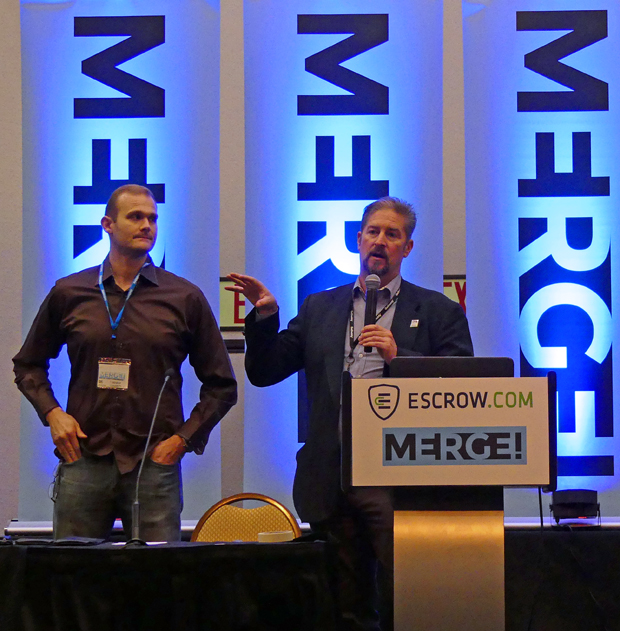 Above & Below: At 12 noon Saturday MERGE! Co-Founders Ray Neu (left) and Jothan Frakes officially welcomed their guests to the 2nd annual edition of their big event in Orlando.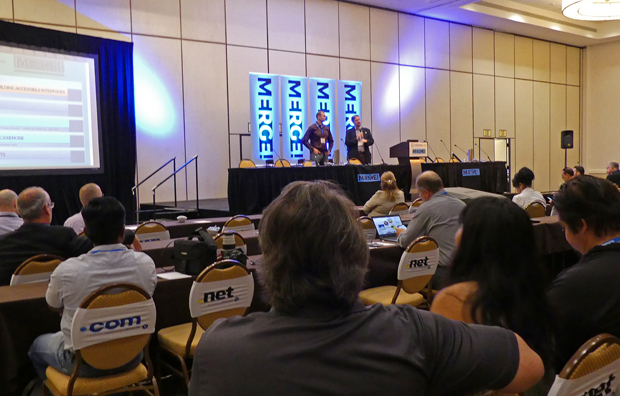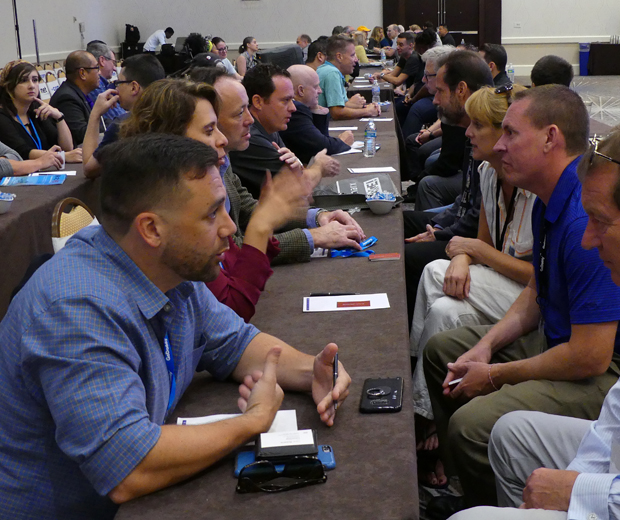 Above & Below: MERGE! made sure attendees got to know each other with a facilitated networking session conducted by Howard Neu that immediately followed welcoming remarks from the conference founders. There are a lot of new people to meet at MERGE! because the show covers much more ground that just the domain business (represented by The Domain Conference track within MERGE!). That is just one of six components in the MERGE! mix - the others currently being Blockchain, CMS Summit, SubMERGE! (eCommerce), Security and TLDFest (another domain track but this one focused on new TLDs). Those "conferences within a conference" work both independently as part of the MERGE! whole. For example, the CMS Summit held three business sessions Saturday morning before the overall show opening at noon Saturday. Since our readers are predominantly from the domain space most of our show coverage will focus on those areas but we will also be sampling sessions from other tracks as time allows. All of the MERGE! components are integral parts of doing business on the web so all are relevant to anyone who has an interest in moving beyond domains to full scale development of one or more websites.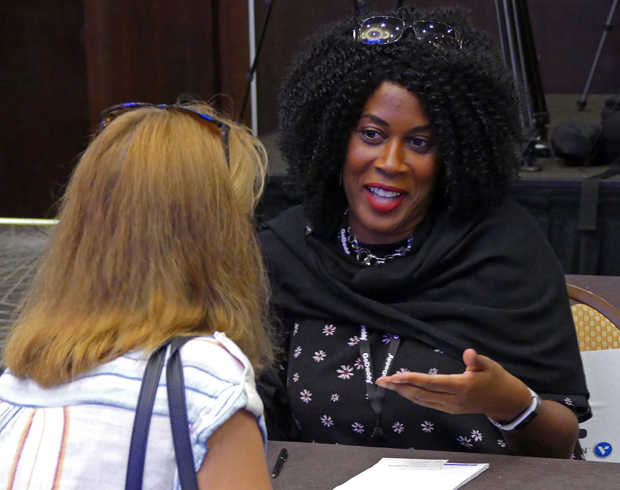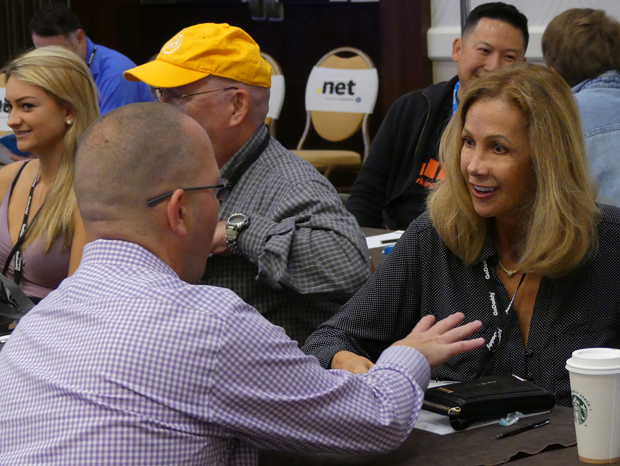 Above: Trellian/Above.com VP Nancy Bianchi chatting with a fellow MERGE! attendees during the facilitated networking session Saturday. The session was structured to insure that attendees could spend one-on time with around two dozen different people in the course of the hour.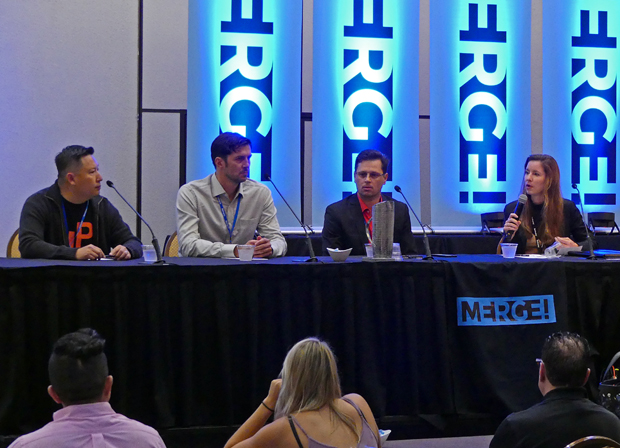 Above: In one of two domain track sessions that started at 2:45 pm Saturday an expert panel covered Part 1 of what will be 3 parts devoted to Direct Advertisers over the course of the show. This panel featured (left to right) Sam Tseng (ParkingCrew.com), Matthias Kaiser (COO, Traffic.Club SARL), David Warmuz (CEO, Trellian/Above.com) and moderator Christa Taylor (CEO, dotTBA Inc.).
Below: At the same time in a nearby breakout room Phillipe Collin (CEO, Frogan's Addresses for All) conducted a session on how the Frogan's namespace can be utilized.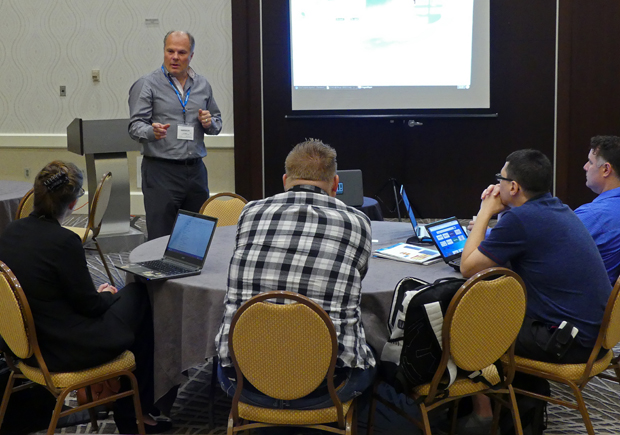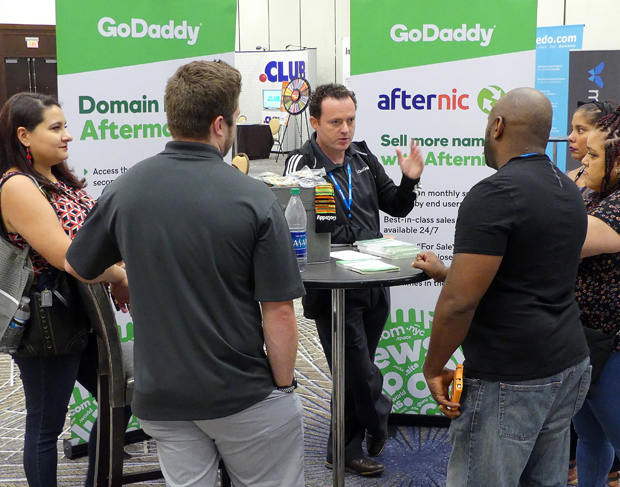 Above. For 2018, MERGE! has a vastly expanded, more friendly Exhibit Hall space that attendees will want to spend time in. Here GoDaddy Aftermarket Product Manager Joe Styler is fielding questions about the services offered by the world's largest domain registrar.
Below: The Exhibit Hall is a also a great place to relax with friends over a game of table tennis, some time on the nearby golf putting surface, a spin of the .CLUB Roulette Wheel (for free gifts) and other diversions.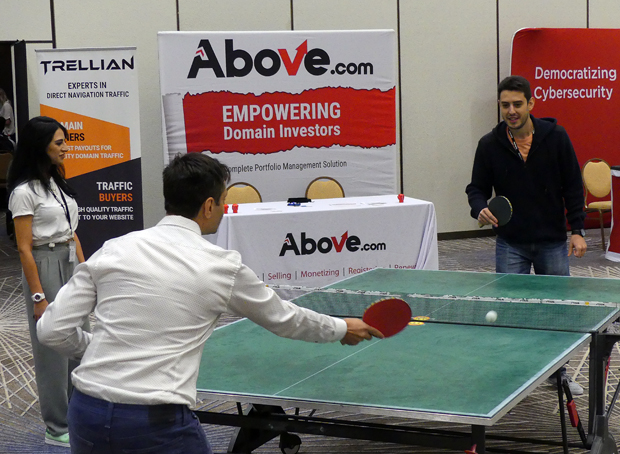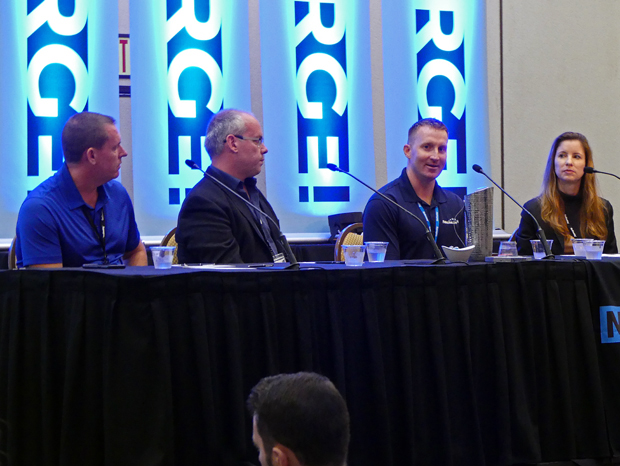 Above: In part 2 of the 3-part series on Direct Advertisers, a new panel was on stage at 3:30pm Saturday with this one featuring (left to right): Marlon Phillips (VP Sales, Protected Parking), James Tuplin (Director of Business Development, Bodis), Mike Robertson (Director of Business Develoment, Fabulous.com) and moderator Christa Taylor (CEO, dotTBA Inc.).
Below: They were followed by a second panel of experts that provided Secrets of Domain Leasing in the day's final domain track session. The panelists were (left to right) Stevan Lieberman (Attorney, Greenberg & Lieberman), Jeff Sass (CMO, .CLUB), Victor Pitts (Premium Domain Head, MMX.co) and moderator Alvin Brown (Publisher, Kickstart Commerce).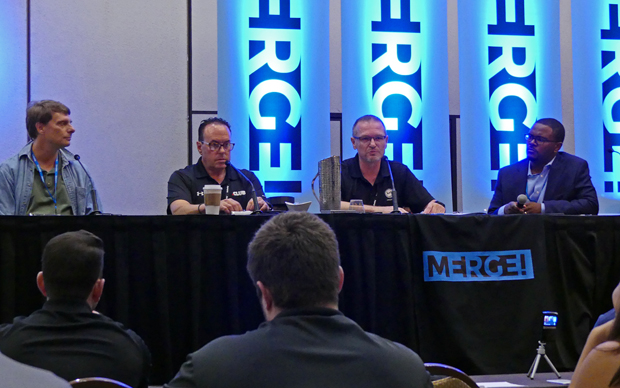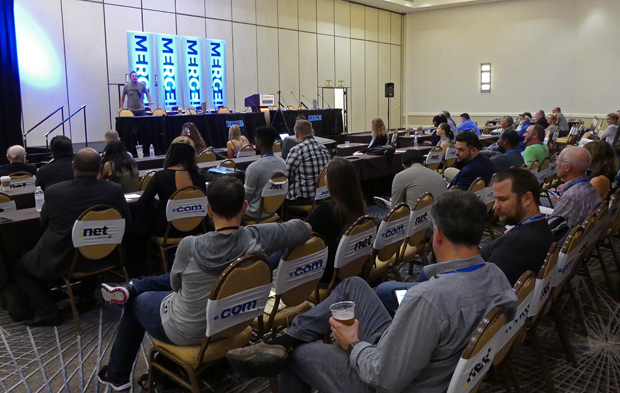 Above & Below: In the final overall session of the day Saturday (one that crossed multiple boundaries in the MERGE! universe) CrowdSync Founder Justin Davis delivered a very well received 90-minute Interactive Keynote Address. Davis provided a fast-paced critique of audience members' websites, focusing on user experience and design. By the end of it, the audience has a new battery of ideas for their own sites and an entirely new perspective on how to design better experiences online.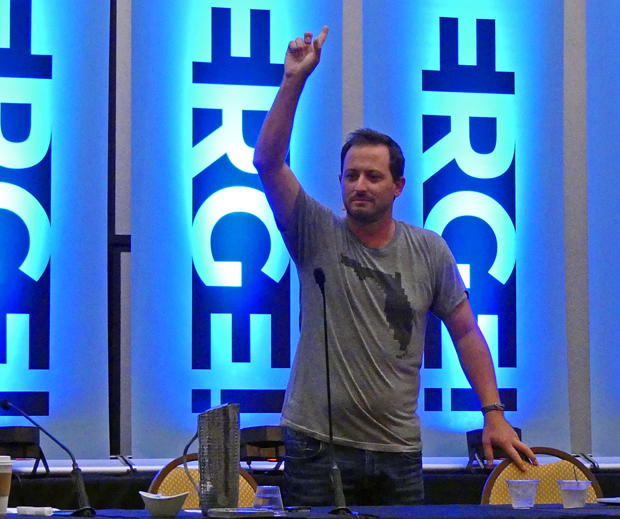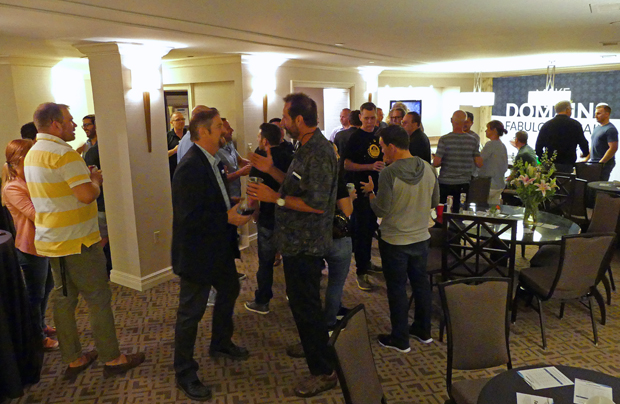 Above: With the business day done, the place to be after night fell was at the MERGE! Hospitality Suite, hosted by Fabulous.com. It is a comfortable, spacious place to meet friends and make new ones while enjoying free snacks and drinks - the perfect way to cap a busy day at the conference.
Below: (Left to right) Mike Robertson (Fabulous.com), Kevin Kopas (Co-Founder .ICU Registry) and Kelly Peterson (Automattic), catching up in the MERGE! Hospitality Suite Saturday night.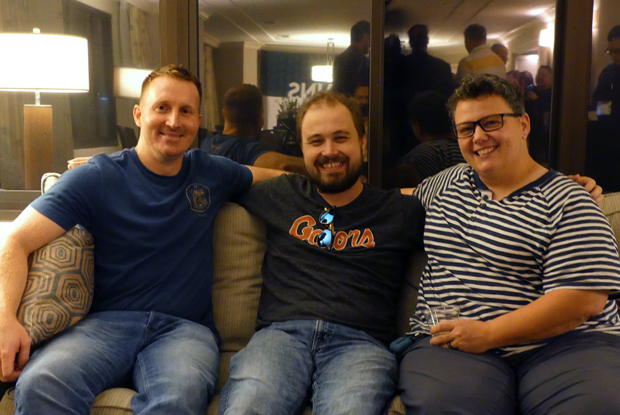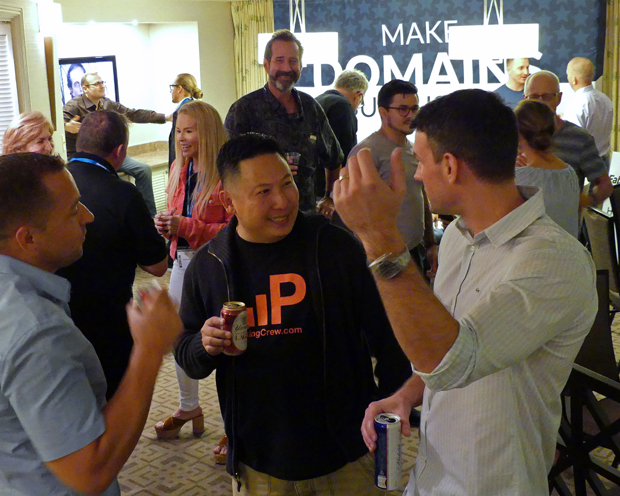 Above: Sam Tseng (ParkingCrew.com) in the center of the action
at the MERGE! Hospitality Suite Saturday nght.
As I write this the Sunday business day is underway with another full slate of business sessions that will be followed by The Domain Conference Welcome Cocktail Party hosted by Siteplug this evening (with that in turn followed by another night in the MERGE! Hospitality Suite that will be open to all attendees). I'll have all of the Sunday photos and highlights for you in my next post from Orlando.
(Posted September 16, 2018)