The Radix registry announced today that its flagship TLD, .ONLINE, has surpassed 1 million domains under management - a number that Radix predicted they would hit when the new gTLD entered General Availability in August 2015. .ONLINE thus becomes one of just a few new gTLDS that have crossed the 1 million mark, a landmark that makes .ONLINE the 5th largest new TLD by zone size.
.ONLINE originally began as a joint venture between Radix, Tucows and Namecheap who won the rights to .ONLINE in a private auction. Not long after Radix, convinced that .ONLINE would be a winner, was able to acquire the Tucows and NameCheap's stake in the TLD. The term "online" has long been a popular component in domain names so Radix management felt it would be natural ending for those seeking a more concise identity online.
Radix CEO Sandeep Ramchandani noted, "Businesses and consumers have long settled for long and less memorable domains on familiar legacy strings such as .com. .ONLINE offers the global audience an opportunity to get their first-choice domain name without having to compromise. With only 1 million .ONLINE names vs. 135 million .com names taken, there is ample availability for customers and tremendous growth for us to tap into."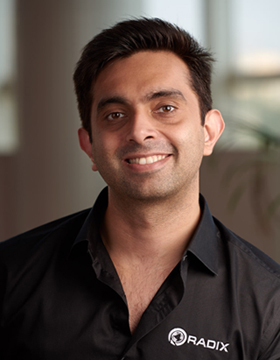 Sandeep Ramchandani
Radix CEO
Radix cited a number of favorable reviews from end users of .ONLINE domains. Aaron Agius, Founder-CEO of Louder.Online, said, "We are an SEO company and we moved from LouderOnline.com and LouderOnline.com.au to Louder.online. Being a global company, it has definitely made sense to move to a .ONLINE domain, especially in terms of branding for an online marketing company."
Based on an internal analysis by Radix, 65% of developed .ONLINE domains are in use by SMBs. As of this date, Radix said .ONLINE has generated over $13 million in revenue of which $1.5 million has come from premium domains sold directly by the registry and close to 90 premium .ONLINE domains have been sold organically in the aftermarket. To further expand .ONLINE's footprint, Radix is presently working on a large-scale end-customer marketing campaign for the TLD that is slated to launch in Q1 2019. Through the campaign, Radix aims to broaden awareness about .ONLINE by directly targeting active-intent users.
(Posted November 2, 2018)