Millions of Americans were transfixed by Wednesday's televised Congressional hearings (February 27, 2019) in which President Donald Trump's former personal attorney, Michael Cohen, spent hours testifying about alleged misdeeds committed by his old boss. At one point Cohen stated he had threatened an estimated 500 people on Mr. Trump's behalf over the past decade. As it happens, one of those threats was directed at a client of one of the world's best known domain attorneys, Ari Goldberger, the founder of ESQwire.com. The threat - an attempt to take the domain name TrumpForPresident.com away from it's rightful owner (Ari's client) - put Ari on the warpath against Cohen and The Trump Organization.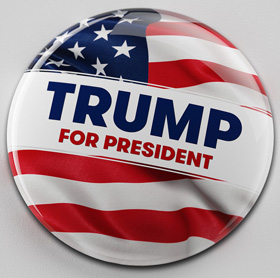 Image from Bigstock
Ari Goldberger
Founder, ESQwire.com

It was a battle that Ari would win with a single shot - a masterfully written 5-page letter he sent to The Trump Organization detailing extensive case law that established his client's rights to the domain so convincingly that he never heard from them again. However, Goldberger never forgot the incident because of unethical behavior by Cohen that he also called out in his letter, leaving no doubt he was willing to take that matter directly to the Bar Association if necessary.

Some other testimony from Cohen on Wednesday also turned out to be an interesting part of the back story to this incident. Cohen stated he had been the one who started Trump's presidential campaign. Cohen said, "I certainly did, sir", citing his registration of another domain - ShouldTrumpRun.com - in 2011. Since his attempt to take TrumpForPresident.com occurred in late 2010,

it would appear the former name was Cohen's consolation prize after his failed attempt to hijack the name owned by Ari's client. Regarding ShouldTrumpRun.com, Cohen continued, "2011. It was my idea. I saw a document in the newspaper that said, 'Who would you vote for in 2012?' 6% of the people turned around and said they'd vote for Donald Trump. So I brought it into his office and I said, 'Mr. Trump, take a look at this, wouldn't that be great?' And that is where it all started."
Due to legal privacy issues, I can't share the entire letter Ari sent to The Trump Organization warning them to stop their harassment of his client, however I can share some excerpts (with some names redacted) that will give you a very good idea of how this went down. The letter was addressed to another attorney on the Trump legal team (as it included complaints about Cohen's actions).
Ari wrote:
"Mr. Cohen, acting in his capacity as an attorney and special counsel to Donald Trump, acted improperly towards (client's name), and appears to have violated the rules of professional conduct in attempting to coerce (my client) into transferring the Domain (TrumpForPresident.com) to Trump...During a telephone conversation on December 9, Mr. Cohen interrogated him about his occupation. Upon learning that (my client) is employed by (company's name), Mr. Cohen emphatically stated that Trump was a client of (company), and that he was going to call the (company)'s CEO and complain about (my client). Mr. Cohen taunted (my client) asking what his "boss" would think if he knew (my client) was trying to extort money from one of (company)'s "biggest clients." With (my client) still on the phone, Mr. Cohen actually placed a call to Trump's account representative at (company) and Mr. Cohen asked (representative at company) to access the (company)'s database to view (my client)'s private employment records. (Representative at company) then proceeded to provide Mr. Cohen with (my client)'s contact information. Mr. Cohen's intent was clearly to coerce (my client) into surrendering the Domain Name by embarrassing him and threatening his employment. Such coercive tactics are reprehensible if done by anyone, but Mr. Cohen is an attorney and acted in his capacity as special counsel to Donald Trump. Mr. Cohen's conduct, thus, appears to violate Rule 4.4 of the New York Rules of Professional Conduct."
The rule is cited, with Goldberger then continuing, "His request to access (my client)'s private employment records further violated his privacy rights. What's more, Mr. Cohen's actions, perhaps unwittingly, caused (representative at company) to violate (company)'s Code of Business Conduct (the "Code"). Under the Code, (company)'s employees are required to maintain the confidentiality of all (company) employee information including "personally identifiable information." The Code further warns employees to "not utilize any confidential information... for the use of any other person or entity."
While Ari's extensive documentation of case law supporting his client's rights was more than enough to cause The Trump Organization to abandon their efforts to steal his client's domain, you can see where the passages about Cohen's conduct alone would also stop that effort in its tracks. Goldberger closed his letter with this:
"(My client) has done nothing wrong. He has been subject to attack and abuse by representatives of Trump and this is unacceptable. He will continue with his plans to develop the Domain along with Politics2012.com. While we doubt that Mr. Trump directed, or was privy to, the intricacies of (my client)'s browbeating, the manner in which my client was treated by Trump personnel reflects poorly on an individual seriously considering the privilege of serving as President of the United States. I am sure if Mr. Trump were apprised of the facts of (my client)'s treatment he would disapprove. My client has no animus towards Donald Trump or the Trump Organization. To the contrary he is a fan and has a great deal of respect for Mr. Trump. We can also understand Mr. Cohen's zeal in performing his duties as special counsel to Mr. Trump and appreciate his dedication and enthusiasm in promoting Mr. Trump's candidacy for president. Nevertheless, this is a country of laws, and (my client) has abided by those laws and deserves to be treated accordingly. We will, thus, not tolerate any further intimidation of (my client)."
When you keep in mind that all of this written nine years ago, it is remarkable how relevant it is to today's news headlines.