has three physical storefront locations in Las Vegas. Still, parting with over half a million dollars is a step that anyone has to give some thought to. We connected with Joe to find out more about this major acquisition and why he had no qualms about pulling the trigger on this deal.
DNJournal: Joe, you were already in the legal alternative medications business with BuyLegalMeds.com where CBD oil is among your marquee products. Interest in this category has mushroomed alongside the legalization of marijuana for medicinal purposes. Tell us about your business background and how you arrived in this field.
Joe Vargas: I was in the United States Navy for 8 years (1998-2006), spent 10 years in the Las Vegas entertainment and media industry (2005-2015) and now 4 years in the CBD oil hemp industry since starting in January 2015. I will retire from the CBD industry and travel. Here's a descriptive article on me and my background that came out in our local newspaper and the Las Vegas Weekly a few months ago.
DNJournal: CBDOil.com is a huge upgrade in terms of your online identification. A lot of mainstream business people are not aware of how important a category defining domain can be to their business. How did you come to understand the value of a name like CBDOil.com and why it would be worth over $500,000 to your enterprise?
| | |
| --- | --- |
| | Joe Vargas: I'm pretty familiar with how the internet works and why domains cost what they cost. When I was contacted on social media by the seller about the domain CBDOil.com being for sale, I knew that if I could get it for under a million dollars, I would have a good deal on my hands. Personally for me, I judge a domain based off the industry it's referring to. The value of the industry. The CBD oil industry is exploding right now and to have the authoritative domain for the entire industry would be powerful. Since CBD.com is taken by a Christian Book Distributor, they wouldn't sell it to me last year, so this was the next big domain for the industry with equal authority. |
We will still operate the brand BuyLegalMeds.com, but CBDOil.com not only has authority, but it has a lot of trust to the consumer when they visit a site like that. I also know that when an industry is valued more, a domain for it is worth more. Take CarInsurance.com for example. It was sold for $49.7 million dollars. The value of the insurance industry is $7 trillion dollars, so when you put into perspective searching for "car insurance" and CarInsurance.com is first on the first page on Google, there's extreme value there. $49.7 million is a good deal when you look at it like that. So $500,240 for a $2 billion dollar industry that would be worth 100's of billions more in a few years and possibly trillions in the future, I got an amazing deal and I would of paid more. Don't tell the seller that. LOL!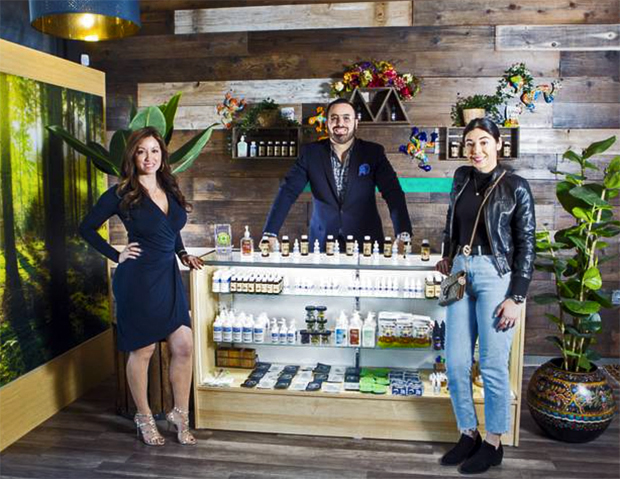 (Left to right): COO Raquel Geraldo, Founder & CEO Joe Vargas and Operations Manager Nahtaly Vargas at a BuyLegalMeds.com dispensary.
DNJournal: What can you tell us about how the purchase came together. Did you work with a broker or deal with the seller on your own? Was the deal structured with payments over time or did you pay the full price and assume immediate ownership?
Joe Vargas: My social media manager told me someone contacted our Twitter page for Buy Legal Meds and said their friend was selling the domain. I asked them to email me direct outside of social media. The owner did. I did my due diligence and contacted GoDaddy since the domain was hosted there and asked them to verify the owner of the account. The owner gave me his account number on GoDaddy and I had his name with his drivers license, so I simply asked my rep if the account number was owned by the person that claimed to have CBDOil.com. It was confirmed and from there negotiation started. I assumed immediate ownership from Escrow.com less than 2 weeks after we started negotiating. CBDOil.com is now in our control, a full site is being built now and will launch soon.
DNJournal: Are yours plans to operate CBDOil.com as a completely different site from BuyLegalMeds.com or will your original site re-brand?
Joe Vargas: BuyLegalMeds.com (Buy Legal Meds) is a brand that's been around for 4 years. Millions of people know about it around the world as we ship worldwide. It's a great brand that people love and our CBD dispensaries are called Buy Legal Meds. We won't be shutting down that brand and will operate CBDOil.com separately as a sister company. We manufacture all our products we sell in-house in our factory in Las Vegas. BuyLegalMeds.com is a little aggressive as a name and the customers that it attracts are a lot of fun. I love running BLM.
DNJournal: Aside from owning the exact name of an entire rapidly growing industry, what will differentiate your site from the ever growing ranks of competitors?

Joe Vargas: CBDOil.com will be a marketplace, a hub for great content and a place people can trust to buy highest quality all-natural medicine and learn about how cannabinoids can help their ailments. The Amazon of CBD with a lot of education. It's what I wanted to do with BuyLegalMeds.com 4 years ago, but it never worked out that way. I can't say much more than that. I don't want to give away any trade secrets before we launch the site. Let's just say that CBDOil.com will in fact be the authority website for the entire CBD Oil industry.

The Vargas family - Joe with Joshuah and Nahtaly
DNJournal: Great domains require a sizeable investment. What kind of immediate impact do you expect to see from CBDOil.com when it is up and running and how long do you think it will take to recoup your investment?
Joe Vargas: The internet is a tricky place. Although we now own CBDOil.com and the term "CBD oil" is searched half a million times a month on Google and only growing, it will take an excessive amount of work to get where we want. Unfortunately, SEO takes time, so finding other ways to market our site is needed until SEO kicks in and Google ranks you. Without a doubt and having faith in my teams abilities, we will recoup the money invested into buying the domain within the first 90 days of launching the site. The impact of authority of the site will take a bit more time than that.
DNJournal: Anything you would like to add before we go?
Joe Vargas: Helping people is therapy for me and my team. It's the main reason why I/we are in the CBD oil industry, so if people need help with CBD products or have general questions about CBD oil (hemp industry), please don't hesitate to reach out to us at [email protected]. There's a lot of gratification being able to help people with their ailments that not even their prescription meds can do.